Sauce Up Your Portfolio This Fourth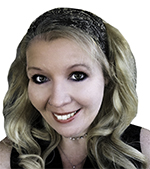 By Dawn Pennington
I worked at Heinz (KHC) on the North Side of Pittsburgh the summer after college. The scent of hot ketchup, mustard and relish cooking in tall cylinders greeted me every day at 7 a.m. as I crossed the factory floor to get to my seat.
Then at night, I'd head over to the South Side to work in a hot sauce store. So, as a condiment connoisseur, I was intrigued when I saw The Washington Post article: "What's the best barbecue sauce? We tasted 13 major brands to find out."
With Fourth of July cookouts set to cost 17% more than they did last year, most of us are bracing to pay up this weekend for our grillable favorites and the sauces that spice them up.
According to a 2020 Statista survey, Independence Day is the most popular U.S. holiday for grilling, with 68% of respondents specifying that they like to throw barbecue parties on that day.
Even though, barbecue sauce won't be the only condiment on your table, the global barbecue market is set to grow to $1.12 billion by 2025.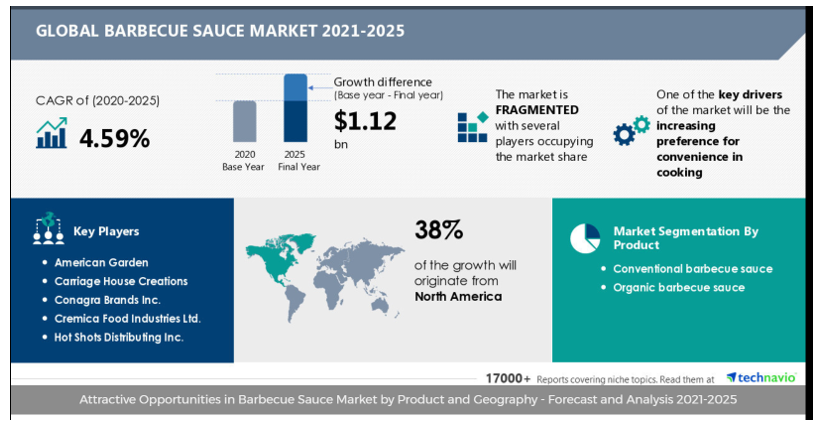 It's a market worth looking at.
So, what did the folks at The Washington Post come up with?
They gave the No. 1 barbecue sauce title to … Walmart's (WMT) Great Value brand.
That's not too surprising since the Great Value brand is considered a "first label," meaning it's generally considered equal to or better than the leading national brand. And in the store, it's positioned right next to that target national brand.
There's the convenience of grabbing that Great Value brand while you're stocking up on everything else you need for your cookout. From the hot dogs and paper plates to the grill and extra chairs.
But unfortunately, WMT has slid all the way down into the "Hold" range.
This is due to a noticeable decline in what we call the volatility index. Remember, at Weiss, we're measuring investment safety. And WMT looks too volatile right now.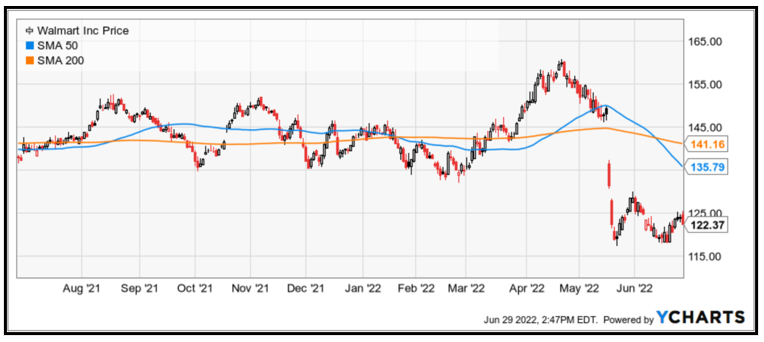 Shares are down 16% in the past 30 days and down 24% off its 52-week high.
Tied for second was Head Country Bar-B-Q Sauce, which is a privately held company, and Kraft Original Barbecue Sauce, obviously owned by The Kraft Heinz Company.
Kraft Heinz is in an even worse position than Walmart. Although it's currently rated a "C+," the company hasn't held a "Buy" rating since 2017. Last year was especially hard on the company as it ended the year with a net loss.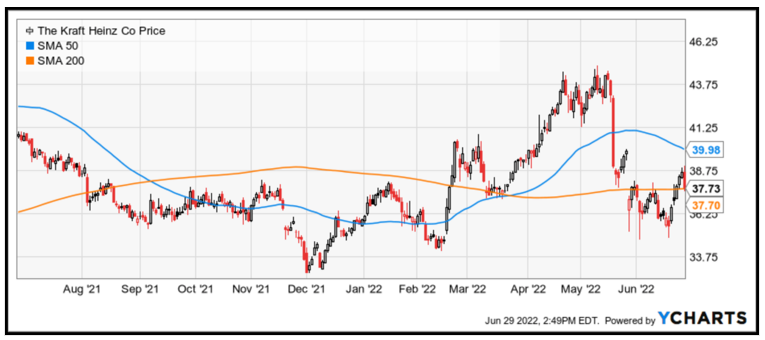 Shares of Kraft are down 14% in the past 30 days and down 18% off its 52-week high.
If you're looking to sauce up your portfolio, there are better places to look.
1. Conagra Brands (CAG) is the owner of the Open Pit line of barbecue sauces, as well as a whole slew of other well-known brands.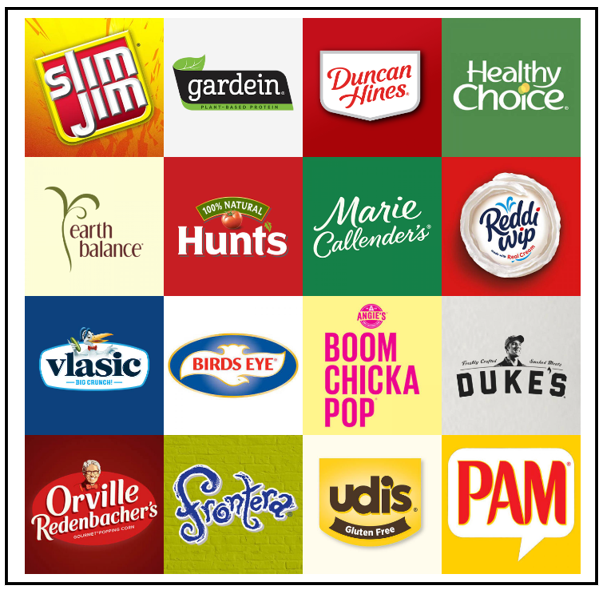 Source: Conagra Brands
This is still only a slice of the company's portfolio. You can find it's brands all the way from the register to the frozen food aisle of the grocery store.
What's even better is that Conagra currently has a "B-" rating. In the past, the company struggled to hold onto this "Buy" rating. Although, it's still oscillating between "B-" and "C+," little by little it's been spending more time with that higher rating.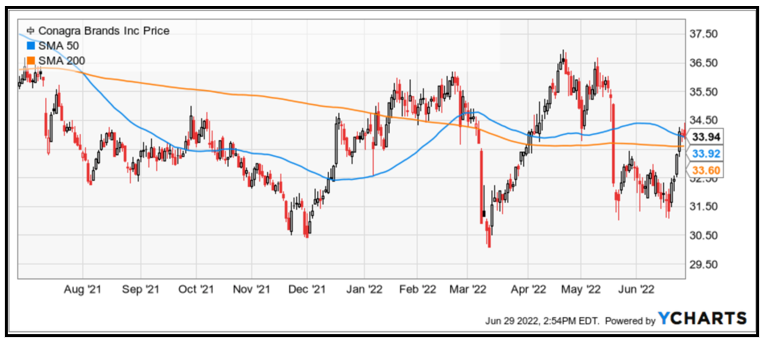 Shares have been hit by the market slide and are down 10% over the past 30 days. This is good news for investors, as it's driven the dividend yield up to 3.7%!
2. McCormick & Company (MKC) is the parent company of Cattlemen's BBQ and Stubb's.
Stubb's came in seventh on that Washington Post list, in case you were wondering.
McCormick has successfully taken over the spice aisle in many grocery stores. And it's been gunning for the condiment aisle as it continues to build its army of brands, including Frank's RedHot, French's mustard and Thai Kitchen, to name a few.
The company has historically been a solid "Buy," but during 2021, it spent much of the year in the "Hold" range.
However, it's recently been upgraded back to a "B-" due to an increase in the total return index, valuation index and dividend index. Again, these indices are looking for investment safety.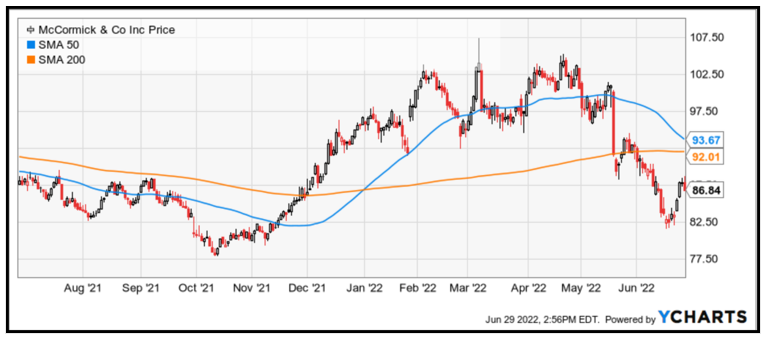 Shares are up 5% in the past seven days but still down 13% over the past 30 days. If you're looking to add the spice king to your portfolio, that means now is a great time to get a discount.
Always do your own due diligence, and don't invest in a barbecue sauce just because it's on some ranking list. You've got access to a number of tools as a Weiss Ratings Daily Member. Just head over to the website and check them out. Make sure your investments score high on our Safety Ratings.
And if you haven't, I strongly suggest you check out Mike Larson's Safe Money Report.
Mike has a proven history of guiding investors to stocks that provide consistent dividends, excellent growth and asset protection in all markets … which are also particularly desirable in this current bear market.
Members of his Safe Money Report are sitting on open gains of over 34%, 25% and 19% as of writing. Click here now to join them before Mike gives his next pick on Friday, July 8.
To your wealth,
Dawn Pennington
Editorial Director