Something Very Remarkable Has Happened
Something very remarkable has happened.
A watercolor was sold for $35 million, and for good reason: It's very famous. It has a storied history that spans 139 years. And it's by the artist Vincent van Gogh.
Meanwhile, this other piece of art is not so famous: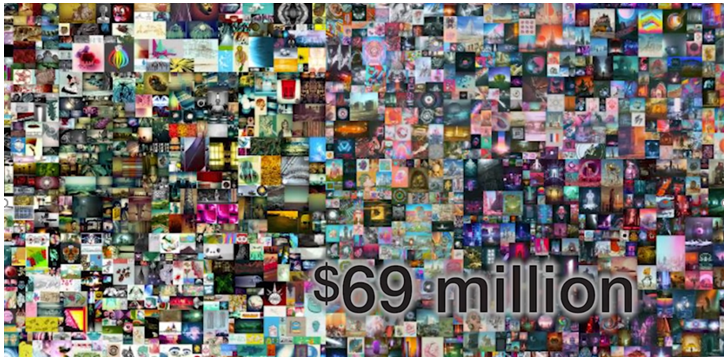 It does not have a long history. In fact, it does not even exist in the physical world. It's purely an NFT, a non-fungible token.
Computer code that lives on the blockchain!
But this NFT, this purely digital art, sold for $69 million.
That's nearly double the price of the van Gogh.
Is this astronomical $69-million sale a random event? Or is it a new kind of investment vehicle with the potential to build wealth faster than virtually any other?
Is this phenomenon strictly about art? Or is it something that could transform nearly every kind of asset we own?
And how can investors use it to build generational wealth?
To uncover the answers, the Weiss Ratings team decided to hold the first-ever NFT Investor Summit tomorrow. (If you'd like to attend, click here to RSVP.)
This is urgent because right now, NFTs are beginning to transform the entire concept of wealth like nothing I've ever seen since I founded my ratings and research company five decades ago.
Now and in the days to come, we see this disrupting the world of paintings, music, videos, films and creative arts of all kinds. Sports collectibles, research papers. Insurance policies, patents and tech innovation of all kind. Even real estate properties.
Nearly everything you and I do in life could change forever.
And unlike what we saw with Bitcoin, this time, big-money investors and big companies aren't waiting around for years and years before they decide to jump in.
They obviously don't want to make THAT mistake ever again. So they're shifting funds now. And this is why we're here today. To help you grab the moment and do the same.
Mark Cuban says the upside is "truly unlimited." He's revealed that he's "betting big."
Andreessen Horowitz, a venture-capital firm and early backer of the internet, is staking $100 million on NFTs, saying it's like "the early internet days all over."
The CEO of Coinbase declares it's "bigger than Bitcoin and cryptos."
If he's right, this new niche, which currently has $7 billion in market cap, could grow to $7 trillion.
That's not just 100% or 1,000% growth, which, in any other sector, would be considered lightning fast. It's 100,000% growth.
Like multiplying investor wealth 1,000 times.
Think about that. We don't need a time machine to take you back to the early years of the internet ... or to the day when Bitcoin was born. We're in the early days right now.
Nor do you need to be an expert in NFTs. With some basic guidance, you can ride along with this explosive megatrend, and participate as an investor in this new world with the potential for explosive growth.
Tomorrow, at our NFT Investor Summit, we will give you that basic guidance.
But there's one big difference between now and years ago.
You see, the early pioneers of Bitcoin who are billionaires today, had a big advantage over new Bitcoin investors today.
They were pioneers. Long before most people knew what Bitcoin was, they saw its potential. And many were computer geeks who could navigate the primitive world that Bitcoin was back then to figure out how to buy it.
This time, everything we see in the world of NFTs tells us you have a more level playing field.
Instead of existing in a murky universe that almost no one could fathom, NFTs are hiding in plain sight.
Instead of an esoteric asset that's accessed by computer nerds, NFTs are almost as easy to buy as an item on Amazon.com or eBay.
And here's the biggest difference of all: Instead of just one Bitcoin or one Ethereum, there are hundreds of thousands, if not millions, of different NFTs available for purchase.
Many of them can be bought for a couple of thousand or a few hundred dollars each.
And many more can be bought for only $5 to $10 ... or even for pennies.
Heck, if you're in the right place at the right time, you can even get some for free. But just because some NFTs are free doesn't mean they're worthless.
There are countless examples of NFTs that were free at birth but are now worth thousands of dollars. And there are even a few that are worth millions of dollars today.
So, whether you pay zero, just a few dollars or a few thousand dollars today, a significant portion of today's NFTs could later be worth 100 times, 1,000 times, even 100,000 times more.
To profit from the NFT revolution, you don't always have to buy the NFTs themselves. For diversification, you can also own the equivalent of a share in the NFT galleries. Or you can own stocks in companies that are at the forefront of this great transformation.
Needless to say, if you buy them high and sell them low, you could also lose a lot of money.
But trading in and out of these assets is generally not a good idea. Although there IS a large market for NFTs, the best way to approach it is mostly to pick the right ones.
What do I mean by "right ones"?
These would be near the top of that category:
✓ On Dec. 5, CryptoPunk NFT #9137 sold for $1,245,000.
✓ On Dec. 9, XCOPY Right-Click NFT sold for $7,022,000.
✓ Also, on Dec. 9, two other CryptoPunk NFTs were sold. One for $1,193,000, the other for $9,500,000.
But it doesn't have to be NFTs that rise from practically zero to millions of dollars. I feel that even those with the potential to go up 30%-100% are worth considering.
Most people think NFTs are limited to art. But consider, for example, the $440 billion sports industry.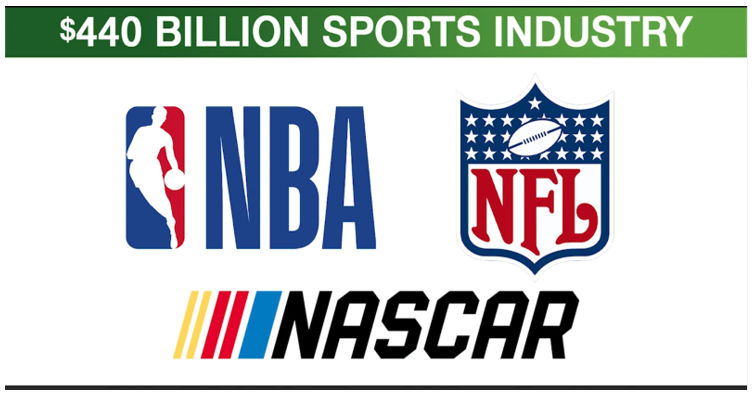 Major sports associations are jumping into NFTs.
The NBA, NFL, NASCAR and nearly all major sports associations are starting to jump on the NFT train.
And jumping in right along with them is a growing list of superstar athletes like Tom Brady, Michael Jordan, Wayne Gretzky, Derek Jeter, Kevin Durant, Peyton Manning and Steph Curry.
Meanwhile, in the $1.9 trillion fashion industry, Bloomberg calls NFTs the "new frontier." And for anyone online, Verizon says it "will change the content world."
They're right. The pace of adoption has been truly rapid.
For example, Twitter gave away 140 NFTs to their users. Many have since seen prices near the $250,000 level.
Six of the 140 Twitter NFTs issued recently to users for free.
Many have now sold for more than $200,000.
They can also go down in value, and making money in NFTs is not a sure thing.
But no matter what, I think it's safe to say that this is a remarkable new asset class.
For some education on how it all works, be sure to RSVP here and join us tomorrow.
We'll start promptly at 2 p.m. Eastern.
Good luck and God bless!
Martin