Stick to Your Permanent Profit Plan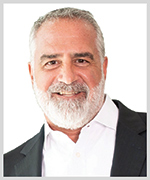 By Kenny Polcari
There are many ways to monitor the pulse of investors and the mood of the market.
However, there's one index that I found particularly perplexing: CNN's Fear & Greed Index.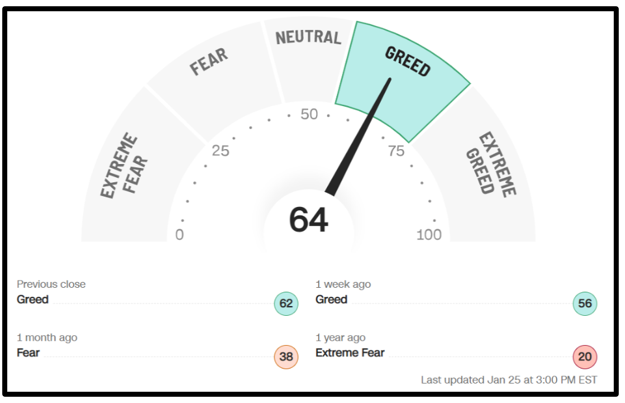 CNN Fear & Greed Index.
Click here
to view full-sized image.
As you can see, greed is clearly in control, which makes little sense to me.
But the index takes a number of factors into consideration, such as: market momentum, stock price strength, stock price breadth, put and call options, junk bond demand, market volatility and safe haven demand.
So, it certainly holds merit.
And here's the American Association of Individual Investors Index of Investor Sentiment Survey …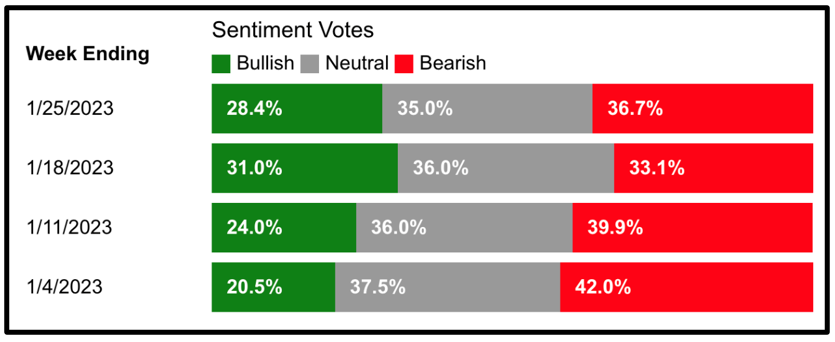 AAII Investor Sentiment Survey.
Click here
to view full-sized image.
According to the AAII website, "Optimism among individual investors about the short-term direction of the stock market rose to its highest level in nine weeks while pessimism fell to its lowest level in 11 weeks."
As would be expected based on the above, this is the first time since August 2022 that bearish sentiment has been below 40% on consecutive weeks.
So, at least according to these two metrics, investors are optimistic and greedy. I'm not sure why when over the next few months, investors have to get past one of the most challenging …
Walls of Worry
As you know, the Wall of worry is the financial markets' periodic propensity to overcome a number of negative factors and keep on climbin'.
Or maybe I'm misinterpreting greed for desperation to make up for losses from 2022. Either brings emotions into the equation and both often end in unwise investment decisions.
Case in point … according to the majority of economists, we've got a recession on the way, interest rates are still on the rise, layoffs are happening left and right in every industry, earnings are all over the place, the economy is weakening and now there's the potential for a government shutdown.
That's right. If you haven't heard, the U.S. hit its $31.7 trillion debt ceiling last Thursday.
The consequences of the failure to raise the debt ceiling or take enough "extraordinary measures" to prevent a default, as U.S. Treasury Secretary Janet Yellen calls them, are dire but avoidable. The U.S. has done so every time since 1917 when a debt ceiling was first implemented.
But that's another story.
What Market Boom Greed?
Generally, investors get greedy during market booms. But the thing is, the only boom I've heard is the market blowing up — as in falling apart.
Remember: Only the energy sector, ended in positive territory in 2022.
Nothing so far in 2023 has given me reason to think the market is on its way to recovery or that it's nearing a bottom.
We haven't even experienced true capitulation. Go back to the Dot-Com Bust, the Financial Crisis and Great Recession of 2008–2009 and, more recently, the onset of the pandemic in March 2020.
Investors sold and sold hard in those three instances. Average folks didn't look for bargains. They ran for the hills and never looked back. Fear ran rampant and its emotional companion — greed — was nowhere to be found.
I'm not saying not to look for bargains. On the contrary, I encourage you to look for and buy companies that meet my criteria of large-cap, cash-rich, dividend producers with a finger on the pulse of consumers.
I've been saying all along to buy the best stocks in the best sectors and leave the rest alone, and I've never swayed from my strategy.
In fact, if you're looking to invest in the best, most profitable sectors and companies while keeping your money safe, then now is the perfect time to join the Safe Money Portfolio. Members of this service are currently sitting on open gains of 42%, 37% and 27%. And they're doing so in secure, sensible investments.
We saw a glimpse of greed at the start of this week. Tech stocks rose in anticipation of earnings for this very influential sector of the economy.
We saw outsized moves in some of the biggest losers of 2022 as investors seemed to overlook all the layoffs, missed expectations and poor forward-looking statements from companies.
Even the S&P 500 crossed a key resistance point, lending hope that the worst is over. I think it's just a matter of the market discounting the bad news and focusing on the good news that will hopefully come in about four to six months out.
Investors that got out last year are now the ones forced to establish any kind of position.
On the other hand, investors that rode it all the way down and continued to be buyers on weakness did a couple of things.
They built up larger positions and they dollar cost-averaged lower each time. So, now that some of these stocks are running, they can sit back and watch the show. They're not suffering from FOMO — Fear of Missing Out — because they've already established positions.
Look, I may not be in the soft camp, but I'm not in the disaster camp, either. I'm in the hard camp — and for good reason.
So, while I'm loving this push up, I am not convinced yet that it is time to celebrate. And because I think we could push a bit lower, it will not stop me from sticking to the plan and buying stocks on sale.
I reiterate: Don't be a chaser. When they want to run, let them run, and be there to buy more shares when prices pull back.
I'm not saying to be a worrywart or walk around in fear. Just be smart, stick to the plan and tune out all the noise the best you can.
To your Wealth & Wisdom,
Kenny