Stormproof Portfolio Insurance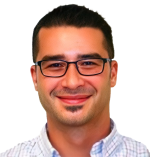 By Jordan Chussler
After making landfall last Wednesday, the eye of Hurricane Ian passed directly over my home.
We were more fortunate than others in our area.
A downed tree, some minor flooding and flying roof shingles were the extent of the damage we experienced. Electricity and water were restored faster in the aftermath than any other hurricane I've experienced in my 20+ years as a Floridian.
But surrounding neighborhoods weren't as lucky. While surveying the damage the morning after the high-end Category 4 storm, I saw:
A backyard littered with boats that had gone adrift the night before.
A hundred-year-old pine splitting a roof in two, as if the home was constructed of popsicle sticks.
And near the river, mounds of furniture — couches, mattresses and dressers — piled atop one another after record-setting storm surge devastated block after block.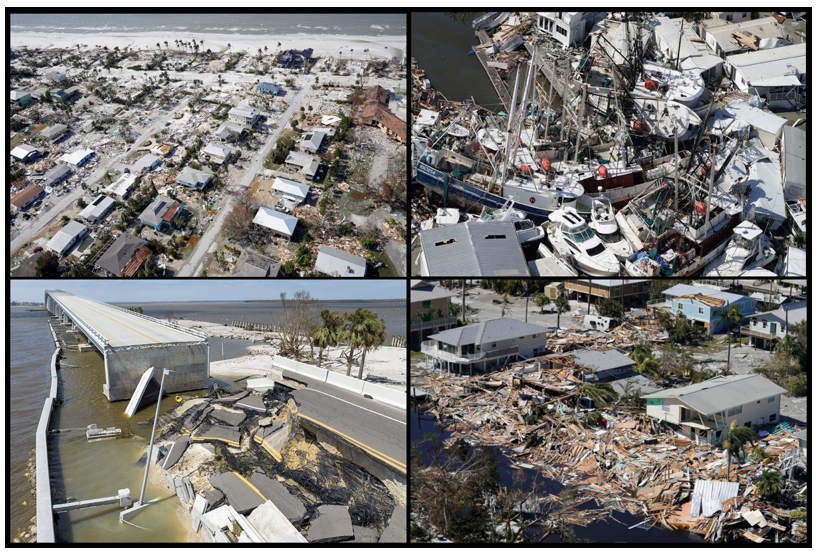 Damage from Hurricane Ian in Southwest Florida.
Click here
to see full-sized image.
My immediate thoughts centered on those homeowners' safety and well-being.
My following thoughts shifted to their insurance policies and the financial burdens they'll likely face going forward.
State of Disrepair
Florida's ill reputed for the state of its insurance industry, and it's a situation that's significantly worsening.
Anecdotally, I've had a policy dropped after being partially reimbursed for extensive water damage remediation. Others I know have seen premiums skyrocket after filing claims, and worse, some have avoided submitting claims altogether over concerns that either of the former two scenarios is likely.
Empirically:
In 2022, Florida homeowners holding policies with six property insurers were left abandoned after those companies became insolvent.


The average annual home insurance premium in Florida is $1,648, slightly more than the national average rate of $1,312 per year and well above Utah's and Vermont's $668, and Hawaii's $378.
And only 13%–15% of Floridians are covered by flood insurance, due to either ineligibility or prohibitively expensive policies resulting from the state's low-lying topography and rapidly rising sea levels.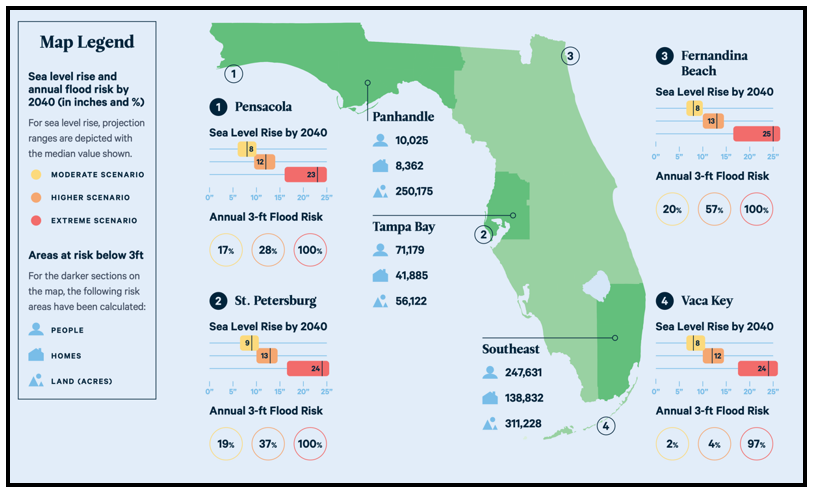 Florida sea level rise projections.
Click here
to see full-sized image.
In the wake of Hurricane Ian, early estimates are upward of $50 billion in insured losses. For context, 1992's infamous Hurricane Andrew resulted in $26.5 billion in losses and was — until last week — the state's most expensive natural disaster.
While Floridians and insurance companies continue to grapple over what will (or won't) be covered in the wake of a devastating storm, in the end — despite the industry's influx of insolvencies this year — it's the latter that will be just fine when the floodwaters recede.
Booming Insurance Profits
Whether it's property, flood, life or automobile insurance, companies offering any of those coverages are raking in revenues.
In fact, the top 50 insurance companies produce an average annual profit of $3.2 billion. Thirteen of those top 50 offer property and casualty insurance, which sees outsize gains compared to other categories.
That list includes behemoths like State Farm, Berkshire Hathaway (BRKA), MetLife (MET), Allstate (ALL), Progressive (PGR) and Prudential Financial (PRU).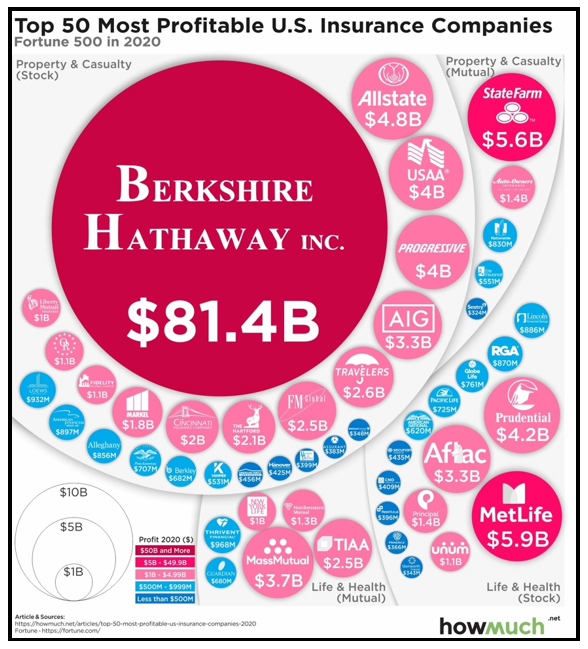 Top 50 insurance companies by profit.
Click here
to see full-sized image.
But for investors, pinpointing the likely winners among them is not simple:
Even with Warren Buffett at the helm, shares of Berkshire Hathaway are down nearly 10% year to date.
MetLife has done well this year, comparatively, with YTD losses under 1% … but the stock has dropped 10% over the past six months.
Allstate is up nearly 8% this year, but it's given back almost 7% of those gains over the past six months.
And Progressive is down over 65% this year.
Insurance-Focused Exchange-Traded Funds
A better approach could be targeting an insurance-focused ETF, which carries a basket of insurers thereby broadening exposure and reducing risk.
The portfolios and expense ratios of two particularly caught my eye: the SPDR S&P Insurance ETF (KIE) and the iShares U.S. Insurance ETF (IAK).
The IAK's holdings include some of the big names you'll find on the top 50 insurers list, like Progressive (8.15% weighting), MetLife (6.29% weighting) and Prudential (5.78% weighting).
Despite those names' popularity, the fund is leveraged towards small-cap insurance companies, is rebalanced quarterly and carries an expense ratio of 0.39% with $311 million in assets under management. Its dividend yields 1.93%.
The KIE's top holdings aren't household names, but the fund performed just as well as the IAK and carries a slightly lower expense ratio of 0.35% with $427 million in assets under management. Its dividend yields 1.94%.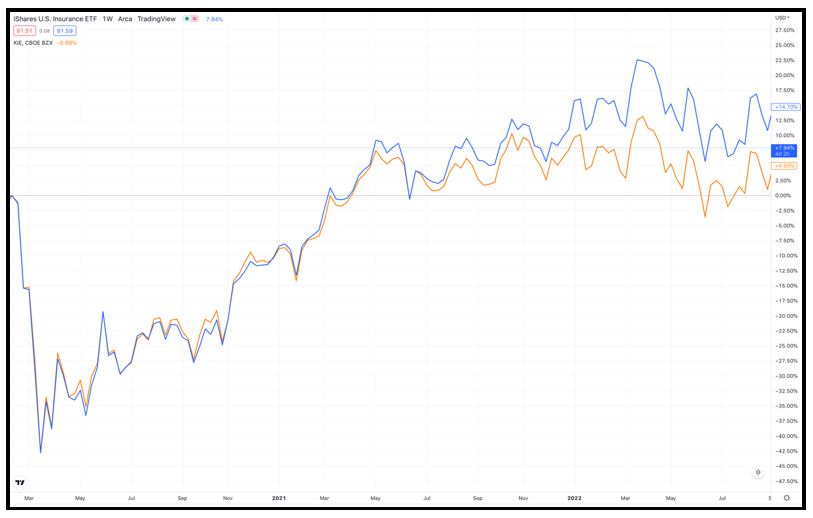 Performance of the IAK (blue line) and the KIE (orange line) since March 2020.
Click here
to see full-sized image.
Since both funds bottomed in March 2020 with the arrival of the short-lived, pandemic-induced recession, the IAK is up over 88% and the KIE is up nearly 73%.
No matter what you decide, always conduct your own due diligence before entering a trade.
Lastly, if you're able to, please consider donating to the Hurricane Ian recovery with the Florida Disaster Fund, the American Red Cross or Convoy of Hope.
Until next time,
Jordan Chussler
Managing Editor
Weiss Ratings Daily
P.S. Last week, our analysts held a special video session explaining how investors can spot the market's next big bottom. Find out more by clicking here.