The Bear Market Is Here! Here's What To Do.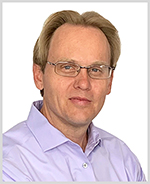 By Mike Larson
It's official. We're in a bear market.
We crossed the proverbial "20% drop = bear market" line on Monday, when the S&P 500 slumped almost 4%, extending the average decline from the early-January peak to around 22%.
But let's be honest. It's been pretty bad behind the scenes for a while now ... and it's absolute carnage in the technology sector. The tech-heavy Invesco QQQ Trust (QQQ) is down more than 27% year to date. In fact, it's given up every penny of gains it racked up in the last 19 months.
And what about those "D" and "E"-Rated tech stocks and special purpose acquisition companies (SPACs) I warned you to stay away from back when everyone on Wall Street still loved 'em? They're crashing and burning now, with Dot-Com bust-like losses.
One of the lot, Electric Last Mile Solutions (ELMS), filed for Chapter 7 bankruptcy this week. The pie-in-the-sky EV company went public only a year ago in a $1.4 billion SPAC merger ... and now investors who bought into the hype have lost almost all their money.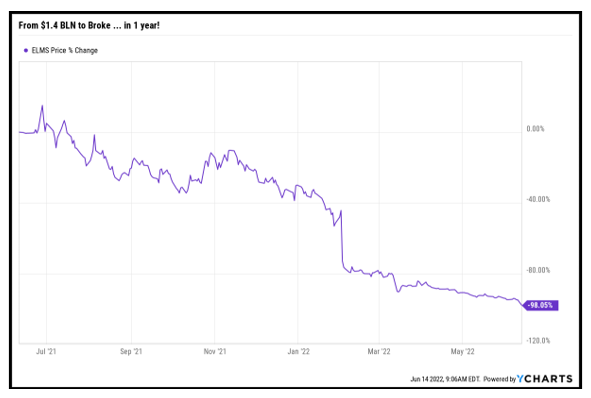 Of course, you can't spell "implosion" without the letters "I", "P" and "O." Just as we expected and warned you about over the last 12 to 18 months, many of the junk initial public offerings (IPOs) Wall Street pumped out during the bubble are going bust.
Those of us who lived and invested through the Dot-Com Bubble have seen this boom-and-bust pattern before. So, the red flags were impossible to ignore.
Case in point: A whopping 311 companies IPO'd in 2021, raising $119 billion, according to Jay Ritter, a University of Florida professor who has tracked IPO activity for decades. That was roughly double the 165 firms and $62 billion raised a year earlier.
But the percentage of IPOs with no current profits, past profits or any expectation of future profits anytime soon also surged. Just like during the Dot-Com Bubble.
Now IPO activity is collapsing, down 81% from a year earlier as measured by a different source, Dealogic.
Plus, aftermarket performance has been atrocious. The Renaissance IPO ETF (IPO) — which owns a representative basket of recent IPOs — plunged 53% in the last year.
As for inflation, well, a recent Wall Street Journal editorial summed up the government's and Federal Reserve's failure on that front. The headline about Jay Powell's "wishful thinking" reads: "First it wasn't real. Then it was 'transitory.' Now we're told the Fed will cure it with a few rate hikes."
Later today we'll see what the Fed has up its sleeve — another 50-basis- point (bp) hike or an even higher 75 bp hike, which would be the largest rate increase in nearly 30 years. But neither move will leave the federal funds rate anywhere near the inflation rate. Translation: The Fed is STILL playing catch up!
There's no telling how long this bear market will last or how deep its losses will get. But I'm certain that just sitting on your hands and trying to ignore it isn't your best strategy as an investor!
Until next time,
Mike Larson