This Bank Stock Is Buffett Approved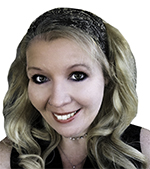 By Dawn Pennington
When Warren Buffett makes moves, investors take notice.
It's no surprise, really — the Oracle of Omaha is one of the most successful investors in the world. He can credit his legendary status and vast wealth of nearly $103 billion to his unconventional investing style and penchant for often going against the crowd.
In short, he's a value investor who likes to play the long game.
Now, I'm not here to give you a lesson on Buffett and his investing style; most investors are well versed in it by now.
I do, however, want to talk about his "slow and steady wins the race" strategy. Especially why his newest purchase looks set to become another typical example of how to go for atypical results.
Banking on More Used Car Demand
In Q1 of this year, Buffett and his company, Berkshire Hathaway (BRKB) bought nearly 9 million shares, or approximately a 2.9% stake, in the sizable digital bank, Ally Financial (ALLY).
The bank, founded in 1919 and headquartered in Detroit, specializes in auto lending. It's generated strong financial results since the start of the pandemic, thanks to inventory challenges and soaring used car prices.
However, the firm has a pretty cheap valuation because the market isn't convinced of its earnings sustainability. In fact, it's currently earned a Weiss Rating of "C+."
From a safety perspective, that means it's a "Hold" rather than a "Buy" right now.
Buffett seems to disagree, so I think it's worth taking a closer look.
Compared to 2019, used car prices have increased about 60%. That's largely due to inventory shortages and supply-chain issues caused by the pandemic.
As new cars continue to await chips, used car sales continue to roar higher. This should continue to serve Ally's auto business well.
Just look at the recently ended quarter. At the end of Q2, Ally had over $82 billion of retail auto loans, up $9.5 billion since the Q2 2019 and $6.4 billion year over year.
Plus, the average portfolio yield on these retail loans is 6.85%. That's up 10 basis points (0.10%) from Q1 2022.
This allowed Ally to deliver a solid 23.2% core return on tangible common equity in Q2.
Let's take a look at its tech, one-year chart: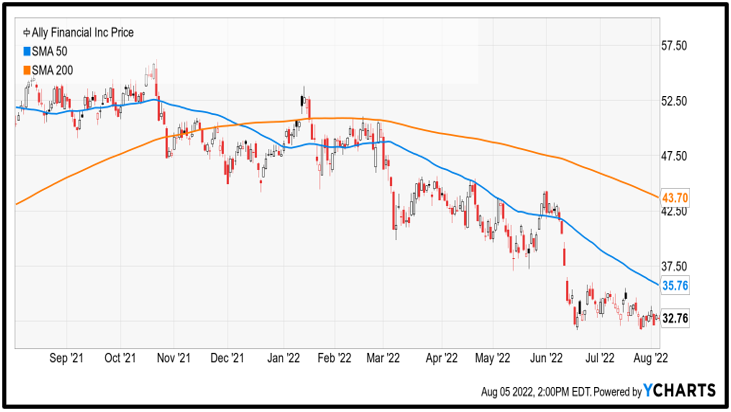 One-year chart of ALLY prices. Source: YCharts
The company has a market cap of $10.8 billion and has been growing its dividend for seven consecutive years, with a yield of 3.4%.
It's also growing its revenues. Revenue was up from $1.94 billion in Q1 of 2021 to $2.14 billion in Q1 2022, an increase of 10.3%. And that uptrend appears poised to continue.
According to Ally CFO Jenn LaClair, pricing has continued to increase in Q3. Origination yields on retail auto loans in Q2 came in at 7.82%, up 75 bsp from Q1.
LaClair said the bank is now originating retail auto loans at 8% while maintaining its underwriting criteria.
Additionally, LaClair stated that the company still believes there are a good 4 million to 5 million customers not participating in the auto market because of the inventory shortage.
She added that application flow has remained solid and the company isn't seeing much price sensitivity, particularly among wealthier clients.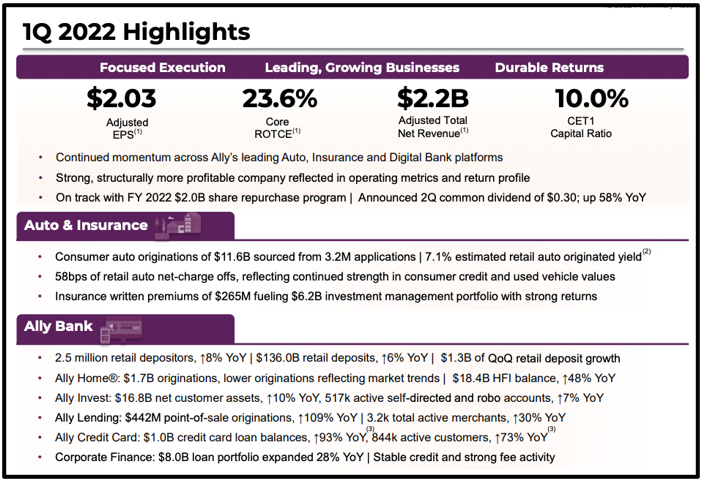 Those strong results and solid near-term demand are encouraging. But the company isn't without its challenges …
First, both investors and analysts are fearful about rising interest rates and the potential for recession.
That means credit issues could surface, especially considering the large loan amounts due to higher auto prices.
Plus, Ally's assurance that current credit trends align with expectations has done little to calm investors' nerves. Its leadership team clearly knows the industry and expects used car prices to come down about 30% from the end of 2021 to 2023.
Second, analysts are also worried about funding costs, especially with the Federal Reserve's recent sharp rate hikes. Over the years, though, Ally's done an impressive job of improving its core deposit base.
In 2018, just 64% of its funding base was composed of deposits. At the end of Q2 this year, that number jumped to 85%.
But with a total yield of 1.16% on its total funding base, Ally's funding is still far less sticky and more expensive than a lot of other big banks. This in turn will lead to higher deposit costs in the near future, courtesy of the Fed's aggressive hikes.
Here's why Omaha's most famous Oracle is able to look past all of that …
Putting Buffett's Bet Into Perspective
Berkshire's stake in Ally amounts to only 0.1% of its very large portfolio, so it's safe to say Buffett's already aware of the risks involved with this bank.
But, considering Ally's cheap valuation, this is a bet Berkshire's CEO and his company view as favorable in terms of the risk-reward ratio.
In fact, the company is expected to earn $7.80 per share in 2022. This will be down 9.4% compared to 2021. However, it's much higher than what the company earned in 2020, which was $3.03 per share.
At its current price of $34.55, the firm has a price-to-earnings ratio of 4.5 times earnings. This is very attractive, considering the company P/E has had an average of 8.9 times earnings for the past five years.
Plus, Ally's dividend yield is higher than its five-year average of 2.2% — a point surely not lost on our dividend-seekers and income investors.
With all the numbers and factors considered, I'd side with Buffett: Ally appears to be an undervalued play with the potential for outsize returns over the foreseeable future.
Lastly, it's important to note that Ally's management team has acknowledged the challenges it could potentially face in the near future and still thinks they can generate a sustainable 16%–18% or higher return on tangible common equity in the medium term.
If they achieve this through more difficult economic conditions, the stock should certainly trade higher.
Combining Ally's strong track record of repurchasing shares with its current share price and aforementioned annual dividend yield of 3.4%, it's understandable why Buffett and Berkshire believe Ally is a deal too valuable to pass up.
Like Buffett's strategy, Senior Analyst Mike Larson also focuses on Safe Money plays. Members of his service, Safe Money Report, have weathered this year's market turmoil by staying focused on similarly slow-and- steady positions.
Members are enjoying open gains of over 31%, 20% and 11% in value companies while being paid dividends in the meantime. Click here to join them before Mike's latest newsletter hits inboxes this Friday at 12 noon Eastern.
As always, make sure you do your research and consider your own investing strategy and risk tolerance before purchasing a stock.
But if your investing strategy is anything like the Oracle of Omaha's, you can consider taking your chances with Ally. Be sure to do your own due diligence first, and keep your position sizes manageable.
Before I go, I'll leave you with perhaps one of Buffett's best pieces of advice on investing: "If you aren't willing to own a stock for 10 years, don't even think about owning it for 10 minutes."
To your wealth,
Dawn Pennington
Editorial Director