This Holiday Trend Is Here to Stay
Thanksgiving is next week, Chanukah starts three days after the turkey feast and Christmas Eve will arrive in the blink of an eye.
Research analyst Kelly Green, contributor to Weiss Ratings Daily, predicts that holiday spending will be at its highest in a long time for two main reasons.
Read on to find out how that will impact consumer credit and investments in this week's Weiss Daily Briefing video's transcript …
Transcript from Sunday's Weiss Daily Briefing Video
Jessica Borg (narration): Thanksgiving, with all the fixin's is almost here … and that means holiday shopping is in full swing.
And when you're looking online, you'll notice there are different options for how to pay.
You can call it the new and improved version of "Buy Now, Pay Later."
Instead of using a credit card, you can pay interest-free installments over a selected period of time.
JB: This is like "Buy Now, Pay Later 2.0."
Kelly Green: It's really the biggest trend I'm looking at this holiday season.
How "Buy Now, Pay Later" works is the payment processors … the processors are actually in charge of this financing, so the store gets their money "now," you get your item "now," and the processor is actually taking on that "Buy Now, Pay Later" risk.
JB (narration): Research analyst Kelly Green saysthese payment options are being promoted as a way for consumers to budget.
KG: It's a lot different when you can tell somebody, "Oh, you're gonna pay X amount of dollars every two weeks for the next four payments," versus "I swipe my credit card and now I just have to pay some minimum amount forever into the future."
And then it rolls over and keeps accruing interest. We all know how credit card debt can spiral out of control.
So now it's going to be like this, over-compensating, "Let's do a little bigger Christmas and we can finance it eight weeks out."
JB: What are the top companies that are capitalizing on this trend?
KG: PayPal (Nasdaq: PYPL) is one. Most people have figured out a way to get money into PayPal because it's been in the economy for so long.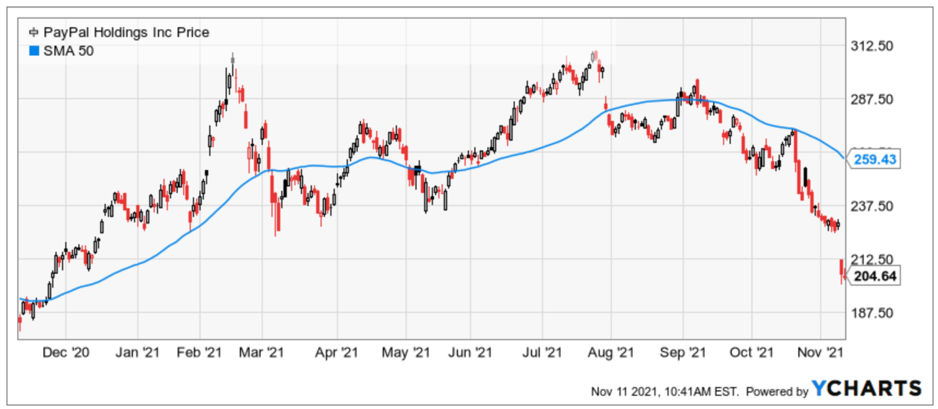 In September, PayPal's stock slipped under its 50-day moving average and has fallen farther since. This season's surge in "Buy Now, Pay Later" could be its opportunity to bounce back.
PayPal generally trends in the Weiss "buy" rating range, so it's a solid company.
JB (narration): PayPal recently acquired the Japanese company, Paidy, which also serves as a middleman between the consumer and merchant.
But it takes convenience a step further.
KG: Japan is still a very much currency-based economy.
With Paidy, what you can do is buy now, pay later, then these customers can go and pay cash at their local convenience store.
JB: Oh.
KG: They can make their payments in person, with cash.
JB (narration): Kelly says another company to consider — Affirm Holdings (Nasdaq: AFRM) — has a broad band of partnerships.
KG: Affirm is interesting because it's an option at WalMart (NYSE: WMT), Saks Fifth Avenue, Reverb-dot-com and Delta Air Lines (NYSE: DAL). The company even announced it'll be available at Amazon.com (Nasdaq: AMZN).
It makes a difference because there are people who can't get credit or don't have bank accounts.
And how do we get these people in e-commerce? If they don't have the credit card, "Buy Now, Pay Later" is going to do that.
JB (narration): A third company set to thrive is Square (NYSE: SQ), which acquired Afterpay.
KG: And Afterpay is a big one.
They should be closing on that deal in the beginning of 2022.
JB: So, this new form of "Buy Now, Pay Later" has been around since 2015. Do you think it's the pandemic that's brought it more attention?
KG: It was a good product that just needed the right circumstances to really come into the spotlight.
During the pandemic, I really took control of my finances and realized, you need money in case something catastrophic happens.
JB (narration): Take a look at this chart projecting into 2028.
KG: They show that the U.S. "Buy Now, Pay Later" market is just on an upward trend.
People are still seeing the effects of employment challenges over the last 2 years and they need to budget.
JB (narration): This chart shows how each generation is using this payment method, from 2019 to now.
KG: 36% of Gen Z, 41% of millennials and then you have Gen X at 30%.
It's showing that just two years later, it doesn't matter what your age is. Everybody is shopping online and everybody is seeing this at the check-out. More and more people are trying it.
Will people use this budgeting tactic instead of credit cards?
JB (narration): The "Buy Now, Pay Later" market presents big investment opportunities.
KG: Yes, and I always say around the holiday season, "You have to follow consumer trends." This is like the biggest time of the year to follow consumer trends.
But I'm not recommending consumer discretionary companies like I normally do.
I think this is going to be the smarter investment play. It's going to be the future of e-commerce.
JB (narration): So, you may want to get in now, at the start of the boom.
JB: Research Analyst Kelly Green, thank you so much for your expertise today and I wish you a very healthy and happy holiday season.
KG: Thanks for having me, Jessica. It's always a pleasure.
Thanks to our guest, Kelly Green. That's it for this week's Weiss Ratings Daily video edition. Keep an eye out for next Sunday's video, and until then, have a great week!
Best wishes,
The Weiss Ratings Team