Universities Don't Make All Their Money from Tuition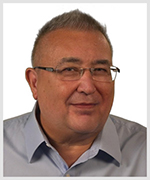 By Tony Sagami
The face of my electrician friend turned crimson red when the subject of President Biden's student loan forgiveness plan came up.
He was furious that hard-working, blue-collar Americans will be paying off the debt of white-collar Americans who spent four years attending college for a degree — occasionally partying while doing so — while he was apprenticing.
Even though he makes a lot of money — I'm willing to bet more than most of the student loan forgiveness crowd — and loan forgiveness is no stranger to the politicians criticizing the Student Debt Relief Plan … I still understand my friend's point.
American universities, which have pocketed billions of dollars in sky-high tuition fees, are also sitting on billions of dollars of endowments that they should've contributed to the cost of Biden's student loan forgiveness.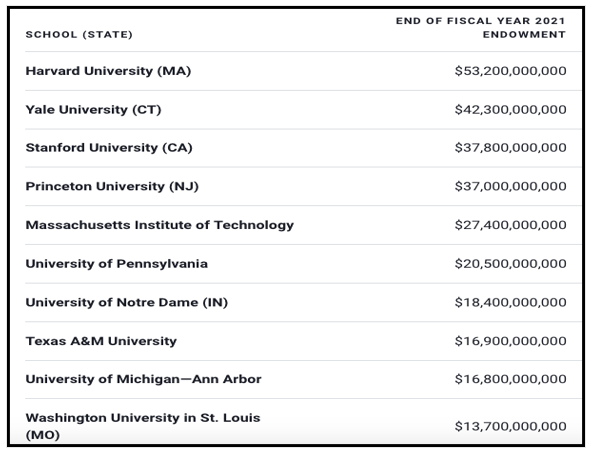 List of 2021 college endowments.
Click here
to see full-sized image.
You're telling me that Harvard, Yale or Stanford can't afford to put up a couple million dollars toward Biden's student loan forgiveness plan? I don't buy it.
Many U.S. universities charge $40,000 or more every year in tuition all while sitting on billions of endowment dollars. In fact, according to U.S. News & World Report, average tuition at a private university is $39,723: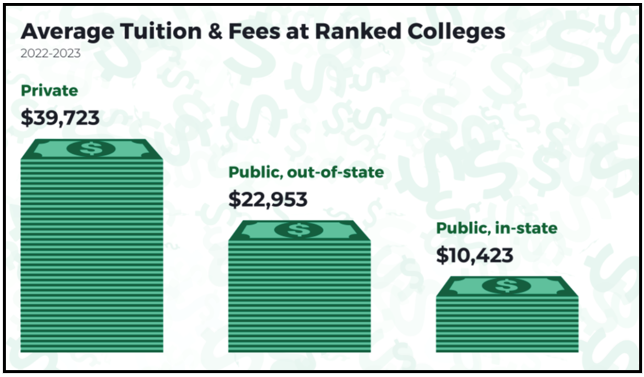 That endowment wealth comes from all over the place. For instance, Emory University was gifted millions of shares of Coca-Cola (KO); Northwestern has received hundreds of millions of royalties from the blockbuster drug Lyrica; George Washington owns more real estate than Donald Bren and the University of Texas system earns billions from its oil holdings.
The Texas college system owns the mineral rights to 2.1 million acres of mineral-rich land and leases it out to oil companies.
What's more, the Texas university system produces 300,000 barrels of oil each day. To put that in perspective, that's about one-fifth of what Exxon Mobile (XOM) pumps worldwide.
On average, the Texas university system pulls in $6 million a day.
That's right … $6 million a day!
The environmentalist crowd may not like it, but …
Oil's a Very Profitable Business
Warren Buffett agrees. Berkshire Hathaway received regulatory approval to buy up to half of Houston-based Occidental Petroleum (OXY).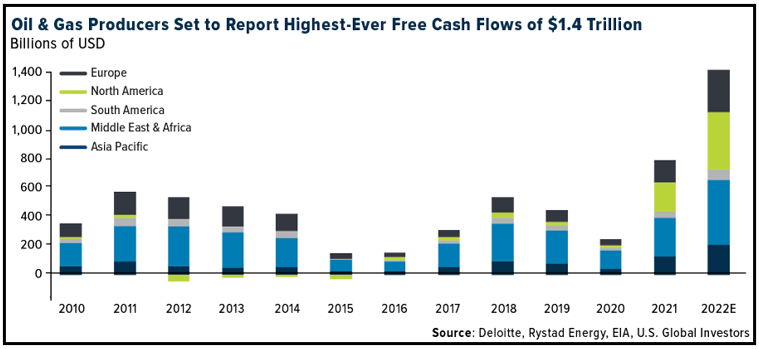 Free cash flows of oil & gas producers.
Click here
to see full-sized image.
The U.S. is ramping up its oil exports as our country captures market share away from Russia.
The U.S. exported a record 5 million barrels of oil last month, the first month ever to exceed 5 million barrels.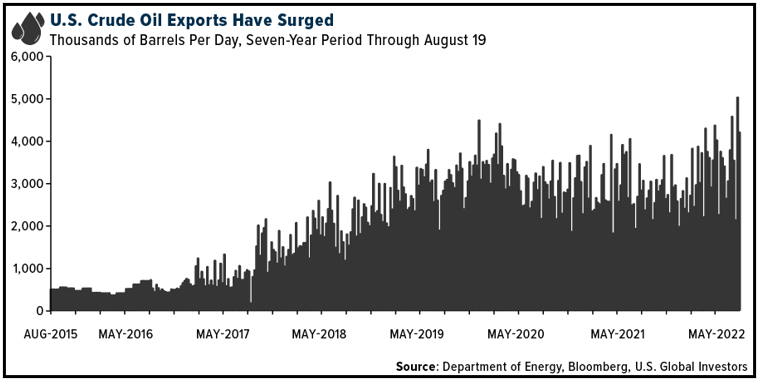 U.S. crude oil exports surge.
Click here
to see full-sized image.
The profits in the U.S. oil industry are about to explode and this could be a great time to add some oil and gas to your portfolio.
In fact, I just issued my No. 1 energy recommendation to my Disruptors & Dominators members last week.
I think that position will easily double within 18 months. To learn more about that pick, consider a no-risk, money-back trial to Disruptors & Dominators. I believe you will be very pleased with the results.
As always, make sure to conduct your own due diligence beforehand.
All the best,
Tony