What Consumers Are Buying Now
My favorite thing about New Year's Day is the big family feast.
My siblings, children and grandchildren gather in one place … and the combination of food, family and laughter is Tony heaven.
The best part? The dinner table talk.
I love hearing everybody's highlights, accomplishments and dreams. We also share the challenges and disappointments of the past year … and look for ways to help each other.
This year, one of the liveliest conversations was about the failure of Congress to pass the Build Back Better plan. Not in a hostile or partisan way, but one of the little-discussed provisions that had a huge impact on my daughter's family.
In March 2021, Congress passed the Rescue America Plan, which included a child care payment program: $300 a month for children under the age of 6 and $250 a month for children aged 6 to 17. Something 35 million households — including my daughter's family — received.
My daughter has three children — a 4-year-old and 1-year-old twins — so she was receiving $900 a month.
Not anymore. Without the passage of President Biden's $1.75 trillion Build Back Better plan, those monthly child payments have stopped.
My daughter now has the challenge of deciding between going back to work or seriously cutting back her expenses — no more lattes, restaurant meals, new clothes and so on.
That same dilemma is playing out at the 35 million American households that were receiving those childcare payments.
Assuming the average monthly payment is $400 (some are higher, some are lower), we're talking about $14 billion dollars that consumers aren't going to spend.
Whether you're for or against Build Back Better, its failure in Congress tells me that consumer discretionary stocks could be headed for trouble.
Consumer discretionary is a term used to describe goods and services that are considered nonessential, the opposite of consumer staples, which is a classification for goods/services considered to be daily necessities like toothpaste, diapers and food.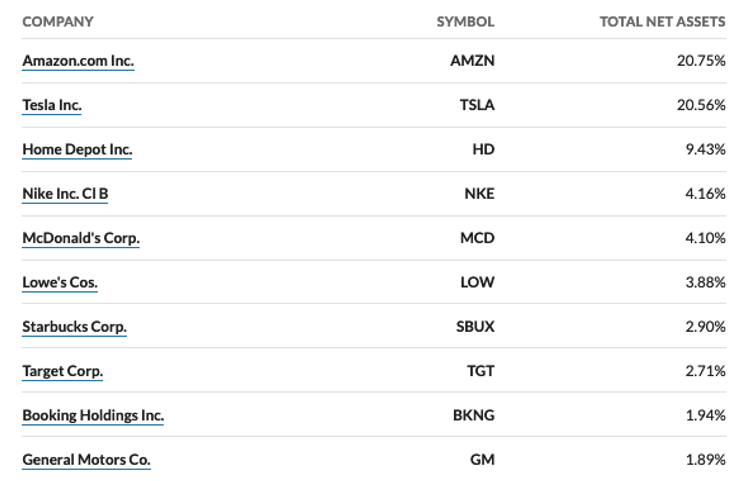 For example, Amazon.com (Nasdaq: AMZN) ended 2021 at $3,334 … almost 12% below its 52-week high of $3,774. For being one of Wall Street's most-loved stocks, Amazon has turned cold.
Is that connected to the failure of Congress to pass Build Back Better? I think so, and a reason why I believe the right move is to swap out consumer discretionary stocks for consumer durable stocks.
2 Consumer Durable Exchange-Traded Funds
There are a couple of consumer durable exchange-traded funds (ETFs) you should consider: Vanguard Consumer Staples Index Fund ETF Shares (NYSE: VDC) and Consumer Staples Select Sector SPDR Fund (NYSE: XLP)
VDC has an expense ratio of 0.1%, compared to the 0.76% of similar funds. In November, it dipped below its 50- and 200-day moving averages. But it has consolidated since and recently broke through resistance at $8.62.
XLP has an expense ratio of 0.12%. Since testing its 200-day moving average at the beginning of December, shares have bounced and are up 16.29% in the past year.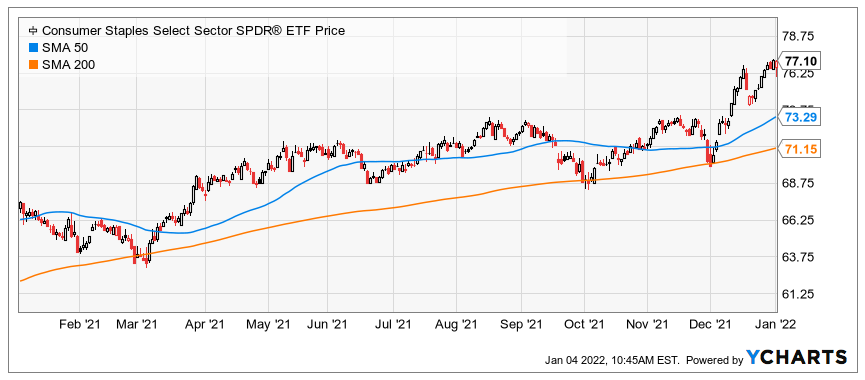 I'd like to add that there is a happy ending for my daughter and her family ...
I hired her to do some social media work for me and my siblings … and her mother-in-law has happily volunteered to watch her children while she does that (remote) work for me.
The result is that she has more than replaced the lost government money and is happy to use her education and considerable talents once again.
Family takes care of family.
Best wishes,
Tony Sagami