What These 6 "Buy"-Rated Stocks Have in Common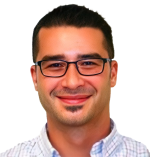 By Jordan Chussler
Of the 13,436 stocks in the Weiss Ratings universe, today, only six come with ratings of "A-" or better.
That's because we find ourselves fully entrenched in the first bear market since the Debt Crisis of 2008. As a result, no indices are performing well at the moment, making it difficult to pinpoint individual stocks that are.
The Dow has seen year-to-date losses of over 18%. The Russell 2000 is down more than 23%. And despite recent yet modest gains, the S&P 500 remains down over 22%.
But when you look at the sector-by-sector performance of the S&P 500, there is hope to glean from the turmoil.
Safety First
Since late last year, our editors and analysts have been reiterating the same message: safety first.
Higher-risk assets in sectors like tech (and its often unprofitable companies), communications, consumer discretionary and real estate have been hit the hardest.
But when recession looms and the markets continue to shed value, sectors that include the necessities of life outperform. Think energy, utilities, healthcare and consumer staples.
It's also critical to remember that name recognition does not equate to profitability. Brand appeal won't float your portfolio.
These sectors include safety-oriented, lower-risk equities that do not receive attention-grabbing headlines like Tesla (TSLA), which is down over 41% YTD, or Netflix (NFLX), which is down an astounding 61% YTD. But they also don't carry outsized risk like those companies.
And despite four of the five best-performing sectors showing YTD losses (the sole exception being energy), they pale in comparison to losses of the S&P's other seven sectors, and particularly for the bottom four.
Since the start of 2022:
The tech sector is down over 27%.
Consumer discretionary is down over 27%.
Real estate is down nearly 28%.
And the communications sector is down nearly 36%.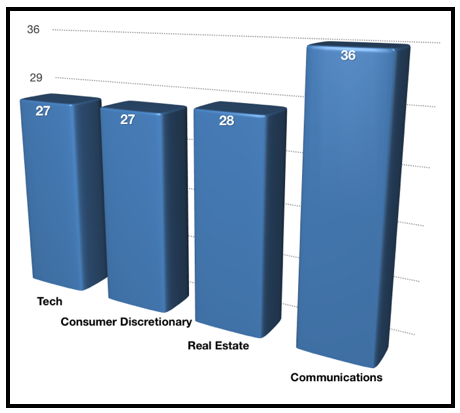 YTD losses for the bottom four S&P 500 sectors.
Click here
to see full-sized image.
The so-called boring sectors — and their value stocks, which often pay dividends — provide investors with a portfolio cushion from ongoing downturns and market-wide sell-offs.
That's why energy is up over 44% YTD, and the utilities sector is down just 3% with healthcare and consumer staples both around a 10% loss.
"Buy"-Rated Stocks in Resistant Sectors
So expectedly, when looking at the Weiss stock screener, the top-rated stocks — just six of 13,436 —all fell into those sectors, with two receiving "A" ratings and four receiving "A-" ratings.
Their industries?
Insurance, healthcare, energy, food retail and trash removal.
You can find the complete list of those companies here. But to understand why they've made the cut, I want to focus on one of them: Metro (MRU.TO).
The Canadian food retailer operates in Quebec and Ontario, the country's two most populous provinces, which include the cities of Toronto, Quebec and the capital of Ottawa. This gives Metro access to around 23.5 million consumers.
According to Trading Economics, as of September 2022, food inflation in Canada sits at 9.8% — a 0.2% month-over-month increase from August's figure.
Being able to pass that cost along to consumers was a significant factor in Metro's recent earnings report, which saw a 9% increase in adjusted net earnings and earnings per share of C$1.18, up 10.7%.
Metro is in the process of a massive stock buyback, too. The company's plan aims to repurchase 7 million shares between November 2021 and November 2022, with 3.8 million shares already repurchased as of July 29, 2022.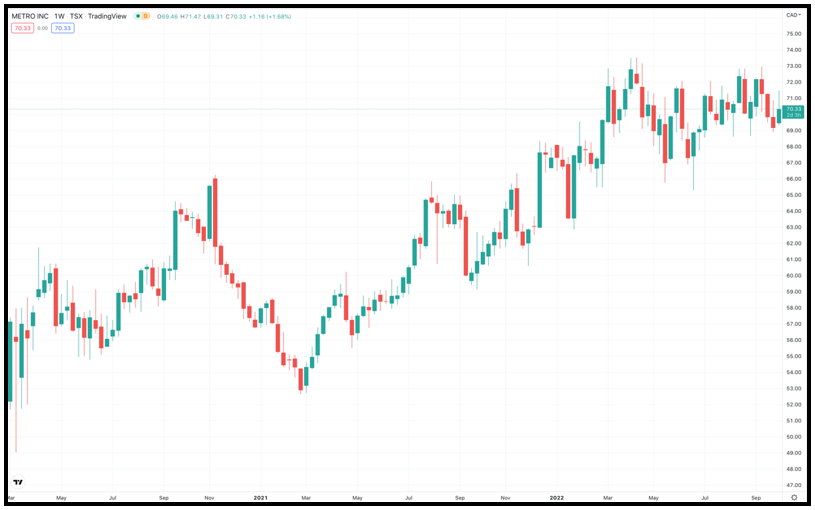 Metro's stock has risen 5% YTD and 14.47% over the past year. Since its two-year low in February 2021, shares are up nearly 33%.
Click here
to see full-sized image.
However, earnings are in the past. What's important is forward-looking projections:
Q4 revenues are expected to increase from C$4.26 billion to C$4.51 billion.
Year-over-year growth for 2022 is forecast to be 10.2%.
And growth for the next five years is projected at 10.09% per annum after seeing 9.62% growth over the past five years.
Currently trading at $70, shares are a bargain with a price-to-earnings ratio of 19.54.
If you would like to receive tailored picks from one of our analysts, members of Sean Brodrick's trading service, Wealth Megatrends, are enjoying double-digit open gains while being paid generous dividends in almost all portfolio positions.
No matter what you decide, it remains a good idea to focus on the S&P 500's top-performing sectors when looking for lower-risk, value-oriented stocks — those more capable of weathering downturns and ongoing market volatility due to their relatively inelastic demand.
Let the braggarts flaunt their positions in Tesla and Netflix while justifying their ongoing losses. They haven't heard of this Canadian grocery stock, anyway.
As always, conduct your own due diligence before entering any trade.
Until next time,
Jordan Chussler
Managing Editor
Weiss Ratings Daily