Yields Stink! Here's What to Do
I'm going to explain how to use new techniques to boost your portfolio's income.
And you like income investments, right?
If you're reading this, I'm guessing the answer is a resounding "YES."
What's not to like about earning fat, juicy yields on your positions?
I'm the income investing specialist here at Weiss Ratings and I've dedicated my work to helping boost the yields and returns your portfolio spins off.
Investors should aim to keep growing their wealth … especially with inflation doing its best to devour it dollar by dollar.
When you look at a table like the one below, I'm sure you get a little depressed. It shows the recent, average yields on all kinds of income vehicles — from high-yield "junk" bonds to certificates of deposit (CDs) to Treasury bills.
Like those 1980s Wendy's (Nasdaq: WEN) commercials said: "Where's the beef?"
How can anyone grow their nest egg with paltry payouts like those?
And that's WITHOUT factoring in inflation!
Look, the government's official inflation gauge is running at more than 5% right now. That's the worst it's been in nearly three decades: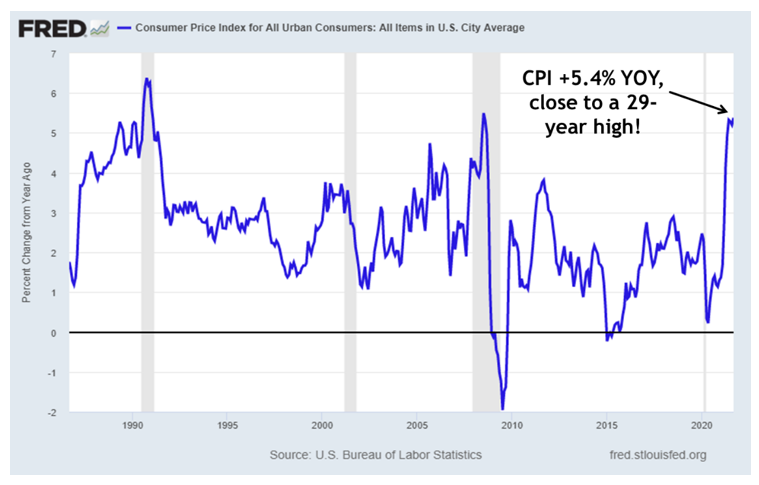 What does that mean?
When you deposit $10,000 at your bank in a one-year CD, you're essentially agreeing to getting back money worth around $9,475 a year later.
You have to subtract the 5.4% inflation rate from the 0.15% yield you're being offered. That gives you have a "real" (inflation-adjusted) yield of NEGATIVE 5.25%!
If you're fed up like I am, then I suggest tuning in to Dr. Martin Weiss' upcoming Superyield Conference on Nov. 2.
In just a few days, he'll explain how it's possible to earn yeilds four times higher than the average junk bond … 15 times higher than the S&P 500 dividend yield of 1.32% … and 67 times (yes, 67 times!) higher than the five-year jumbo CD rates of 0.29%.
For more information, click here now.
Bottom line?
Most yields stink … and that calls for new, innovative approaches for generating income.
Now's the time to wisely fight back.
Until next time,
Mike Larson