Collecting Dividends from the Essentials
Wednesday, July 29, 2020
Have you ever been tent camping?
The stars can be seen for miles without the light pollution from the city. You can hear every insect and creature for miles around in the absence of highway noise. And in the morning, you'll cook breakfast over the fire.
For some, it's a simple and enjoyable weekend. But for most, it's not the way they would want to live full-time.
We're accustomed to the modern conveniences of running water and electricity available at the flip of a switch. Just ask any Floridian how enjoyable a post-hurricane August night is when we're waiting for Florida Power & Light to repair the electricity lines.
Since 1950, American's electricity use has continued to trend upwards.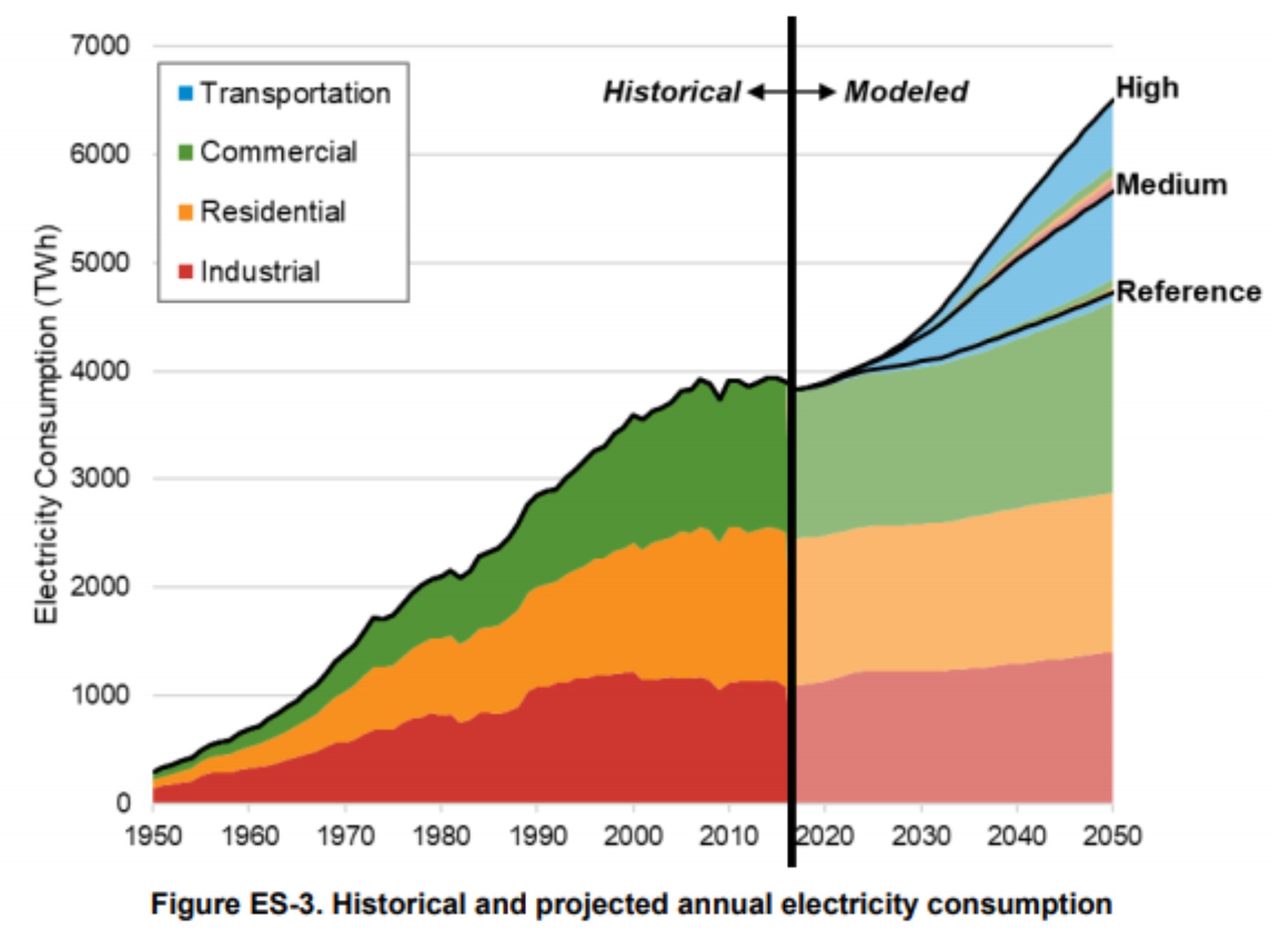 Source: Energy.gov
First it was a television in every household, then an air conditioner. Now, each individual in a household can have five or six electronic devices that they charge every day.
The utility bill is an essential for most people. If times get tough, people will skip the car payment and buy Ramen noodles. But most will not risk their comfort and will pony up to pay their utilities.
In the utility sector, we're looking at electricity companies, but also companies that process, store and distribute water and natural gas.
Depending on the area you're in, you might not even have a choice for your provider of these services. If you're in Baltimore, you're probably using Baltimore Gas & Electric. If you're in Florida, probably Florida Power & Light.
Most utility companies are monopolies and government regulated. These regulated utilities have less exposure to market volatility since the prices are locked in — meaning higher predictability and lower investment risk.
This makes them essentially recession resistant. Plus, since utilities require so much infrastructure and capital, rarely do new competitors enter the market.
On top of that, since prices are locked in and costs are generally known, most utilities pay a nice sized dividend. This is especially attractive right now in a landscape where yield is hard to find.
So, let's see what companies the Weiss Ratings is identifying as a buy right now.
Our top-rated utility is Alliant Energy Corporation (NASDAQ: LNT, Rated "B").
Alliant is headquartered in Madison, Wis., and provides customers in the Midwest with regulated electric and natural gas service.
The household names associated with Alliant are Interstate Power and Light Company and Wisconsin Power and Light Company. These provide electric to 970,000 customers and natural gas to 420,000 customers.
Gross profit for the first quarter came in comparable to the same quarter of the previous year. And the company has upheld its dividend payment of 38 cents.
But strangely enough, investors aren't jumping into this utility as expected.
Looking at the chart of 2020, shares are trading at the same level as the beginning of the year. It's as if investors forgot how safe utilities are at a time like this.
That means you could still get in today and lock in a 2.8% dividend yield. (As share prices go up, dividend yield goes down.)
Who else made the list?
Our first runner up is Atmos Energy Corporation (NYSE: ATO, Rated "B-"). The company is involved in the distribution of natural gas to customers in eight states. It's also involved in the pipeline and storage business, owning over 70,000 miles of distribution and transmissions mains.
Rounding out the top three is Emera Incorporated (TSX: EMA, Rated "B-"). Although headquartered in Halifax, Canada, the company serves customers in both Canada and the United States.
Like our No. 1 utility, both Atmos and Emera are trading close to their start-of-year prices. This means that Alliant isn't an outlier among well-performing utilities per the Weiss Ratings: Investors simply haven't started pouring into this sector — a surprising turn all things considered.
As I mentioned above, if you're trimming the fat from your budget, utilities certainly aren't going to be at the top of that list. But hey, their inaction can be your opportunity.
Remember, our Weiss Ratings website updates daily. So, you can check if any of your holdings have been downgraded and should be liquidated at any time.
Best,
Kelly Green