First-half 'Scorecard' Shows What's Working Best. But Will the Trend Change?
Wednesday, July 03, 2019
Can you believe the year is half over already? It seems like only yesterday investors were panicking about a Christmastime massacre in the markets. Now, it's all blue skies and good times.
The S&P 500 just racked up its best first-half showing for any year since 1997, at plus-17%. And the Dow Jones Industrial Average jumped more than 7% last month alone, its best return for any June since 1938.
The averages also continued to flirt with and/or set modest new highs earlier this week after the G-20 trade war ceasefire between President Trump and President Xi Jinping of China.
So, what does the "scorecard" show at the halfway point? Which sectors and stocks are leading? And will those trends continue or reverse in the back half of the year?
Let's start with today's winning sectors …
This table shows the best-performing ETFs in our database rated at least "C-" (HOLD) or better. I eliminated leveraged funds from the screen and sorted in descending order by year-to-date returns.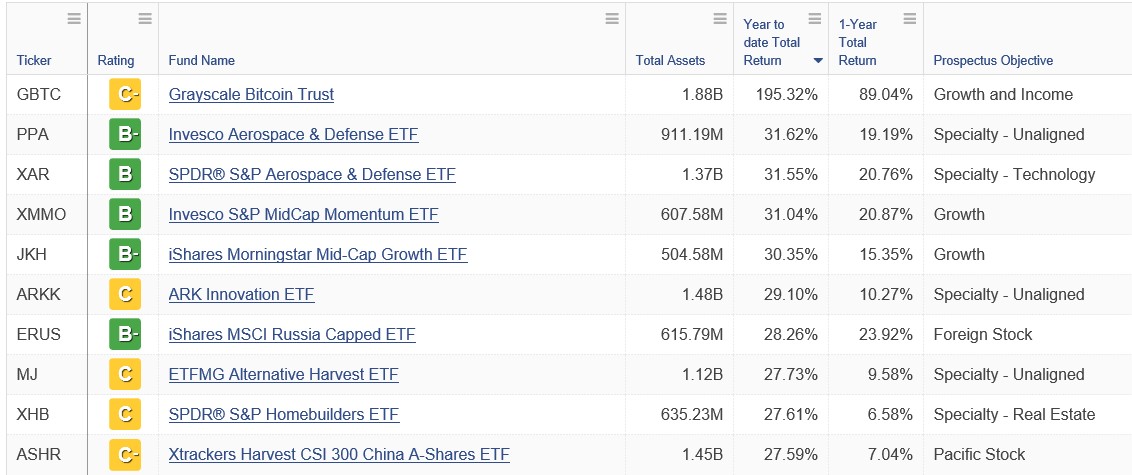 Source: Weiss Ratings, Data Date: June 28, 2019
You can see that the Grayscale Bitcoin Trust (GBTC, Rated "C-") stole the show, with a stunning 195% year-to-date rise.
Behind that Bitcoin-focused ETF, you find a pair of funds focused on defense and aerospace companies. Those have clearly benefited from the rising tensions with Iran and unsettled geopolitical environment.
Next up are a few momentum and growth-focused ETFs, as well as those that invest in Russian stocks and homebuilders. Interestingly enough, if you comb through the holdings of growth-focused ETFs, you find a lot of technology, "fintech" and related companies.
What happens when you drill down to individual stocks? There, too, technology names tend to dominate the top performer list.
This screen shows all the stocks rated at least "C-" that also trade for more than $5, have a market cap of at least $500 million, and sport a 30-day average trading volume of at least 50,000 shares. I sorted it in descending order by year-to-date returns.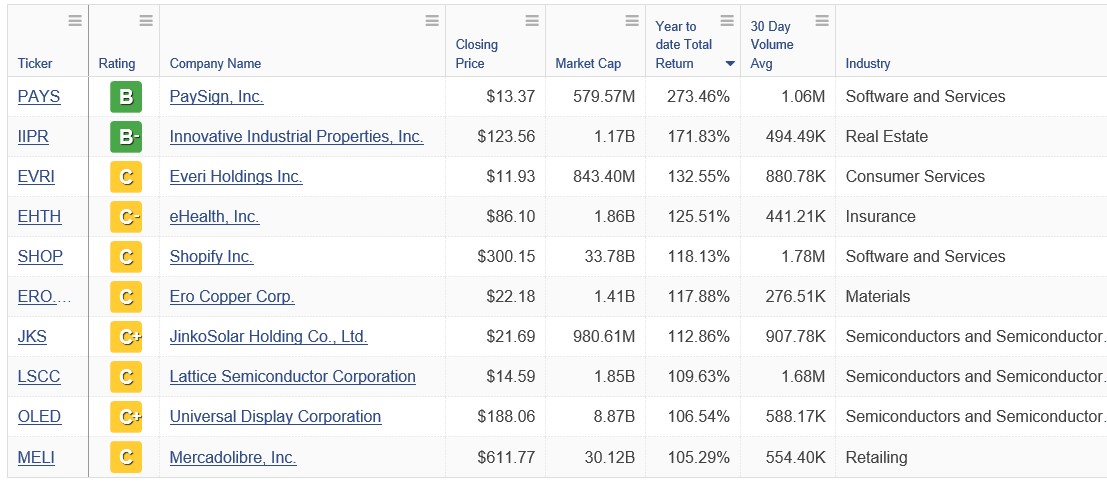 Source: Weiss Ratings, Data Date: June 28, 2019
Source: Weiss Ratings, Data Date: June 28, 2019
Five of the top 10 stocks are either software or semiconductor plays, including No. 1 name PaySign (PAYS, Rated "B"). The remainder include companies in the real estate, consumer services, and insurance space, among others.
[PaySign is one of Tony Sagami's recommendations in the Weiss Ultimate Portfolio trading service. It's up a stunning 17% since he bought it back in June. Click here to see how he's using the Weiss Ratings to profit from the market's best stocks, and how you can invest alongside him.]
If anything, these figures underscore how technology has been the "it" sector for the market in 2019. Outside of this overall theme, it's sort of a mixed bag of random groups and stocks.
But once you look at the figures on a one-year basis, that's when you start to see a powerful trend, one that I've been tipping you off to for some time now …
Many of those lower-volatility, more defensive ETFs in sectors like utilities and real estate are finding their way near the top of the fund rankings. Plenty are showing 12-month returns in the 16% to 19% range.
Three utilities and real estate names make it into the top-10-performing stock list, when you change the sort to one-year from year-to-date. They include a pair of foreign utilities.
As for what happens next, well, it really comes down to this: Do you believe a recession can be avoided in the next 12-18 months ... or not?
The bulls will tell you the Federal Reserve has things under control. It has already stopped raising interest rates, and will likely get around to cutting them in a few weeks (or months at the latest). Besides, they add, even if the Fed doesn't move, the trade negotiations are back on track and that's the only thing standing in the way of the economy.
My take? I've proven with actual data that the Fed usually mucks things up. It consistently misses key economic cycle turning points. Then when it does start cutting rates, it only succeeds in sparking short-term rallies. New bull markets don't resume until assets get cheap and previous market excesses are wrung out.
As for the economy, the trade war and tariff battle continue to dominate the headlines. But that isn't the whole story. The incipient slowdowns in manufacturing, autos, housing, commercial construction, and more aren't just China-related. They stem from a major turn in the economic and credit cycles.
Consider this: U.S. auto sales likely fell around 2% in the first half of the year, only the second year-over-year drop since the Great Recession. Consultancy AlixPartners expects them to fall again in 2020, from 16.9 million units this year to 16.3 million. Meanwhile, construction spending dropped 0.8% in May -- the biggest slump since last November. Private activity dropped to the lowest since January 2017.
If I'm right, that means pullbacks in anti-recession, higher-yielding, less-volatile sectors like utilities, REITs and consumer staples remain buyable. The same goes for lower-risk bonds and gold. Big rallies in growthier, lower-yielding, more-aggressive groups like transports, financials, technology, retail or industrials should be sold.
Again, it may not be the most exciting way to grow your wealth. But it's the safest and most likely to succeed!
With that, let me take a moment to wish you a fantastic Fourth of July holiday! I'll be back in touch again soon.
Until next time,
Mike