My Thoughts on the Midterm Election (From a MARKET Standpoint)
Wednesday, November 07, 2018
Deadlines can be a funny thing, especially this week. I say that because I have to write this column BEFORE the results of Tuesday's midterm elections come in.
You would think this makes things very tricky. But I'd argue that's not really the case, at least in this election cycle. Here's why:
1. As an American citizen, I will always vote based on my thoughts and feelings about issues that are important to me. I sure hope you did yesterday, too. But the truth is, political developments impact stock, bond and currency values much less than economic and monetary ones.
Here's a hypothetical scenario for you: Let's say that yesterday, the Republicans swept every single congressional and gubernatorial election. But let's also say the Federal Reserve decided to launch a surprise 50-basis-point interest rate hike, and that an inflation report came out showing a full 1% rise in consumer prices when investors expected only a 0.2% move.
Do you think the markets would celebrate President Trump having a theoretically more market-friendly Republican Congress to work with? Or crater because money just got a lot "tighter" and inflation was spiraling out of control? Exactly!
2. Cheap, easy money has been THE primary driver of assets of all kinds, not anything happening in the political arena. I've been calling this phenomenon the "Uber Bubble," and as it leaks air, THAT will dictate what happens in markets going forward.
Think about it: The Dow didn't plunge around 2,800 points from high to low in October because of anything to do with the election. The Russell 2000 didn't tank all the way back to a level it first hit in February because of some political poll. The collapse stemmed from worries about asset valuations, slowing future earnings growth, tighter monetary policy and other FINANCIAL developments.
3. Most of Trump's economically important policies have already been enacted. Looser regulation of banks. Lower corporate tax rates. Increased military spending. They're all in the past.
Plus, markets already know Trump is going to keep playing hardball on trade and tariffs despite occasional rounds of hopeful "happy talk." So, we aren't likely to see any huge new tax or spending programs come out of Washington in the wake of the midterms. Those are the only things that would really move the needle for markets.
4. Trump will probably keep bashing Fed Chairman Jerome Powell from time to time. It grabs headlines and may even score him some political points with his base.
But it will have ZERO impact on Powell's policy approach. If the economic and market data suggest more rate hikes are needed, I'm convinced that's exactly what we'll get ... no matter how much Trump protests.
Personally, everything I'm seeing says another rate hike is coming in December. It will be likely followed by even more hikes at multiple meetings in 2019.
At the same time, as you can see in these charts, foreign central banks are following the Fed by dialing back their own QE programs and/or hiking their own interest rates. That means money is getting tighter and tighter, like a vice with its handle slowly being turned.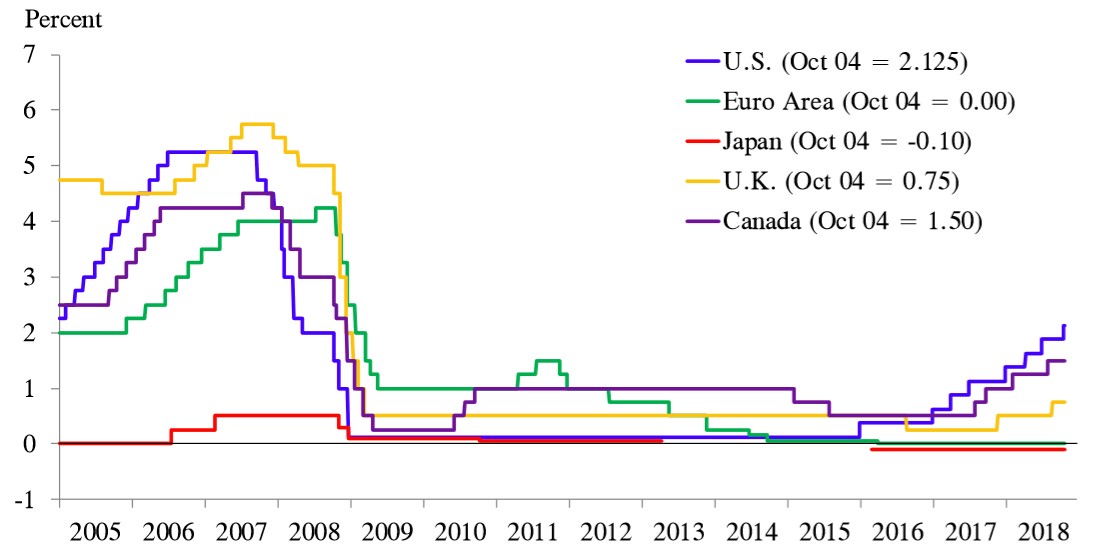 Source: Dallas Fed
Bottom line? The midterm elections will have social, political and geopolitical ramifications. That's important in our real lives. But from a purely market-based standpoint, what's happening elsewhere in the financial world will be the biggest driver of asset values down the road.
And you know what? None of what's happening there is all that favorable. That's why I've been urging you to adopt a "Safe Money" approach to investing. It would have spared you from the worst of the pain in October, and will also protect you from the even more turbulent times I see headed our way!
Until next time,
Mike Larson