The Retirement Tug-of-War: Spending Today vs. Saving for the Future
Friday, September 14, 2018
I get it. It's a lot more fun to spend money than to save it. I often find myself daydreaming about a convertible sports car, a lake house, business-class airline seats and five-star hotels.
But unless you're born into big money, you need to find a comfortable balance between enjoying life (spending) today and preparing for retirement (saving).
Don't get me wrong. I live a comfortable life, but it's not a luxurious one. I can afford a Mercedes, but I drive a Toyota. I can afford a Rolex, but I wear a Seiko instead. And I do a lot of shopping at Costco and Walmart instead of Whole Foods and Nordstrom.
I turn 62 in another week, but I plan on working for at least another 10 to 15 years. Not because I have to — I've already socked away a small mountain of money in my pension plan and a tax-deferred annuity — but because I really, really enjoy what I do.
Study after study shows that most Americans are enjoying life, too — although perhaps a little too much — today at the expense of saving for tomorrow.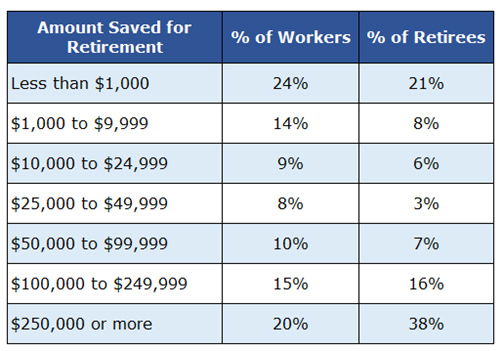 Data source: 2017 Retirement Confidence Survey
A new study from MagnifyMoney found that the average American has only saved $11,700 between bank accounts and retirement savings accounts.
And that's just the average. A shocking 21% of retirees have less than $1,000 saved for retirement, according to the Employee Benefit Research Institute's 2017 Retirement Confidence Survey. And 38% have less than $50,000.
Related story: Japanese savings the key to higher growth, bigger gains for you
Clearly, millions of Americans are counting on Social Security to provide the bulk of their retirement income.
That's a terrible strategy!
The average Social Security retirement benefit is just $1,413 a month, or about $17,000 per year. So much for that dream retirement, right?
Super Crypto Pays 20% 'Dividends'
Little-known cryptocurrency quietly paying 20% "dividends" to early investors. That's 10 times more than the dividend of the S&P 500, and 7 times more than a 10-year Treasury bond. It's faster than Bitcoin yet 1/30th the market cap. And investors are jumping in.
Internal Sponsorship
And even if you qualify for the maximum benefit at full retirement age, the most you can receive is $2,788 per month, or about $33,000 for the year.
Related story: How to build your nest egg amid America's retirement crisis
Compounding the lack of savings is our increasing life expectancy. According to the Social Security Administration, "About one out of every four 65-year-olds today will live past age 90, and one out of 10 will live past age 95."
Wow! If you retire at 65, you could very well be spending 30 years — or longer — in retirement. That's great news ... except for the cost of funding such a lengthy retirement.
And don't forget: A 65-year-old couple retiring today can expect to spend an average of $280,000 out of pocket on healthcare expenses over the course of their retirement, according to Fidelity Investments.
That's probably why 9 million people age 65-plus are still working. That's twice the number of working seniors in 2000.
It's also why 76% of baby boomers say they are not confident that they had enough saved for retirement, according to the Insured Retirement Institute. Some 68% also wished they'd saved more, and 67% wished they had started saving earlier.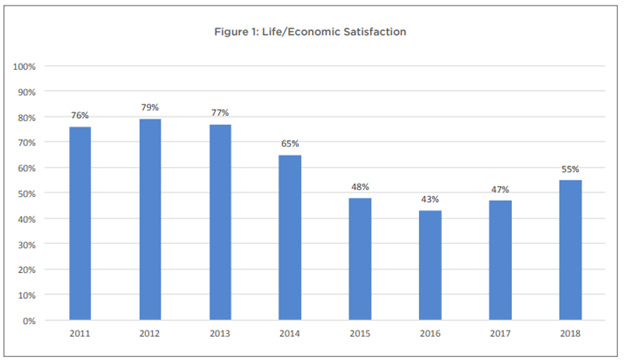 The percentage of baby boomers who report life/economic satisfaction is about the
same as the percentage with retirement savings. Source: Insured Retirement Institute.
My point is that most of the people reading this column today need to take a hard look at their attitudes about how much they can afford to enjoy life today at the expense of saving for tomorrow. And then take it one step further to get more growth out of the dollars that you are saving for retirement.
In fact, I think that the surest way to build an insufficient nest egg is to invest too conservatively. Conservative investments can be just as dangerous as overly aggressive ones for retirees, thanks to the erosive effects of inflation and longer life expectancies.
I recommend a basket of high-growth stocks that have both strong fundamentals (high Weiss Safety Ratings) and strong momentum (high Weiss Performance Ratings). That is exactly what we do with the Weiss Ultimate Portfolio, which has regularly beaten the pants off the S&P 500 … and has done so with less volatility.
The odds are that both you and I are going to spend a very long time in our "golden years." And I believe the Weiss Ultimate Portfolio is an effective strategy to build a prosperous, secure retirement.
To learn more about the Weiss Ultimate Portfolio, click here.
Best wishes,
Tony Sagami