The Tesla House of Horrors
Friday, May 31, 2019
OK, let me have it!
You know I think Tesla (TSLA) is headed lower — a lot lower — but you don't have to believe me. There are plenty of smart people who are saying the same thing.
Just look at how the rest of the investing world thinks about Tesla compared to the rest of the auto stocks. Here are the performance numbers for the all automaker stocks from the start of the year.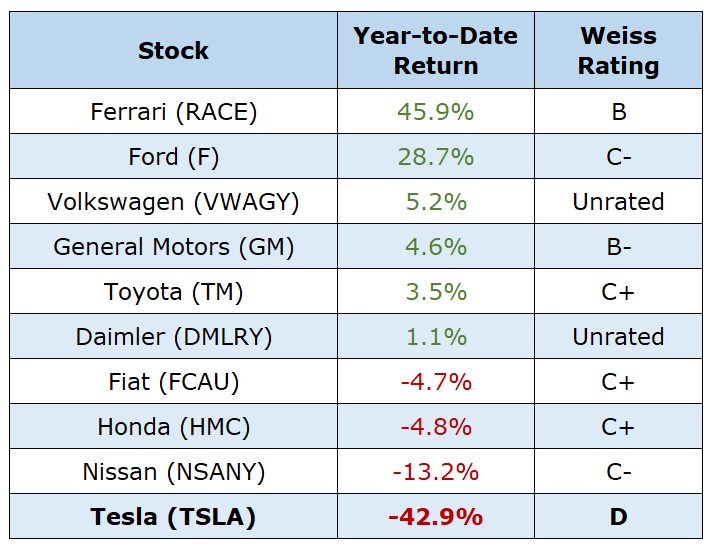 Through Tuesday, May 28, Tesla was down the most among these automakers. PLUS it earned the lowest grade — a "D," or "Sell" — from Weiss Ratings. Ferrari topped this list both with its 46% gain and our "B," or "Buy," grade.
What we think of a brand or car model itself doesn't really matter unless we are driving one. And even then, we should try to go for the one that will last and give us the best value for our hard-earned money. The same rule goes for their stocks.
The stock market, when you think about it, is really nothing more than a financial voting machine. And it's these investment voters of the world who are telling you that Tesla is an accident waiting to happen. All my research just happens to agree with them.
Heck, even Tesla's management is worried about the company's future. That's why it announced an aggressive cost-cutting program in May. In founder Elon Musk's own words:
"That is why, going forward, all expenses of any kind anywhere in the world — including parts, salary, travel expenses, rent, literally every payment that leaves our bank account — must (be) reviewed."
What's behind all this austerity? In the first 90 days of 2019, Tesla lost $702 million and had to pay off a $920 million bond, which pushed its safety net of cash lower by $1.5 billion to $2.2 billion.
Sure, $2.2 billion sounds like a lot of cash, but Tesla is burning through money like there's no tomorrow. In fact, Tesla expects to run out of cash in roughly 10 months and will be forced to tap either the bond or equity market AGAIN.
Not good! Each of those rounds of fundraising dilutes existing shareholder equity. No wonder Tesla shares dropped by 6% on this cost-cutting news and hit a new two-year low.
By the way, Tesla laid off 9% of its workforce in June 2018 and another 7% in January.
Does that sound like a company preparing for a flood of orders?
The next Tesla earnings report will be in July, and I expect it to cough up another profit hairball, just like last quarter when it missed expectations by a whopping 63%.
Related post: 5 reasons Tesla will crash in 2019
Look, I get why some people are obsessed with Tesla cars. Not only do they look fabulous, but they also make the environmental crowd feel good about themselves for driving an electric vehicle.
But don't make the mistake of thinking that new, whiz-bang technology is the way to make stock market riches. In fact, you can make more money investing in companies that are in boring industries but are so well-managed that they make mountains of money, year after year.
For example, two household names — Alphabet (GOOGL) and Domino's Pizza (DPZ) — went public in 2004. While investing in both of them for the past 15 years would have made a small mountain of money, one of would have made you almost twice as much:
Both of them, by the way, earn a solid "B" — or "Buy" — Weiss Rating.
If you really, really believe in the future of electric automobiles, take a look at either Toyota or Volkswagen. But if you're looking for a truly powerful way to rev up your portfolio, my colleague Sean Brodrick is providing a free, REAL-TIME training on cannabis stock investing. For more information, go here.
Best wishes,
Tony Sagami