When the Government Comes for Big Tech
Tuesday, October 13, 2020
"U.S. stocks climbed to to the highest in almost six weeks amid a rally in big technology companies" read the midday alert from Bloomberg, including the repetitive "to."
I only noticed the typo on second look; my first thoughts went to something Jon Markman had written last week for his Pivotal Point readers, titled Breaking Up Big Tech Will Be Sweet Sorrow.
Jon was talking, of course, about recent moves on Capitol Hill to address the growing impact of certain ubiquitous companies on not just their respective markets but, seemingly, society in general too.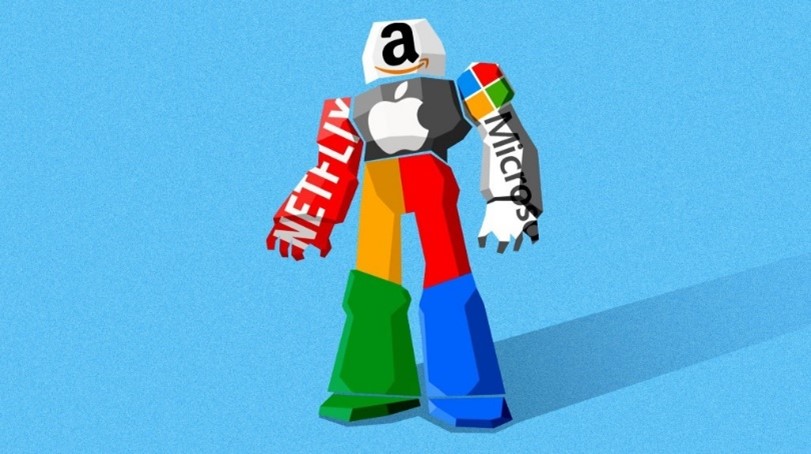 SOURCE: Axios
What rational reason could there be to break up companies whose products and services are extremely popular with the public? There are certainly abuses to be reined in. But, overall, their success is about making better products and services.
At the same time, as Jon notes, spinning out specific assets could be key to unlocking even more value from companies that are, after all, just giving the people what they want.
Here's Jon:
Washington lawmakers are about to mount their assault on perceived anticompetitive practices at big tech companies. That means investors should buy Amazon.com, Inc. (Nasdaq: AMZN, Rated "B"), Apple Inc. (Nasdaq: AAPL, Rated "B"), Alphabet Inc. (Nasdaq: GOOGL, Rated "B-") and Facebook, Inc. (Nasdaq: FB, Rated "B-").

According to a document filed the House Judiciary committee, after a 15 month investigation, it was recommended that the biggest tech companies in the world be broken up.

It's a dumb idea that will be great for existing shareholders.

Lawmakers assume that big tech companies were always destined to be such. Worse, they believe the companies must have cheated in order to win rather than simply innovating, and yes, in some cases copying, faster and more effectively than their competitors.

When Amazon.com started Amazon Web Services (AWS), its market-leading cloud computing platform, there was no immediate market for pay-as-you-go virtual computers and cloud-based data storage. In 2004, AWS was the backend for Amazon.com. The innovation was the move toward open source standards and application programming interfaces.

This strategy helped many fledgling businesses ultimately become much larger.

For example, Netflix, Inc. (Nasdaq: NFLX, Rated "C+") grew from a sleepy mail-order DVD rental company into a global streaming media giant with AWS as its partner. There are similar origin stories for DropBox, Inc. (Nasdaq: DBX, Rated "D"), Pinterest, Reddit and SpaceX.

Facebook and Alphabet have become popular targets among lawmakers because the companies command so much mindshare online. Their properties — WhatsApp, Instagram, Google Search and YouTube — represent the lion's share of all smartphone downloads.

This is not for lack of competition. They built better products members actually wanted to use.

It's easy to forget that in most cases, these online properties are competing for attention with billions of websites all over the internet.

And while Apple may very well have a monopoly over iPhone and iPad applications, it's naïve to assume keeping credit card and other personal information safe, or securing against malicious software, has no value. The power of the Apple ecosystem is its App Store safety.

To be sure, there have been some abuses in big tech.

Amazon.com product managers shouldn't be able to use internal data to spot, develop and undercut hot-selling products in its online store. Google Search should be more careful about appropriating and monetizing content collected by its search algorithms. And Apple certainly should not be taking 30% of Spotify Technology S.A. (NYSE: SPOT, Rated "D") subscription fees from iPhone and iPad users when Apple Music is the single biggest competitor.

These failings need to be fixed but breaking up the companies misses the mark.

This is mostly because that remedy will not fix anything. Big tech companies, even splintered, will retain their most trusted status. Amazon and Google ranked second and third, respectively, of the most trusted brands in America, (only behind the U.S. Postal Service) in a Morning Consult poll. Facebook has 2.3 billion monthly active users. And Apple customer loyalty is the envy of the consumer tech world.

However, even if lawmakers do split AWS from Amazon.com, sever Instagram and WhatsApp from Facebook and cleave off YouTube and Google Search away from Alphabet, shareholders will still own the spun-out businesses.

These businesses are extremely valuable in their own right.

If they are ultimately freed, the sum of the parts is worth much more than the current stock prices of Amazon.com, Facebook and Alphabet.

Given the nature of the App Store, I doubt Apple can or will be broken up.

Last October, a Needham analyst advocated that YouTube should be spun out of Alphabet. She claimed the video site might be worth $300 billion as a standalone company based on enterprise value and revenues. Analysts in the past have pegged the value of Google Search between $700 billion to $800 billion.

At current prices, investors would be getting Google Cloud, its fast-growing cloud computing business, and $100 billion in cash sitting on the balance sheet for free.

It isn't hard to understand why Washington politicians want to breakup big tech. Lawmakers think the companies are too powerful. However, big tech is not harming consumers with higher prices and their services remain wildly popular.

Ultimately, investors should hope those services are set free. In the interim, buy any weakness that arises out of breakup speculation.
The prevailing fact is that these companies are among the winners of the pandemic because they provide products and services consumers want at prices they're willing to pay.
From an investor's perspective, they create value.
And that's the bottom line.
All the best,
David Dittman