2 Stocks That Are Deglobalization Winners
In 2022, investors have contended with a messy war in Eastern Europe, worldwide inflation and supply chain bottlenecks. It's been a tough slog, yet better days are ahead.
The world is shrinking and expanding at the same time, which is confusing on the surface, but makes a lot of sense if you think about it.
The very process of deglobalization creates more steel mills, mines and factories, which lead to expansion. It also means opportunities for consultants and semiconductor design firms.
That's exactly why investors should look at Accenture (ACN) and Cadence Design Systems (CDNS).
Deglobalization is the retrenchment of global trade, barrier-free migration policies and overreaching influence of multinational corporations. Evidence of this factionalism is plain to see.
European and U.S. policy makers are at war with Big Tech firms because they present an easy target for populists. Politicians around the globe are pushing back against immigration. And corporations are rethinking where they manufacture their products.
Related Post: Deglobalization Bonanza for Semiconductors
The Wall Street Journal reported this week that Apple (AAPL) is making plans to move iPhone production from China.
It would be easy for investors to focus on the negatives, but there is another, more profitable way to look at it.
Reining in globalization will lead to new infrastructure in all the major regions of the world. This process is now well underway in Japan, Korea, China, Europe and North America. Duplicating the world's infrastructure will mean new construction, manufacturing and technical jobs.

The U.S. Congress in September passed the CHIPS and FABS Acts, legislation worth $52 billion in new spending for domestic chip fabrication. Similar policies are gearing up in the public and private sectors in Europe, China, Korea and Japan.
Capital is being deployed to ensure unobstructed, regional access to microchips.
Cadence Design Systems makes software used by the semiconductor industry to design microprocessors and help with software integration. The business is extremely profitable from the ground up. Current gross margins are 90% and operating margins are 28%. Since 2020, free cash flow is up 77%.
Based in San Jose, California, the firm touches every part of the semiconductor sector, small and large. The company builds the software those businesses need to scale new processes and to integrate with ever-evolving software applications.
Deglobalization means that there will be more of these firms in more parts of the world. More important, they will need to gear up quickly. Chip designers need software from companies like Cadence to make the transition.
The second firm we're looking at today, Accenture, is a professional services company. Its consultants are dispersed all over the world, embedded at many of the biggest global brands. These workers are building real software. They are intimate with regional regulations and policy dynamics.
Related Post: Big Opportunity for Big Data
Based in Dublin, Ireland, this company currently has 721,00 employees and $50.5 billion in revenues, according to a company fact sheet. More important, its business is a steady grower with solid margins.
During the fiscal Q4, sales jumped to $13.4 billion: up 24% year over year. The operating margin was 14.6%, according to a filing at the Securities and Exchange Commission.
Granted, a lot of investors are worried.
They are concerned about shrinking corporate profits, rising prices for inputs and component shortages. Many of these short-term issues peaked in the first half of 2022.
Oil prices have declined from $119 in March, to $77.50 today. During the same time frame, copper slid from $4.89 per pound to $3.87.
The global container freight shipping cost peaked in September 2021 at $10,361. Today, goods can be shipped for only $3,145, according to data compiled at Statista.
Despite all this, investors have a choice — they can either look backward or they can look into the future.
Cadence Design Systems and Accenture are the future and are both well positioned to benefit from deglobalization. So are savvy investors who take advantage of this opportunity. In fact, this trend is now well underway and will not revert.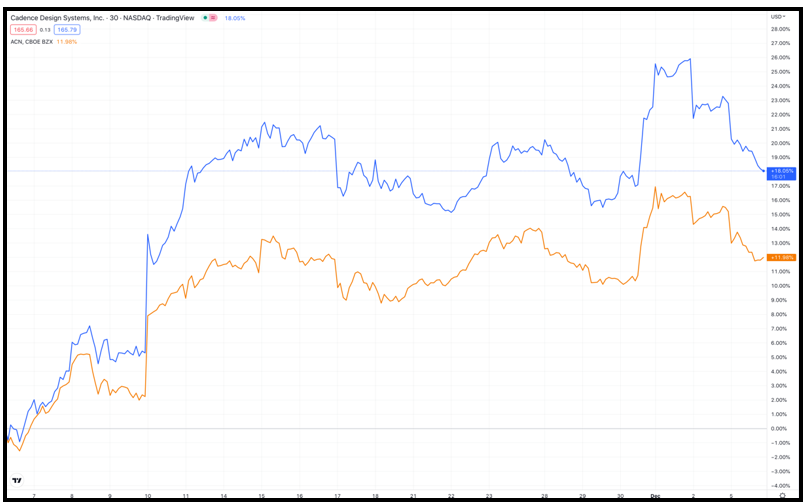 One-month performance charts of CDNS and ACN.
Click here
to view full-sized image.
Supplying a shrinking world caught up in factionalism means increased regional infrastructure.
Bottom line: It's a gold rush for the companies that provide picks and shovels.
As always, remember to conduct your own due diligence.
All the best,
Jon D. Markman
P.S. If you're looking for more winning picks, my friend and colleague Tony Sagami's service, Disruptors & Dominators, is the perfect place to look. Members of the service are currently sitting on open gains of 40%, 33% and 21%.