Ride the Digital Wave With Tyler Technologies
The digital transformation is here. But you haven't missed the boat yet … there's still time to get your ticket.
We're only in the beginning stages of a great digital era that's showing no signs of slowing down.
One obvious winner that's continued its staggering growth is Tyler Technologies (NYSE: TYL). The Plano, Texas-based company isn't your typical software business. It began as a conglomerate with interests in trucking, explosives and sewage pipes.
Company founder Joseph McKinney started his career in 1960 as a venture capitalist. By the age of 28, he was a millionaire and looking for his next big opportunity. That business was Saturn Industries, an amalgamation of three defense contractors.
Over the next three decades, Saturn turned into Tyler Industries, and annual sales swelled to $1.1 billion. Then, McKinney dismantled the entire enterprise and returned the capital to shareholders.
Related Post: Tech Rebound Opportunity
•  Tyler Industries was the shell company that in 1997 became Tyler Technologies … and that's when everything changed.
New corporate managers could see what the internet was doing to paper. They began building a platform to digitize the mountains of paperwork gumming up municipal and state governments around the country.
From the beginning, Tyler product and sales managers were smart, too.
They built software suites around courts and justice, records and tax, public safety, enterprise resource planning, regulatory, appraisals and schools.
A clever perpetual licensing platform meant small governments could buy software once and get continual upgrades if they maintained valid subscriptions. The platform began to catch on.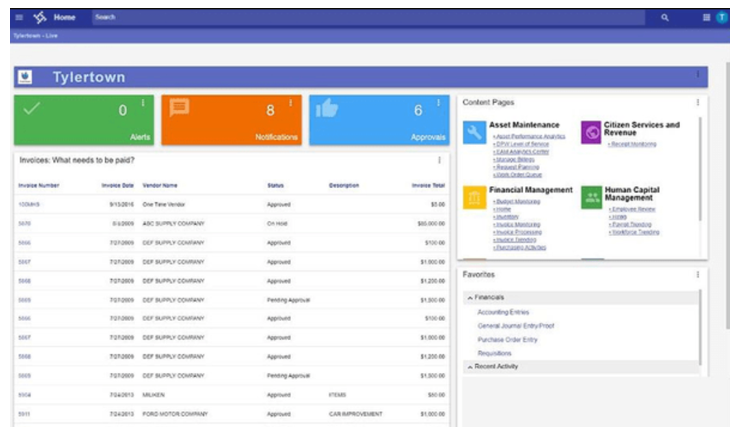 Example of Tyler's easy to use software   Source: Software Connect
Today, lawyers all over the country use Tyler software to uniformly file and send court dockets. County courthouses — once overburdened with boxes of paper documents — are now completely online. And that same base code helps people pay parking tickets and property taxes.
•  The size of the opportunity is breathtaking.
Paper forms have kept key parts of government siloed. Digitizing the operating systems of cities and states decreases bottlenecks and makes the public sector efficient … and the marketplace for lean government is insatiable.
The complete digital transformation of state and local government is inevitable. So it makes sense that Tyler — and its integrated suite of products — is the logical winner.
Related Post: 2 Digital Winners Report Thriving Results
Shares trade at 123 times forward earnings and 14.8 times sales. Although these metrics may seem expensive, it's important to note that sales during the second quarter grew to $404 million, up 49% from a year ago. Recurring revenues were up 58% to $319 million.
Shares recently traded around $481.45.
Here's TYL's daily chart:
Savvy investors should use any near-term weakness as a buying opportunity.
Best wishes,
Jon D. Markman