Why Ads Are the Future of Streaming Media
Giant media companies want to monetize your time. The winners who manage to do this will earn billions.
The Wall Street Journal reported Friday, Comcast (CMCSA) and Fox are in talks to buy ad-supported streaming media businesses. The future of digital media looks more like traditional TV than cable.
The opportunity for new adtech investors is enormous.
It wasn't supposed to be this way. Apple (AAPL) CEO Tim Cook went to Brussels last year and laid the case against what he termed surveillance capitalism. He warned that digital advertisers were tracking users across the internet.
He artfully conflated adtech with stolen privacy. Naturally, he had an agenda.
Apple managers had been working on Apple TV+, a new paid subscription video on demand business. Consumers could avoid those pesky adtech oppressors by paying a monthly fee. The iPhone maker allocated $6 billion to original programming. And managers contemplated initial pricing at $9.99 per month, according to Bloomberg reporting in August. Then reality set in.
When Apple TV+ launched November 2019, the service was free for a year to buyers of iPhones, iPads, Macs and Apple TV hardware. Others could pick it up for the humble price of $4.99 monthly.
The problem Apple encountered was subscription fatigue. Consumers are reluctant to add new monthly subscription charges in addition to their cable TV, cell phone, Netflix (NFLX) and Spotify (SPOT) bills.
Hulu, for example, operates a tiered SVOD business. One part looks like Netflix: It is ad-free, and subscribers pay $11.99 monthly.
The other part of the business is $5.99 per month and ad-supported. Variety reported May 2019 that 70% of Hulu's 82 million subscribers choose to the cheaper option. The company's ad business in 2018 generated $1.5 billion in sales.
Jim Nail, a principal analyst at Forrester Research put it best in a January interview with CNBC. He said that consumers "hate spending money out of their own pocket more than they hate ads."
Disney (DIS) took control of Hulu in May 2019. A complex arrangement with Comcast could see the House of Mouse take full ownership of that ad platform as early 2024.
Now Comcast, according to the Journal, is in advanced talks to buy VUDU, a video on demand service currently owned by Walmart (WMT).
Comcast is the largest cable TV and home internet provider in the United States. Through its NBC Universal subsidiary, the company operates broadcast TV networks like NBC and Telemundo, along with cable networks MSNBC, USA Network and E! The company acquired Sky in April 2019, the largest media company in Europe. And Peacock, its multi-tiered SVOD, will launch in July 2020.
From Fox to Comcast and Disney, the groundwork for the future of digital media is being laid out for all to see. Despite the fearmongering from Apple, ad-supported content is not going away. If anything, it's increasing.
The largest media companies in the world are building new connected, digital models for traditional TV. Adtech, especially at the platform level, is more important than ever.
The Trade Desk (TTD) has become the cornerstone in the new digital media reality. The Ventura, Calif., company makes a programmatic advertising platform that allows advertisers to buy digital ads in real-time across everything that is not Google or Facebook.
Because it owns no media, The Trade Desk has been able to strike adtech deals with content providers like of Hulu, Amazon.com (AMZN) and Chinese internet behemoths Alibaba (BABA), Baidu (BIDU) and Tencent (TCEHY).
Meanwhile, the company has become a trusted partner for giant ad buyers like Proctor and Gamble (PG). More so than ever before, similar firms are looking to purchase digital ads because they are effective and measurable.
A perfect example is sports on connected TV platforms. For traditional TV, advertisers buy spots in advance. But there are pitfalls to this method.
Commercials targeted for the eighth inning of a blowout major league baseball game may be wasted because nobody is watching. And content providers often give away advertisement spots during extra innings — the most watched time —because their models are not built to take extended play into account.
The Trade Desk platform optimises the cost of ads in real-time based on data. It's a win for ad buyers, content providers and programmatic advertising.
eMarketer, a digital advertising research firm, predicts that programmatic ad spending will reach $68.5 billion by 2020, an increase of 19.5%. By 2021, digital ad buyers in the U.S. are expected to spend $79.8 billion in programmatic advertising.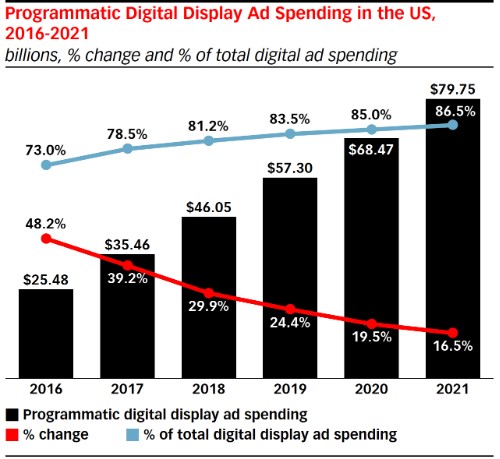 The Trade Desk shares trade at 80x forward earnings and 23.2x sales. Based on those metrics, the stock might seem expensive. Investors should keep in mind the trajectory of digital ad spending and the total addressable market.
The stock is up 16% this year and 52.6% during the past 12 months. During that time sales have grown 58% year-over-year, to $477 million. Profitability rose 73%, to $88.1 million.
This is a well-managed business on the ground floor of the future of digital media. The opportunity is enormous.
Growth-oriented investors should buy The Trade Desk shares into any meaningful pullback.
Best wishes,
Jon D. Markman