AI Stocks Aren't the Answer … Yet
It's a new year and analysts are scrambling to promote their top picks.
But this year, things are a bit different.
EquBot, an exchange-traded fund (ETF) manager, just released its list for 2022 with one major twist: The stock picker isn't human.
Artificial intelligence (AI) is the driving force at its AI Powered Equity ETF (NYSE: AIEQ).
If its algorithms are correct, 2022 will be another great year for the biggest companies with strong momentum.
But as with all top pick lists, investors should tread carefully.
EquBot was born in 2017 in the halls of the Haas School of Business at the University of California, Berkeley.
Chida Khatua, Art Amador and Chris Natividad thought they could start a business that would use AI to actively manage a stock portfolio.

As part of the "Startup with IBM" program, the team had access to Watson, the AI that gained fame by beating a steady stream of human contestants on the TV trivia game "Jeopardy!"
Taking Watson to the stock market seemed like a no-brainer. So, the EquBot team got to work training an AI model to automatically parse data from social media, news items, financial statements at the Securities and Exchange Commission (SEC) and classic market information like price momentum and volatility.
Related Post: An Oracle Opportunity
The goal was to get the AI to a point where the system could build a dynamic yet data-dependent portfolio that could be rebalanced daily in real time.
Ideally, the algorithms would continually learn and get better as the software systems analyzed more data and accessed its performance.
When the AI-Powered Equity ETF debuted in October 2018, it marked a historic event: It was the first fully functioning, actively managed ETF governed by unsupervised algorithms.
Documents filed at the SEC claimed the AI would analyze more than one million data inputs daily, building dynamic models for its investments.
Amador later told CNBC that the system will strive to recognize patterns across data inputs that humans might miss. And given its data dependency, there would be none of the emotional biases that make picking stocks so difficult.
But despite the clear advantages, early performance was choppy … to say the least.
The computer system traded as frequently as it did erratically. The turnover rate in the first year was 260% versus only 3.1% for the S&P 500. And during the market's 2018 downturn, AIEQ plummeted 16% compared to a loss of 6% for the benchmark S&P.
Despite the sketchy start, performance improved and the machine vs. man scheme caught on with the public.
The fund logged returns in 2019 and 2020 of 31.2% and 25.4%, respectively, earning a three-star rating with Morningstar. Assets under management (AUM) grew from only $7 million in 2017 to a staggering $169 million through December 2021.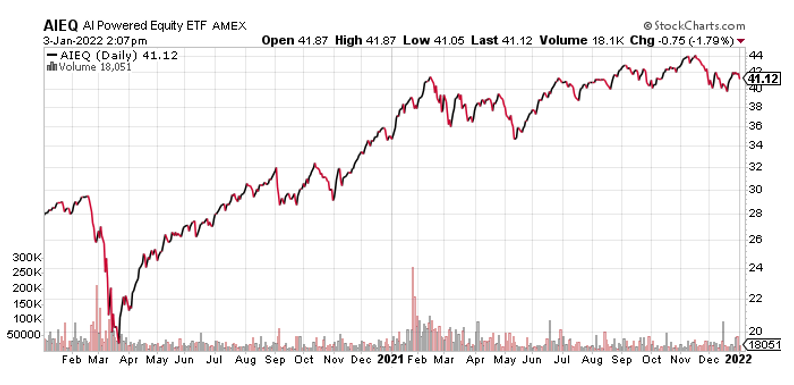 AIEQ enters 2022 with top picks Advanced Micro Devices (Nasdaq: AMD), Palo Alto Networks (Nasdaq: PANW), DexCom (Nasdaq: DXCM), Fortinet (Nasdaq: FTNT), Moderna (Nasdaq: MRNA), Avantor (NYSE: AVTR), CBRE Group (NYSE: CBRE), Enphase Energy (Nasdaq: ENPH) and Nutanix (Nasdaq: NTNX), according to ETF Managers Group, an ETF tracker and broker dealer.

The list is filled with big cap tech winners in the semiconductors, cybersecurity and vaccine categories. It's a great strategy ... if the best trends of 2021 persist.
Unfortunately, the list assumes AIEQ will stick around to see how it all plays out in 2022 … but given past practices, that's not likely.
A year ago, U.S. News and World Report noted that AIEQ's top picks for 2021 were Tesla (Nasdaq: TSLA), AMD, Enphase, Alphabet (Nasdaq: GOOGL), Moderna, Zscaler (Nasdaq: ZS) and Etsy (Nasdaq: ETSY).
A year later, only three of those companies are in the top nine. And AIEQ gained only 19.4% in 2021, well short of the benchmark S&P 500 advance of 27.6%. Yikes.
There's no denying that AIEQ's algorithms are great at finding winners … but the system simply can't stay with them, at least the way it is currently coded.
Even with all the data crunching and machine learning, this is a shocking human shortcoming.


Related Post: The Digital Ad Dominator
Top-10 pick lists are entertaining, yet most of the time, they're not very useful.
Savvy investors should find a strategy that works for them, then stay with it.
And if you'd like one great strategy that's focused on capitalizing on the digital transformation, I highly encourage you to check out my Weiss Technology Portfolio service.
Subscribers are currently sitting on massive gains of 501%, 411% and 401%. Click here to learn more.
Best,
Jon D. Markman