The Real Story Behind Amazon and Whole Foods
After Amazon's (AMZN) announcement that it was buying Whole Foods Market Inc. (WFM) for $13.7 billion in cash, shares of both companies went up. (Enough in Amazon's case to essentially make the purchase free.)

The valuation part of this story is important. Amazon spent almost $14 billion on a 460-store, retail food business with razor-thin margins. And its stock rallied.

That's not because of synergies. It's not because Amazon will increase margins. It's far more simple.

Whole Foods makes Amazon's best product way more attractive. That product is Amazon Prime.

Let me explain.

Amazon has never played by traditional big company rules. It refuses to grow up. It does not really worry about reported profits. It reinvests cash flow like a start-up. Its focus from day one through today has been securing loyal, repeat customers.

These are Prime members. They love shopping at the online retailer so much that they are willing to pay $99 per year for the privilege. It's already a $6.4 billion subscription business.

In 2016, John Blackledge, an analyst at Cowen and Co., calculated Prime members spend a staggering $193 per month. And 91% renew after the first year. In February, he estimated the number of Prime memberships had swollen to 80 million worldwide.

Amazon built a business where its best customers pay to join, spend a lot, and don't leave. Sweet.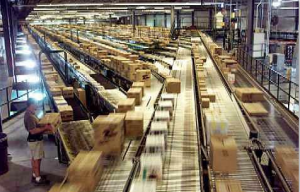 Amazon's constellation of warehouses, logistics facilities and robots are the envy of the package-moving world.
It does lavish Prime members with perks. They get free music and video-streaming services. Free two-day shipping on parcels is standard. Among other things, they can store photos, borrow digital reading material, and, in some zip codes, have takeout delivered for free, too.

The win for Amazon is not that it will boost margins at Whole Foods. In fact, Bloomberg
reports it will reduce prices. The win is it makes Prime stickier, that it ramps up customer spending.

When you examine Amazon through the lens of Prime, everything becomes clearer.

To enhance early e-commerce capabilities, it built Amazon Web Services, a massive public-cloud network of data centers. It continues to invest in artificial intelligence and bespoke customer relationship management (CRM) software tools to push the envelope in customer service.

The company's constellation of warehouses, logistics facilities and robots are the envy of the package-moving world. It has invested in a movie studio, consumer electronics, several white label businesses, like apparel, baby wipes, and now food retailing, to offer its customers on-demand access to quality goods at reasonable prices.

It was able to make these large investments because Amazon holds two important advantages over its competitors: Its online store is a great first client, offering immediate scale. And the company continues to have unfettered access to cheap capital.

It's easy to invest in infrastructure when you have a really big customer to smooth out the edges and when the market does not force you to reward shareholders with profits, dividends and share repurchases.

To be honest, I don't see these factors changing anytime soon.

The fact that Amazon shares continue to rally despite the Whole Foods gambit is evidence as to why you may want to consider adding shares into weakness. Plus, other retailers may be in store for a pop as well. Check out my article here on what to look for in the space.

Best wishes,

Jon Markman