Amazon's Ambient Computing Future Has Arrived
Amazon.com (Nasdaq: AMZN) is making its play for the future of computing, and it's full of adorable, connected robots, video picture frames, portable interactive projection devices and subscriptions.
On Tuesday, executives at the Seattle-based company revealed a slew of new computing devices at its annual fall hardware event.
Not a single one of them had a keyboard. Most didn't seem like computers at all.
But that's what makes ambient computing so special, and it's why this is Amazon's next big leap into our everyday lives.
•  The concept of ambient computing is simple: computing made to appear anytime, anywhere.
In contrast to desktop computing, it can occur using any device, in any location and in any format, aiming to integrate functions like the Internet of things (IoT) and artificial intelligence (AI).
Most people don't think of Amazon as a computer company, although it is. A big part of its profits come from Amazon Web Services (AWS), its giant cloud computing platform.
Since 2006, AWS has been the biggest player in cloud computing, selling data processing, digital storage and IT services to most of the biggest corporations in the world.
The value proposition is that it's cheaper for companies to run all their workflows remotely with AWS rather than building out data proprietary centers and paying scads of IT staff to physically monitor servers.
•  Amazon's ambient computing ambitions are built along the same guidelines.
Executives imagine living rooms full of connected smart devices running computer vision, machine learning and AI on the AWS backbone.
Robots and connected devices will seamlessly interact with humans, taking care of life's mundane details in the background without user input, provided users pay a monthly subscription.
It all seems a bit far-fetched. Even getting Siri to set a calendar event can be a chore. But the future is here, and this is now reality.
•  Amazon's strength is its ecosystem.
Alexa, its digital assistant, is by far the most popular in the world. That's because most the software needed to build Alexa-enabled code is open source.
Meaning, it can be modified and it's free to distribute.
Related post: Swipe Right on Match After Apple's Legal Setback
As a result, third-party software developers have written more than 100,000 Alexa skills.
These bits of code help consumers do everything from controlling lights, appliances, smart locks and security systems to playing interactive trivia games.
•  The devices announced on Tuesday build on Alexa and that strong ecosystem.
One of the most notable new products revealed was Astro. It's a diminutive three-wheeled robot with a tablet-like face and a periscope camera system that extends from the back of the screen.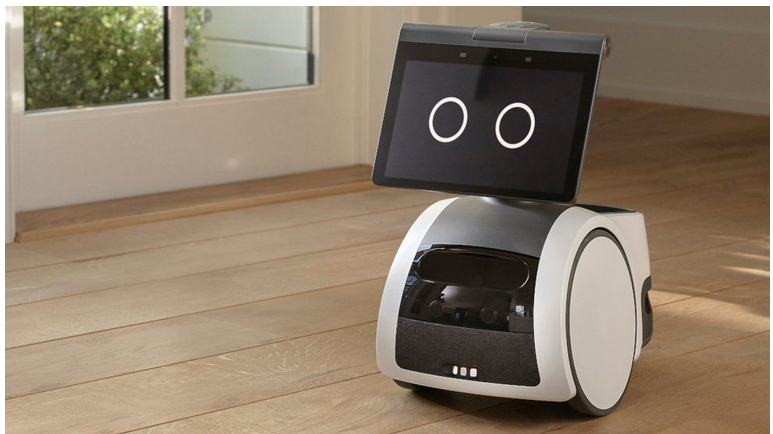 Amazon's Astro robot Source: BBC.com
The little device is intended for videoconferencing, acting as a home watchdog and serving as an assisted living companion.
Astro can be remotely commanded by a smartphone. So it's perfect for trundling around the house to check on weird alerts.
When finished, the robot autonomously returns to its charging port.
Another revealed product showcasing the incredible prospects of ambient computing was Echo Show 15. It takes its name from a family of Amazon Show videoconferencing and otherwise smart devices.
The trick with Echo Show 15 is computer vision and a 15-inch form factor that hangs on the wall.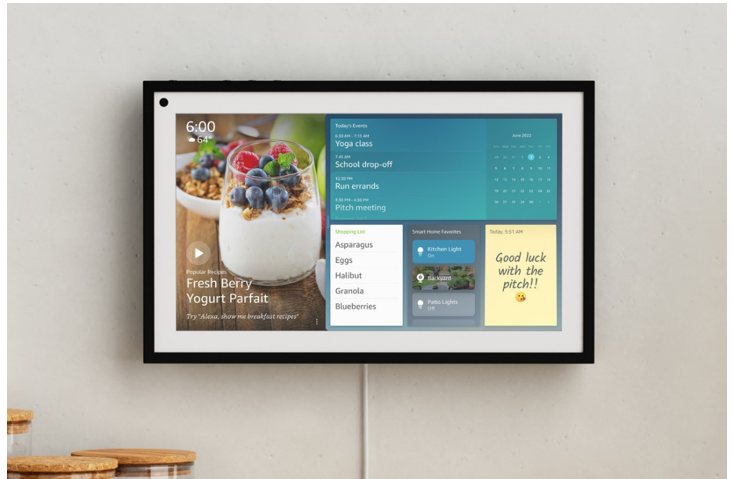 An Echo Show 15 device hung on a wall showing personalized content. Source: The Verge
This means it will use its facial recognition software to recognize family members, then show personalized content as they approach.
Then there's Amazon Glow, a product aimed at children, grandparents and/or parents who are out of the home.
Glow combines a portrait mode, high-resolution 18-inch screen, a camera and a pico (or pocket) projector.
Related Post: Investors Should Write Off Amazon Antitrust Case
Glow can project an interactive map in front of the display that's touch sensitive. Kids can play board games and do puzzles while interacting with Grandma, who can play along remotely in real-time on her tablet.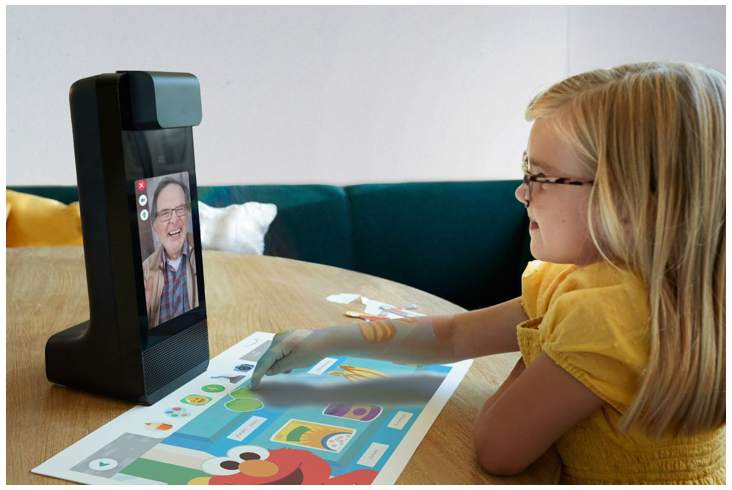 A child video chatting and playing a boardgame on Glow. Source: The Verge
•  All these devices and the other products Amazon announced on Tuesday are ambient.
There are no settings to change. The computing simply happens all around the user. Amazon plans to monetize most of these services by selling inexpensive monthly subscriptions.
The simplicity is appealing. It's easy to imagine this will be a big revenue stream in the future.
•  The reason Amazon is likely to win the lion's share of this emerging market is that none of it is easy to do.
It requires a big cloud operation, like AWS.
It needs legions of enthusiastic developers.
And it must have a large, installed customer base to get started.
Amazon checks all those boxes and has 200 million Prime members. These loyal customers are used to paying annual subscriptions for priority shipping, streaming media and early access to planned sales.
They're also early adopters.
I think they will agree that ambient computing is the future. They will be among the first in line to gain access to it.
And that line is only set to get longer as more people see the value in the convenience its user experience offers.
I told you back in May that Amazon was primed for a new stretch of hypergrowth. Its latest product reveal only serves to underscore my prediction.
It also leads me to reiterate my recommendation that longer-term investors should strongly consider buying AMZN on pullbacks.
Best wishes,
Jon D. Markman