Every day, another piece of the real world gets absorbed by digital processes.
It's a big and long-standing trend … yet few investors understand the opportunity.
And right now, a great new opportunity has arisen that exemplifies this sentiment.
On Monday, executives at Oracle (NYSE: ORCL) announced a $28.3 billion deal to acquire Cerner (Nasdaq: CERN), a firm that specializes in digital medical-records software.
Oracle shares have plummeted around 12% when news of the buyout began to surface.
To me, that pullback does not seem justified at all.
Cerner is one of those sleepy stocks. It's a big player in digital medical records. Based in Kansas City, Missoursi, the company built a solid foothold in 2009 when the federal government mandated that hospitals begin keeping digital records.
Related Post: Investors Have a New Frontier in the Cloud
The idea was a good one.
Clinicians, insurers and healthcare companies previously spent way too much time shuffling paper. Moving to digital records sped up everything, including the level of care physicians could offer to patients.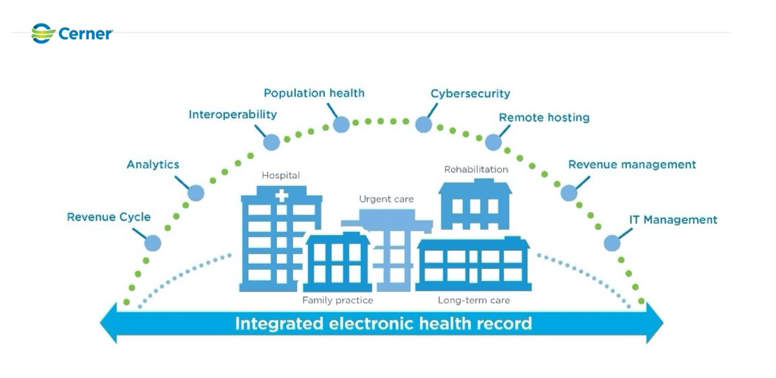 Cerner quickly grew into a company with $5.5 billion in annual revenues, and its robust $800 million annual research and development program yielded 600 global patents.
However, as lucrative as the business of moving hospitals to digital records has proven to be …
The next stage, involving data analytics for reducing waste and lowering costs, should likely be even better.
Oracle executives seem to understand this.
They also have the portfolio of products to lock in conservative healthcare companies.
The firm is the global leader in database management systems.
Its software engineers and consultants help large enterprise and public sector clients wring out useful information from database products.
Given the scale and completeness of that business, it's become a cash cow.
Unlike its competitors, Oracle operates in cloud applications, platforms and infrastructure.
Those pieces generated $13.8 billion during 2021 in free cash flow, according to documents filed with the Securities and Exchange Commission (SEC).
To be fair, a big part of Oracle's share performance since 2020 has been about cash flow growth, share buybacks and disbursements to shareholders.
The company bought back 329 million shares in the last year alone, spending $21 billion. Dividends accounted for another $3 billion.
The Cerner buyout puts Oracle in the middle of the digital medical-records sector at the beginning of the next stage of healthcare's digital transformation.
It's not hard to see the writing on the wall: Oracle executives plan to upsell hospitals, insurers and other healthcare companies … then use the free cash flow for even more share buybacks.
This all seems shockingly like the ecosystem-centric business plan of Apple (Nasdaq: AAPL). That's not a knock against either firm: It creates a lot of shareholder wealth.
Related Post: Meet the Metaverse
Last week, Oracle reported second-quarter sales of $10.4 billion, up 6% year over year.
Total cloud revenue surged 22%, to $2.7 billion. And for good measure, executives increased the share repurchase program by another $10 billion, while declaring a quarterly dividend of 32 cents.
I think I've made my point … business is great.
After reaching a high of $106.34 following the Q2 financial results, shares have fallen all the way back to $91.64.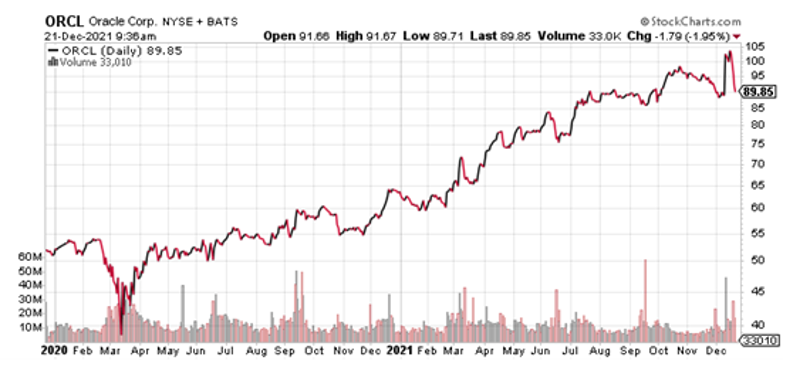 To me, it looks like investors misunderstood the Cerner buyout. It's a great opportunity for Oracle, and it's possibly an even better opportunity for investors.
Savvy investors should consider buying Oracle shares using near-term weakness. Remember to always do your own due diligence.
Best wishes,
Jon D. Markman