Apple, Alphabet & the Privacy War
"It was the best of times. It was the worst of times."
The famous juxtaposition from the opening lines of "A Tale of Two Cities" is fitting. On the same day Apple (AAPL) raced to a new high, Alphabet (GOOGL) shareholders were taking it on the chin. This followed yet another perceived privacy scandal.
The Wall Street Journal reported Monday that Alphabet is working with Ascension, a leading health provider, to gather and mine personal health data.
It's a public relations nightmare. It's also an opportunity. Here's why …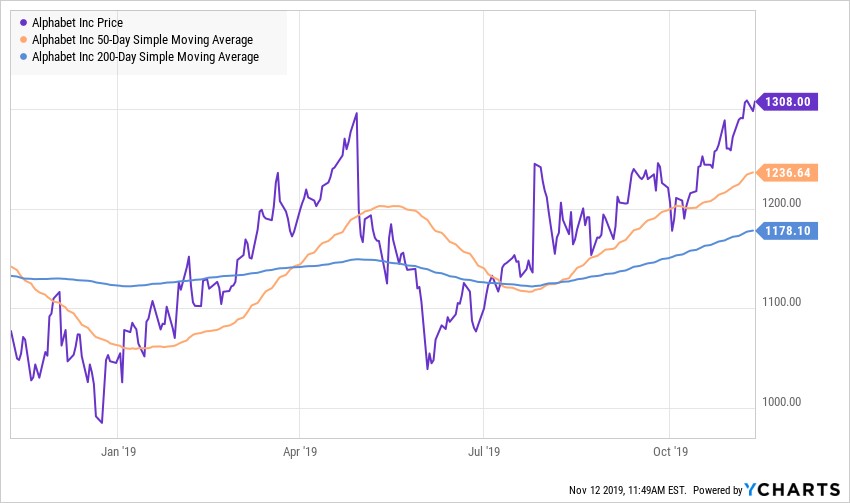 Use any weakness in Alphabet (GOOGL) as a buying opportunity.
It was a more than a year ago when Apple CEO Tim Cook began his campaign against big technology rivals. In a carefully prepared speech delivered in Brussels, he railed against firms that were collecting and monetizing data.
Although Cook didn't mention Alphabet or Facebook (FB) by name, his implication was clear. He was conflating digital advertising with lost privacy.
The strategy was disingenuous at best. Facebook and Google command a huge portion of mindshare on all desktop and mobile computing platforms. If Cook really wanted to thwart the collection of personal data, he could simply ban the use of Facebook, Instagram and YouTube applications on MacOS, iPads and iPhones. He might also stop selling access to iPhone users through Google Search.
CNBC reported in June that Cook was hands-on while a new deal was hammered out to keep Google as the default search engine for the Safari web browser. Although the actual details of that deal have not been disclosed, an estimate from analysts at Goldman Sachs put the 2018 value at $9.5 billion.
And let's not forget, Cook has shown no willingness to fight for actual user privacy rights in repressive regimes like China and Russia.
The Cupertino, Calif.-based company moved the security keys during 2018 for its Chinese iCloud accounts to local data centers. According to Reuters, the transition gave Chinese state authorities far easier access to personal text message, email and other data stored in the cloud.
The Federal Security Service, the successor to the KGB, is pressing Apple for the same access in Russia. Neither Cook nor Apple spokespeople have offered a response, which is telling.
Meanwhile, the negative rebranding of digital advertising is working.
Facebook, Google, Amazon.com (AMZN) and, to a lesser extent, Microsoft (MSFT), are undergoing multiple contractions as investors reassess how much they are willing to pay for these tainted revenues.
Longer term, the current handwringing is an opportunity. These businesses will continue their rapid growth as advertising eventually moves online entirely. Paradoxically, the prospect of future regulation makes existing franchises more valuable.
The problem is in the nearer term, as businesses that represent the future of big data are under attack. Alphabet is a machine-learning business. Managers are looking to acquire huge amounts of data so the company can train algorithms faster to do all sorts of great things.
Project Nightingale, for example, gathered personal health records across 21 states from Ascension, a St. Louis-based operator of 2,600 healthcare facilities. The data included lab results, hospitalization records, doctor diagnosis, medication and other personal data.
The project is fully compliant with federal health law. Alphabet claims the data is being used to develop new software that utilizes artificial intelligence to enhance patient care. Ascension is looking to increase record-keeping efficiencies by centralizing digital health records.
There are many reasons to be optimistic. Applying AI algorithms to large caches of data is a big part of the future of medicine.
Researchers at the U.S. Department of Veteran Affairs were able to predict patient deterioration up to 48 hours earlier than previously possible.
These are life-saving medical advances, and Alphabet is best positioned to bring technologies to the market first.
Investors should keep this in mind. Weakness in the Google parent is a buying opportunity.
In fact, Alphabet — along with Facebook and Microsoft — have been mainstays in our Tech Trend Trader Disrupt Portfolio. For more information on how to get our specific "Buy"/"Sell" recommendations, click here.
Best wishes,
Jon D. Markman