Attack on TikTok Undercuts Confidence
Pro-growth policies are nice, but corporate managers mostly want politicians to stay out of the way.
On Saturday, Microsoft (Nasdaq: MSFT, Rated "B+") and ByteDance, the Chinese parent of TikTok, put buyout talks aside after President Trump expressed opposition, according to a report in the Wall Street Journal.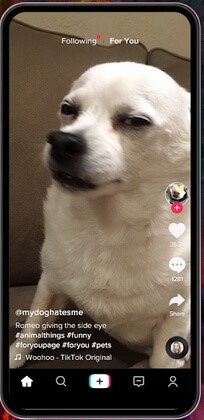 TikTok ScreenShot Source: androiding.com
This is not normal. It's bad for business … and share prices.
TikTok is a wildly popular smartphone application best known for its silliness. Viral short videos of teens, millennials and celebrities dancing, lip-synching and playfully pranking their pets has been a welcome refrain to the seriousness of the global pandemic. At first glance, the app seems like a harmless bit of fun.
President Trump and Secretary of State Mike Pompeo see it quite differently. They have concerns the platform might be a trojan horse for the Chinese government. And with 2 billion downloads, it would be the perfect tool to secretly monitor Americans and manipulate public discourse.
But for them to reach to that conclusion, they're making a lot of assumptions … and ignoring a few inconvenient truths.
ByteDance and TikTok operate independently. Data for TikTok's American members is stored in Singapore and the United States, not China. There is also no direct evidence any personal information has ever been shared with the Chinese government.
The reported arrangement between ByteDance and Microsoft would make certain that never happens. According to a Reuters report, all American data would be protected by Microsoft. Furthermore, ByteDance agreed to divest its entire stake in TikTok.
Related post: Microsoft Crushes Q2 Earnings
Despite this, as the Journal notes, President Trump still objected to this arrangement, leaving negotiations at a standstill.
It's not the first time he has put his thumb on the scale of corporate winners and losers. His administration has:
Unilaterally barred American semiconductor companies from working with Huawei, the Chinese telecommunication equipment giant.
Intervened in a Pentagon contract that would have benefitted Amazon.com (Nasdaq: AMZN, Rated "C+") in January 2020. When company managers cried foul, having lost a $10 billion contract, the White House barred defense department officials from answering questions about Trump's involvement.
Last week, he the president announced the federal government would loan Eastman Kodak Company (NYSE: KODK, Rated "C-") $765 million to reboot its failing businesses.
The popular perception is these actions benefit markets. After all, as the president frequently points out, stock prices have gone up during his term.
Unfortunately, this is a low bar. For decades, share prices have mostly risen, in good times and bad.
By way of comparison, during the first 1,290 days of the Trump administration, the S&P 500 is up 44%. While that is definitely respectable, over the same time frame the index returned 67% under President Obama, 46% for President Clinton and 43% for President George H.W. Bush.
More telling, gains during previous administrations happened outside the shadow of short-term interest rates at or near zero. In other words, investors today are getting middling performance during a period of extraordinary opportunity. They are taking less risk when they should be all-in.
In my opinion, the president's mercurial management style could be the culprit. The opportunity for investors is getting ahead of a possible change in leadership.
Institutional investors are placing their bets now.
On June 2, the U.S. President Real Clear Politics betting odds average had President Trump and Vice President Joe Biden in a dead heat. Currently, the odds favor Biden 61-to-34, almost 2-to-1. Over the past two months, stocks have risen 6.4%.
With that said, a lot can change in the final 100 days heading into a presidential election. Also, investing on the basis of politics alone is one-dimensional. The wisest strategy is to find the companies best positioned to take advantage of big macroeconomic trends and buy dips.
Related post: How to Outwit — and Benefit From — the Surveillance State
Assuming a President Biden offers normal centrist and pro-growth policies, and leaves the meddling behind, his election should be a strong net positive for stocks.
The capital markets function best when transparent systems for mergers and acquisitions, government contracts and corporate governance are allowed to operate. These systems foster confidence. Ultimately, they allow investors to take more risk.
In contrast, a White House that flails at perceived enemies such as TikTok causes investors to lose confidence.
Investors shouldn't fear a new president any more than they fear a healthy global business ecosystem that celebrates innovators like TikTok and risk-takers like Microsoft.
In short, we need to let innovative and ambitious companies like Microsoft make business decisions that allow them to grow freely. Enough with the excessive red tape from Washington.
Best wishes,
Jon D. Markman