Big Pentagon Contractors Fight off the Correction
You may have noticed. Investing in companies that make missiles — and the ships, aircraft and armored vehicles that carry them — has been a good idea for a long time.

Most industrial sectors were trashed last week. Selling was nearly indiscriminate. In the big picture, though, defense stocks barely budged.

It is as if this investment sector plays by a different set of rules. In the post-9/11 world of fear and security, it should.

Defense spending has become a sacred cow. Neither political party can afford to appear anti-military. And decades removed from the Vietnam War, support for the troops is right up there with apple pie and baseball.

That support is not a bad thing. Far from it. Those who risk life and limb to protect the country deserve our thanks and broad support. They also deserve better pay and care after they return from active tours of duty.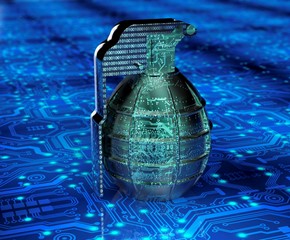 $165 billion in additional funds for the Defense Department is already shoring up stocks in this sector.
Military spending is not supporting the troops. It is mostly helping the companies that make costly weapons of war.

And there is no end in sight to the budget increases.

Despite growing inflation fears and rising interest rates due to ballooning budget deficits, there is not even a whisper about curtailing Pentagon support. Democrats and Republicans disagree about almost everything … except military spending. Last week, they agreed to $165 billion in additional funds for the Defense Department.

The extra money fully funds the National Defense Authorization Act, a $700 billion package passed by the Senate last September on an 89-8 vote. Of that figure, the Associated Press
reports $603 billion will be used for core Pentagon operations like missile defense, machinery and buildings. Only $71 billion will be used to fund the troops stationed at home and abroad.

In 2019, the Pentagon budget will rise again, to $719 billion. By way of comparison, the budget was $345 billion in 2002.

Keep in mind, an internal audit by Ernst & Young for fiscal 2017 found the Pentagon's Defense Logistics Agency could not account for $800 million in construction projects. The L.A. Times reported that, of the 63 largest Pentagon programs, 50 are over budget by $296 billion in aggregate.

As a taxpayer, you should be miffed. As an investor, there is a lot to like.

A flush Pentagon, with very little oversight, is excellent for sector sales visibility. There is every indication the U.S. government will begin making significant longer-term commitments to rebuild aging military equipment, and missile and data analytics systems.

Better still, for investors, there is not a great deal of competition among defense contractors …

The companies tend to stay in their lanes. Legacy issues, combined with scale and security requirements, mean big projects only garner a couple of contractors. The winners are usually telegraphed many months, if not years, in advance.

The procurement process is broken. Even companies with superior technology and political connections, like Palantir, need not apply.

The primary defense contractors — Northrop Grumman (NOC), Lockheed Martin (LMT), Boeing (BA) and General Dynamics (GD) — have built in barriers to entry so secure, they could have kept out Genghis Khan.

Investors have noticed. The sector has been on a deliberate trek higher. Volatility has been mostly nonexistent.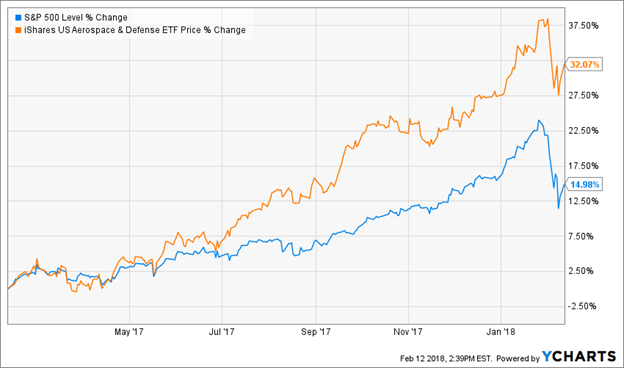 You can find Boeing, Lockheed, Northrop and several other big names in the iShares U.S. Aerospace & Defense ETF (ITA). ITA is up 32% over the past year, vs. the S&P 500's roughly 15% gain.
Let me give you an example. The S&P 500 Index was off 5.1% last week and is now minus 2.0% year-to-date. Northrop Grumman was down only 1.2% last week. It is up 8.4% for the year. Boeing and Lockheed Martin are up 13.4% and 6.3%, respectively.

None of these stocks have crossed their 200-day moving averages since the middle of 2016. Boeing shares trade 120% above that critical longer-term trend.

The key to successful investing is finding companies with strong sales visibility, safe operating margins and low share price volatility. I have spent the past two decades mining data and curating lists of stocks and businesses that fit these criteria.

I call this list of companies The Power Elite, and I'm always on the lookout for opportunistic entry levels.

All the major defense contractors fit The Power Elite profile. And some are in good shape to buy now, such as Northrop and Lockheed Martin. So are some of the smaller ones, like Elbit Systems (ESLT). This company, which is based in Israel, has seen its stock surge nearly 9% so far this year. For more ideas like this — complete with timely buy and sell alerts — click here.

Best wishes,
Jon D. Markman