Buy the Dip on This Tech Giant
Stripe may be the most important unknown Big Tech company, but the battle to secure its business is even more fascinating.
Executives at Amazon.com (AMZN) announced last week that the company is expanding its payment arrangement with Stripe. The deal also commits Stripe to Amazon Web Services, the giant cloud computing platform.
The fight is in the cloud. Investors should consider buying Amazon shares.
At its core, Stripe is an infrastructure business. For a fee of about 3%, the company, based in Dublin, Ireland, helps other businesses process online debit and credit payments.
Businesses add the Stripe application programming interface to their website, customers enter their payment information and presto, the payments begin. Unlike PayPal Holdings (PYPL), its main competitor, Stripe does not require buyers to set up a third-party account.
In fact, Stripe's application programming interface killed payments friction, and an empire was born.
Founders Patrick and John Collison grew up in Dromineer, Ireland, a rural town of less than 200 people. The brothers were gifted students and later attended MIT and Harvard, respectively.
As college undergrads in 2009, they started Auctomatic, a software tool that allowed sellers on eBay (EBAY) to manage their listings and inventory. Within 10 months, Auctomatic was acquired for $5 million, and the Collisons began working on Stripe.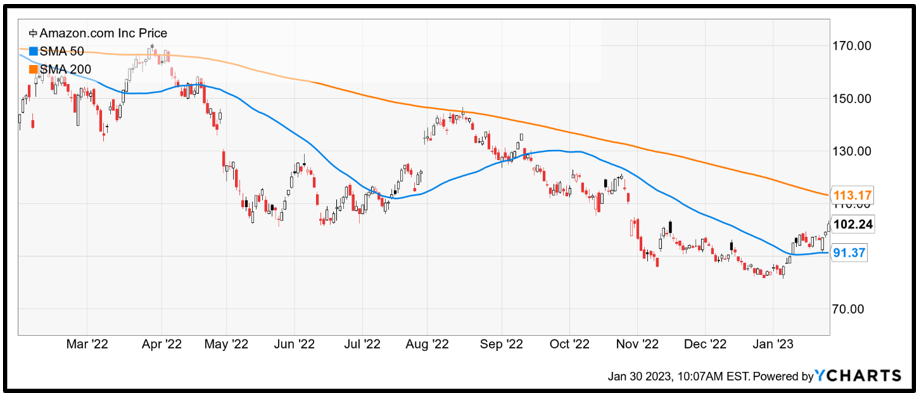 One-year chart of Amazon.
Click here
to see full-sized image.
In the wake of the 2009 financial crisis, a wave of startups emerged. These new digital businesses relied on application programming interfaces to quickly build scale.
The Stripe API quickly became integral to Lyft (LYFT), a ride-sharing business, and to Shopify (SHOP), an online storefront host and hundreds of other small companies trying to process online orders. The deep-pocketed venture capital investors were not far behind.
A funding round in 2016 raised $150 million, at a valuation of $9.2 billion. The investment was co-led by CapitalG, the investment arm of Alphabet (GOOGL), according to a report from The Wall Street Journal.
Analysts were curious when Amazon quietly partnered a year later with Stripe. Now that strategic deal is getting bigger and making more sense.
According to a Stripe press release last week, the new partnership with Amazon dramatically expands the prior agreement.
Stripe will become the payments partner for Amazon in the U.S., Europe and Canada, and will be responsible for a significant portion of payments across its subsidiaries like Prime, Audible, Kindle, Amazon Pay, Buy With Prime and others. In return, Stripe agrees to expand its use of AWS.
Cloud infrastructure and platform services are expected to grow in 2023 to $150.2 billion and $136.4 billion, up 29.8% and 23.2%, respectively, according to a research report from Gartner.
While Amazon is the global market leader with 25.9% market share, Microsoft (MSFT) and Alphabet are quickly catching up to the e-commerce giant in terms of growth.
In July 2022, executives at Netflix (NFLX) announced that Microsoft was selected to host its foray into digital advertising. Microsoft secured that account over Alphabet, a firm with much greater online ad expertise.
In 2016, a Google Cloud press release outlined the parameters for moving Spotify (SPOT) to Alphabet cloud infrastructure. That deal has since been strengthened.
The biggest cloud businesses in the world are battling for every iconic client. The war is for the future of workflow processing and digital storage, but only a few firms have the scale to win the largest, most important customers.
Winning the deal with Stripe, a company now valued at $74 billion, is a really big deal for AWS. It is a foundational business.
Investors often overlook AWS, yet the infrastructure business had $20.5 billion in sales during Q2 of 2022 alone. Despite its huge size, the revenues are still growing at 33% year over year. AWS now accounts for 16% of Amazon net sales. Profits for the division were $5.4 billion.
At $102.24, the stock trades at 63.5x forward earnings and 2.1x sales. Although these financial metrics may not seem cheap, shares are historically underpriced.
Amazon shares moved earlier in the month up through the longer-term downtrend at $90, which is great. It can be bought on weakness. The next overhead resistance level is $120, then $138.50.
As always, conduct your own due diligence beforehand.
And don't forget, starting immediately, you'll be able to find my columns in Weiss Ratings Daily, the new home of Pivotal Point, each and every Thursday morning.
All the best,
Jon D. Markman