Chip Glut Separates Future Winners & Losers
There has been a recent glut of some semiconductors, so investors are selling the stocks of all chip companies.
On Tuesday, The Wall Street Journal ran a feature about semiconductors, soaring inventories and weak demand. Investors then sold chip stocks across the board.
Remember, easy narratives drive stock prices, regardless of facts. This is a lesson and an opportunity for investors.
Let's be clear, some semiconductor markets are actually in a glut.
We know this because executives from the companies that are the sector's biggest players have told us so.
For instance, Micron Technology (MU) CEO Sanjay Mehrotra says that computer memory inventory at the Lehi, Utah-based company is well above internal targets. That's code for too much stock and forced price cuts. In the interim, Micron is also cutting 10% of its workforce to smooth out the short-term hit to profitability.
Related Post: The Clock Is Ticking on TikTok's Future
Then there is Intel (INTC), the world's largest maker of central processing units, the brains of most PCs and data center servers. Intel has been a bad business for so long that it's hard to remember when executives were on the right side of industry trends. Forbes reports that nothing has changed.
Additionally, the VanEck Semiconductor ETF (SMH) — whose top holdings include NVDIA (NVDA), ASML Holding (ASML), Broadcom (AVGO) and Texas Instruments (TXN) — rose 2,000% from 2009 – 2021, but then plunged 40% as demand waned, leading to glut.
Just take a look at its price chart …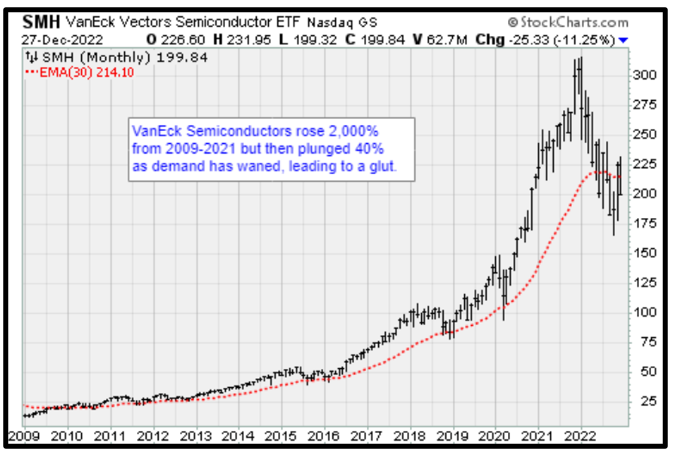 SMH price chart.
Click here
to view full-sized image.
Micron and Intel are big suppliers to the largest personal computer markets. The companies supply Hewlett Packard (HPE), Dell Technologies (DELL) and the rest of the industry other than Apple (AAPL).
Business has been bad since late 2021, when businesses and consumers stopped upgrading their computers to get online. And therein lies the larger problem for investors in chip businesses.
The upgrade cycle coming out of the pandemic was real, yet short-lived.
The lockdown forced companies to upgrade laptops and enterprise software suites. A lot of those sales were pulled forward, out of the normal capital expenditure cycle. Sales that would have occurred in 2022 became redundant. Add a slowing global economy, due to higher interest rates, layoffs and general worry, and you get weaker consumer demand, too.
These factors are causing a glut of chips for PCs, smartphones and other categories impacted by the pandemic pull forward.
That is a substantial part of the semiconductor business; however, it is not all of the sector. The world is not really awash in chips. Too many of the chips have become commoditized over time.
Some parts of the sector are experiencing high demand, such as specialized graphics processing units for cutting-edge data centers and next-generation silicon for electric vehicles, power stations and electric vehicle charging infrastructure.
Companies like ON Semiconductor (ON) have sold out production years in advance.
And the WSJ notes that executives at Lattice Semiconductor (LSCC), a supplier to the defense industry and data centers, are not concerned with rising inventories given the nature of its customers.
Related Post: Top 3 Trends Set to Gain More Strength in 2023
Despite this, both ON Semiconductor and Lattice were hit hard Tuesday in the fallout from The Wall Street Journal semiconductor story. The stocks declined 1.7% and 3.5%, respectively.
And that is the lesson for investors: big narratives drive stock prices, even when the storyline is fundamentally flawed. Smart investors wait for the fallout, look for support levels, then invest wisely.
There is one other factor for semiconductor investors to keep in mind ...
The stock prices typically begin moving higher as executives guide analysts' expectations about future inventories.
Nvidia CFO Colette Kress told analysts in November that inventory levels could normalize by the end of January. Nvidia shares responded by rising from $139 to $187.70 during the next six weeks, a gain of 35%.
Overall, semiconductor sales are projected to reach $1 trillion by 2030, according to research reports from Gartner and McKinsey. The only weak spot was PCs. Researchers at Gartner expect a modest 5.4% decline for PC sales in 2023.
The bottom line is that the current narrative about the semiconductor glut is an opportunity. Investors should look for attractive entry levels, after conducting their own due diligence, of course, for their favorite businesses in the sector.
Keep in mind that the sector is neither a monolith nor in decline. So, I'm keeping ON Semiconductor on my radar.
That's it for today. Wishing you a happy and prosperous new year!
All the best,
Jon D. Markman
P.S. If you're looking for more picks to add to your 2023 portfolio and haven't yet joined my friend and colleague Sean Brodrick's Resource Trader service yet, now is the perfect time. In fact, members of his service are currently sitting on open gains of 15% and 5%!