Coinbase, a Bitcoin-Platform IPO, Is Anything but Cryptic
Platforms are the secret to longer-term tech investing. The companies that own platforms win … the others not so much. Coinbase Global is the major cryptocurrency platform.
Coinbase Global shares will begin trading April 14, according to a recent filing with the Securities and Exchange Commission (SEC). The business is solid, and the stock is likely to be a big winner.
Most investors have never heard of Coinbase. Sure, they understand that Bitcoin is beginning to be mainstreamed by big brands. Square, Inc. (NYSE: SQ) and PayPal Holdings, Inc. (Nasdaq: PYPL) began accepting the cryptocurrency as legal tender last year. Tesla, Inc. (Nasdaq: TLSA) managers announced in February that customers could use the digital coins to buy its electric vehicles (EVs).
Yet standardization is only the tip of the iceberg. The entire financial services sector is suddenly hot for Bitcoin.
Last year, Paul Tudor Jones and Stanley Druckenmiller, two titans of the hedge fund world, began allocating funds to cryptocurrency. A portfolio manager at Soros Fund Management told Bloomberg in March that intuitional investors see Bitcoin as a hedge against shrinking fiat currencies. And analysts at The Bank of New York Mellon Corp. (NYSE: BK), a major trustee for investment managers, penned a report a week later that predicted Bitcoin could reach $100,000 by July.
Related Post: New Social-Trade Platform eToro Runs With Bulls
Coinbase managers determined long ago that they could create a sustainable business in cryptocurrency. Founders Brian Armstrong and Fred Ehrsam began building an exchange. It was 2012 and crypto was still a fringe asset class, yet the pair saw big potential in a trusted platform where crypto enthusiasts could safely buy, sell and hold their digital coins. To date, the San Francisco-based company has not been breached, nor have any coins been stolen.
Trust is a big deal with platforms. Apple Inc. (Nasdaq: AAPL) and Alphabet Inc. (Nasdaq: GOOGL) dominate smartphone operating systems because customers know applications purchased and downloaded from their stores can be trusted. Similarly, Mastercard Inc. (NYSE: MA) and Visa Inc. (NYSE: V) dominate credit cards; Square and PayPal are the top picks in digital wallets because there is infrastructure in place to swiftly deal with trust issues.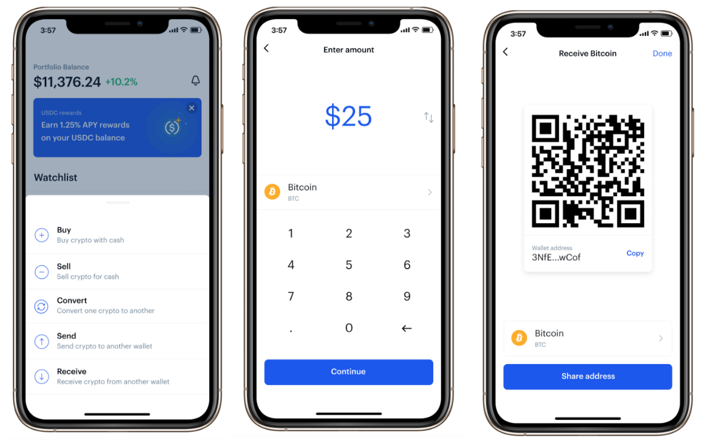 But gaining trust among consumers and regulators didn't come easy for Coinbase. From the beginning, managers sought clarity where other players in the crypto world were deliberately opaque.
Today, signing up for a Coinbase account involves divulging your real name, address, email, phone number and banking and credit card information. New customers will also have to submit digital photos of their driver's license and, in the U.S., a valid social security number. There is no pretense of anonymity.
Related Post: Why PayPal Is Cashing in on Digital Money Wars
Despite all of this, customers have flocked to Coinbase, making it the largest cryptocurrency exchange in the world. In the SEC filing, Coinbase claims that 56 million individual accounts, 7,000 institutions and 115,000 partners scattered across 100 countries have joined the platform.
That adoption is great … but the business is even more impressive.
The company logged $1.14 billion in sales during 2020, up 139% year over year. Profits came in at $322 million versus a loss of $30 million. Gross income surged to $527 million, up a staggering 2,000%.
There is even more good news for investors. Growth is accelerating.
Last week, managers said that revenue during the first quarter was $1.8 billion, up 900% from a year ago. Profits are expected to be in the range of $730 million to $800 million. If you take the midpoint, that is a year-over-year increase of 2,300%.
If that business looks a lot like Mastercard, Visa, Square or PayPal, it is not by accident. Coinbase is operating a purely transaction-based platform where customers must pay to play.
Buying or selling $200 worth of Bitcoin, according to the corporate website, will cost about 1.5%, although charges decline substantially for larger investments. There are also fees for purchases made with debit cards and wire transfers.
While Coinbase managers have not set the price for IPO shares, the company is expected to be valued in the $100 billion range. Given the growth of the business and the unique platform advantages over competitors, this seems cheap.
Longer-term investors should consider buying Coinbase shares into any post-IPO weakness.
Best wishes,
Jon D. Markman