Make Your Portfolio Prettier
A national survey of American teens conducted earlier this year is a gold mine of insights for investors.
Last week, Piper Sandler released data from its 43rd semiannual survey. With winners in Big Tech and apparel mostly enshrined, malleable teens seem to be more focused on wellness and core beauty.
The big trends have not changed … and so too have the potential big dollars for investors.
Consumerism is alive and well. Retail spending remains surprisingly robust. And teens are leading a culture shift toward convenience, leisure and health consciousness.
Overall spending among surveyed teens rose 4% to $2,367. Females recorded the largest increase, rising 9% year over year.
The "core beauty wallet" (cosmetics, skincare and fragrance) rose to $264 annually, up $10 from a year ago.
Teenage girls said they are more likely to read the labels on beauty supplies and pay more for products they deem to be healthy.
And that health-conscious trend is also spewing over into the apparel industry.
Athleisure, a mix of athletic and leisure apparel, is more popular than ever. Nike (NKE) is the favorite apparel and footwear company. Mindshare among teens grew by 4%. Lululemon (LULU) added 3%.
Overall, athletic brands now represent 44% of teens' favorite apparel brands, up 3% from 2021.
Netflix (NFLX) and YouTube, which is owned by Alphabet (GOOGL), each garnered 30% of teens daily video consumption.
In social media, TikTok, Snapchat (SNAP) and Meta Platforms' (FB) Instagram grabbed 33%, 31% and 22%, respectively.
Cashless payments are on the rise, due largely to Apple (AAPL). A stunning 87% of American teens have iPhones and they overwhelmingly use ApplePay for payments.
The vast Apple ecosystem continue to suck users into a network of products and services. And a staggering 70% of teens claim to own AirPods, the ubiquitous wireless earbuds.
The Piper Sandler survey is a great tool for discovering these important, investable trends.
The project is a semiannual offering that gathers input from a regionally diverse mix of 7,100 teens across the United States. The average age of respondents is 16.2 years.
The goal is to determine trends in discretionary spending, fashion, brand and media preferences. Piper claims that since 2001, more than 218,900 teens have been surveyed and 54.8 million data points have been collected.
The survey this year tells two important stories. Big brands dominate their niches, and their grip is getting stronger. The second takeaway is that health and beauty, as a category, is growing rapidly.
Ulta Beauty is the perfect mix.
Ulta = Ultimate Play in Beauty
The Bolingbrook, Illinois-based company is the largest beauty retailer in America, and the top of the Piper Sandler list with 48% mindshare.
Its big box retail stores offer cosmetics, fragrances, nail products, haircare, and bath and body products across all price points.
CEO Mary Dillon came to Ulta in 2013 when the company only 450 stores. As a veteran of PepsiCo (PEP), McDonald's (MCD) and U.S. Cellular (USM), Dillon changed the corporate ethos toward brand loyalty, and the digital backchannel to make everything flow seamlessly. By the end of 2021, Ulta had 1,308 stores.
The operational side of the business has also grown steadily. Sales ballooned from $5.9 billion in 2017 to $8.6 billion through 2021.
Ulta has 30 million loyalty customers, and they represent 90% of all sales. Given the perishable nature of cosmetics fragrances and haircare, that business operates a lot like a subscription. The exception was 2020 when the pandemic lockdown caused a recession.
Economic anxiety is playing a big part in the current stock market. Investors fear that rising interest rates will choke off the economy and slow consumer spending.
But it really doesn't look like that pessimism translates to Ulta because the business is in a nice spot.
Its stores serve all terminals of the economic spectrum, and it's still small enough so that there is plenty of runway for further growth. And the business remains the number one beauty brand for American teens.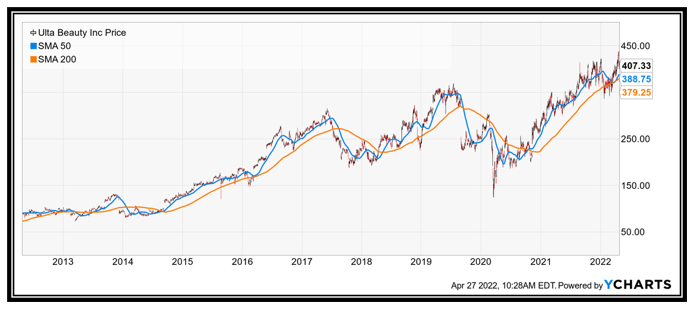 Shares trade at only 19.7 times forward earnings and 2.6 times sales. Gross margins in 2021 were 39%, with an operating margin of 15%.

Optimistic investors should consider buying shares into any near-term weakness.
Like always, do your own due diligence.
Best wishes,
Jon D. Markman