Digital Transformation Is Our World
If you've wanted to learn about how to pick the best cryptos to invest in — and when to invest in them — we have a three-part tutorial series that may interest you. Dr. Martin Weiss and crypto analyst Juan Villaverde's Crypto Timing Model is showing a potentially bullish chart pattern for cryptos. Click here to learn more.
Every day, the physical world becomes more intertwined with digital processes, and the opportunity to climb aboard only gets more imperative.
Remember: The digital transformation is the biggest investment opportunity in a generation, and it is only getting started.
Digital transformation is alive and well, even if investors are not currently paying attention.
I have been writing since 2017 about this transformative process. During most of that time, innovative digital infrastructure businesses have created tremendous shareholder wealth by telling a single, compelling story: Digital businesses are intensely agile.
Unfortunately, that story is no longer resonating with investors.
The performance of the tech-heavy Nasdaq since December has been abysmal.
Weakness for software, semiconductor and e-commerce shares has destroyed the index. From Dec. 1, 2021, to the time of writing today, the Nasdaq Composite has dropped 20.66%.
Related Post: Tech Winners vs. Weaklings
Analysts expect even more weakness in the coming months as investors discount future growth based on rising interest rates. The Federal Reserve is set to raise its short-term interest rate target this week by an additional half percentage point.
Despite these market concerns, we're seeing the digital transformation play more of a bigger role in our lives than ever before.
And there's a big new digital transformation success story with Microsoft (MSFT), a company that is performing much better than many of its big tech rivals. I would call this story a microcosm of how powerful the digital transformation really is.
A Digital Transformation Win at Microsoft
The Financial Times reported on Monday that Lego is about to invest hundreds of millions of dollars to hire software engineers. The Danish toymaker is augmenting its famous plastic toy bricks with virtual ones.
Ironically, Microsoft is at the center of the Lego digital transformation story.
"Minecraft" was acquired in 2011 by Microsoft. "Minecraft" is a popular online game that is the digital equivalent of Lego toys. Children acquire virtual bricks and then go about building new virtual worlds where they can play together.
The game was developed in 2009 by Mojang Studios, a small Swedish software company.
Although "Minecraft" was developed on a shoestring budget, the game has since sold 238 million copies, making it the best-selling video game title ever. And the multi-platform franchise continues to enjoy 140 million monthly active users, creating additional streams of revenue.
Those revenues, and the status of "Minecraft," are a sore spot at Lego.

The Times notes that "Minecraft" is like a ghost at Lego. The company began in 2003 to outsource its internal game development.
Clearly, executives saw the potential of digital; however, they were unwilling to make the kind of investment needed to build games in-house and take full control.
That is changing now.

Lego announced a partnership in April with Epic, the parent of the "Fortnite" video game franchise. The objective of the $1 billion deal is to build a children-friendly metaverse. Lego will also spend aggressively to triple the number of in-house software engineers to 1,400.
That's the digital transformation rub in a nutshell.
Related Post: Level Up with Sony

Companies now understand that they must be in the game. They must spend, as not playing means losing out to competitors.
During the Microsoft first-quarter conference call in April, CEO Satya Nadella was asked about tech spending going forward given the impressive growth of Azure, its cloud computer business. Nadella said that by the end of the decade, tech spending as a percentage of GDP is likely to double from current levels.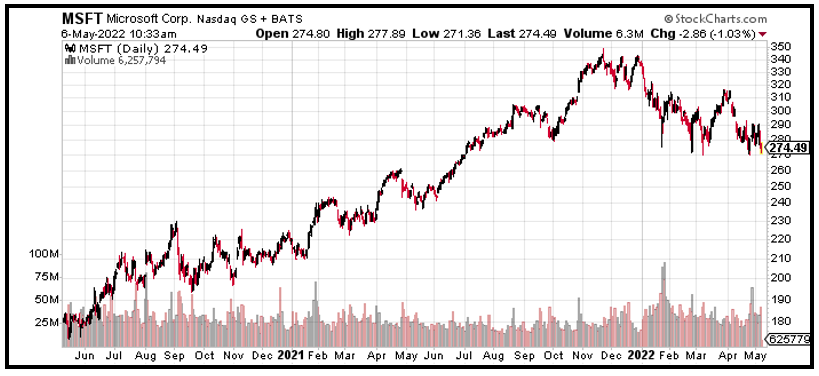 Digital transformation is the correct long-term investment theme, yet it looks like it's going to take some time for the stocks to return to favor.
Best wishes,
Jon D. Markman