Facebook's Probably Wrong … But Here's What It Does Right
On Tuesday, Frances Haugen, a former Facebook (Nasdaq: FB) employee turned whistleblower, arrived on Capitol Hill. She told lawmakers the social media giant puts profits over people and must be regulated.
This isn't new.
CEO Mark Zuckerberg's been under attack since 2004 when he founded the social media company in a Harvard dorm room. Depending on who's retelling the stories, Zuckerberg has a history of toxic business ethics.
Related Post: Facebook Will Win the 'Metaverse'
If Haugen is to be believed, more than a decade in the spotlight of public scrutiny's been completely ignored, because this really seems like more of the same.
Haugen was employed at Facebook for two years as a product manager on the firm's Civic Integrity team. She left the company in May, taking thousands of pages of internal documents with her, according to a report published by The Wall Street Journal.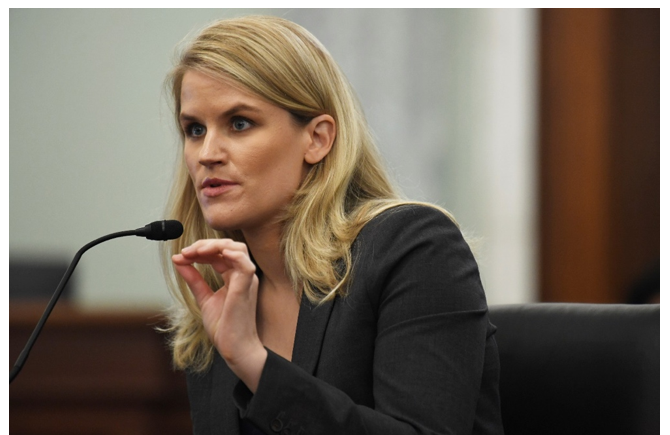 Frances Haugen speaks during a hearing of the Senate Commerce, Science and Transportation subcommittee on Consumer Protection, Product Safety and Data Security on Capitol Hill. Source: Oregon Public Broadcasting
Haugen alleges that Facebook's top executives knew its platforms "harm children, stoke division and weaken democracy." Worse, Haugen claims that Zuckerberg knows exactly how to make Facebook and Instagram safer, yet he refuses to make those changes because it would impact the company's astronomical profits. Take all of this with a giant grain of salt.
•  Haugen's opinions are going to get a lot of sympathy, especially among lawmakers, but it's nothing for investors to be concerned about.
Senators Amy Klobuchar (D-Minn.), Ed Markey (D-Mass.), Josh Hawley (R-Mo.) and John Thune (R-S.D.) all said on Tuesday that Facebook's power needs to be reined in. Klobuchar — who chairs the Senate Judiciary subcommittee — even suggested the best course of action might be breaking up Facebook through antitrust legislation.
•  All of this might seem like bad news for Facebook shareholders … but it's just the opposite.
Facebook is essentially a holding company for Instagram, WhatsApp and Facebook proper (the social media website and smartphone application). These are powerful brands in their own right but they could stand alone and prosper.
And the good news is that shareholders own these businesses outright.
If Facebook is broken up, that means the issuing of valuable new shares in publicly traded companies that have not been infected by the animus that follows Zuckerberg.
That animus has led to a large short position in Facebook stock, according to S3 Partners. The market intelligence firm found that shares of the Menlo Park, Calif.-based company were the fifth most shorted stock in the United States.
•  Investors should look past this short-term drama and strongly consider using recent weakness to buy shares.
Bearish investors short stock by borrowing shares, selling them in the open market and then hoping to repurchase stock at a lower price. Barron's notes that through Monday, bears have taken $2.4 billion in losses.
Ironically, the army of bears has been a plus for the stock price. Bears become buyers into every significant decline as they buy back or cover their positions. They've faced a world of financial pain betting against the company's strong underlying business.
Across all its properties, Facebook has 3.1 billion monthly active users. For many of its members, Facebook effectively is the internet. It's also where their friends and family members live online.
•  Despite the scandals and unending negative press, membership and engagement continue to grow at a steady pace. Facebook executives have been capable of monetizing that spent time with a lucrative advertising business.
Facebook went public in 2012 with sales of $5.1 billion, an impressive feat given its humble beginning. Through fiscal 2020, the company reported sales of $86 billion, up 17.8% year over year.
Related Post: Surprise: Best New Online Retailer Might Be Facebook
Media and lawmakers in Washington, D.C. may not like Zuckerberg … but he built a terrific business that members and advertisers have been unwilling to quit. And shares are still surprisingly cheap.
The stock trades at only 21.2 times forward earnings, which is very low for a company with such a promising future of potential growth. That's about the same multiple as the S&P 500 that's full of airlines, rustbelt industrials and brick-and-mortar retailers. And even with all the harmful headlines in 2021, shares are still up 21.9% this year.
Speaking of gains, in my service, Weiss Technology Portfolio, I cover the digital transformation in great depth and pick stocks for my subscribers.
Currently, they're sitting on some very nice open gains of 338% on Amazon.com (Nasdaq: AMZN), 335% on Microsoft (Nasdaq: MSFT), 312% on Nvidia (Nasdaq: NVDA) and many more.
If you're interested, I highly recommend you click here now.
I understand the optics for Facebook are bad … but investors should look past the news and see what the company is doing right. This seems like an incredible time to buy shares.
Savvy investors should seriously consider current weakness as a longer-term buying opportunity.
Best wishes,
Jon D. Markman