FinTech Superstar Upstart Is Dominating
Today, we'll be continuing the artificial intelligence (AI) theme from Monday's issue.
The financial services sector is under attack. New financial tech (FinTech) software platforms running AI are coming to disrupt the way loans originate.
Executives at Upstart recently announced second quarter revenues increased 1,018% from a year ago. Bank partners originated 286,864 new loans during the quarter.
And the business is only getting started. Investors should still strongly consider buying Upstart on pullbacks.
The stock is up just under a blistering 500% since going public last December:
Let's be clear about Upstart and what it does: The company was built from the ground up to disrupt Fair Isaac (NYSE: FICO).
For decades, banks have used FICO scores to access creditworthiness. Fair Isaac — the clear market leader — collected a nice fee for providing the data. It's been a tidy business with few competitors.
Related Post: How Tesla Is Building an AI Powerhouse
Upstart inputs data points like employment history, education, credit experience, bank transactions and cost of living into a proprietary algorithm to assess creditworthiness. The company claims higher approval rates, lower defaults and lower loan payments for consumers.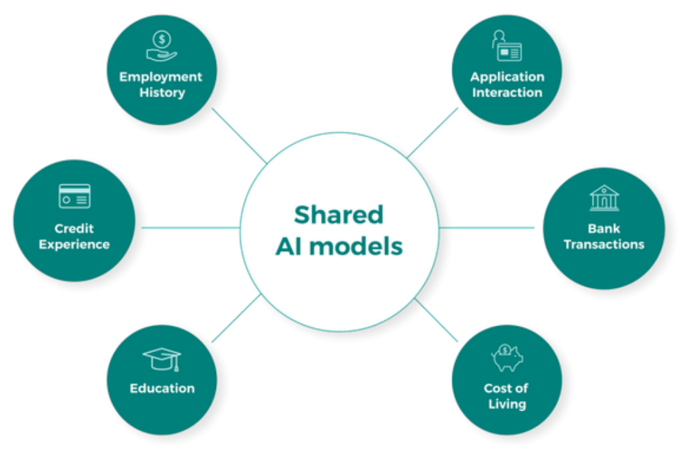 Banks Love Upstart
Bank partners wrote $2.8 billion in new loans during Q2, up 1,605% year over year. Conversion rates grew from 9% in 2020 to 24% in the most recent quarter.
•  The take for Upstart was $194 million in sales.

•  Total fee revenue was $187 million, up 1,308% year over year.

•  And Upstart CEO David Girouard says there's more to come: The San Mateo, California-based company is expecting Q3 revenue to reach between $205 million and $215 million, with profits in the range of $18 million to $22 million.
Needless to say, the potential of this business is huge.
Related Post: Digital Transformation of Industry and Finance Is Just Starting
Keep in mind that right now, Upstart is focused only on personal loans. Girouard said in March that the acquisition of Prodigy Software would help the firm move into auto loans.
This growth story can certainly support much higher share prices, but savvy investors may be better off waiting for a better entry point.
Upstart shares surged to $244 following the earnings report, pushing their gain since going public last December to 497%. They are very overbought at this point, but investors should be prepared to buy a pullback to the $195 area.
As of writing, UPST is trading at $264.78.
Disruptive companies are explosive, and this story is just in the early stages.
Best wishes,
Jon D. Markman