Ford Investors Should Rev Their Engines
Adjust your rearview mirrors. Shift into drive. Then put the pedal to the metal because the opportunity for legacy automakers is here.
Bears are making a critical error, and it's opening a huge opportunity for investors.
During the fourth-quarter conference call last week, Ford (F) CEO Jim Farley Jr. claimed the company would be the global leader in electric vehicles (EVs) if its production capabilities were better.
He's right.
Demand for Ford EVs is off the charts. Investors should use the current weakness to accumulate shares.
In fairness, Farley is trying to have things both ways.
Related Post: Hop In, the EV Era Is Here
Sure, there is plenty of pent-up demand for the Mach-E —the Mustang-inspired electric SUV.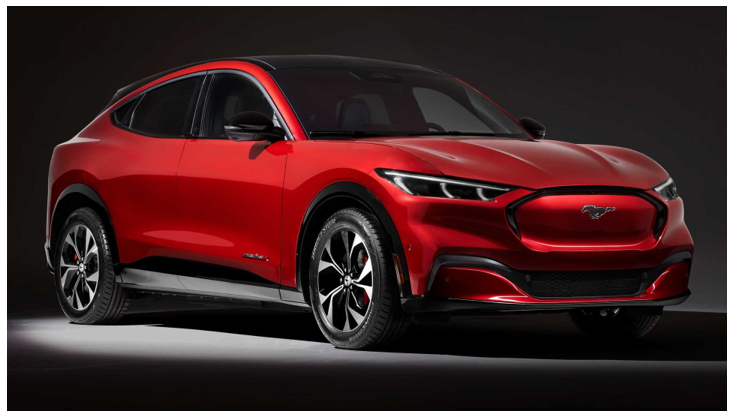 And Lightning, an EV version of the best-selling F-150 pickup, is highly coveted, too.
The hiccup is that Ford can't make enough vehicles to meet demand. It's not the worst problem to have … but it's being complicated by a series of unforeseen errors.
Ford's new moves are creating a rippling impact throughout the industry, and things are changing quickly.
But in the meantime, and for the somewhat foreseeable future, Tesla (TSLA) is the undisputed production leader in EVs.
This didn't happen by chance.
The Austin, Texas-based company has grown by making EVs cool, quick and better than cars and trucks with internal combustion engines.
Leaders at the legacy automakers never thought this would happen ...
When Tesla started making vehicles in 2008, many auto execs publicly scoffed at the idea.
As recently as 2016, that thinking was completely reversed. The Model S, a second-generation luxury vehicle, began outselling comparable BMWs and Mercedes.
Now the Model Y, Tesla's revamped mid-sized SUV, is set to outsell everything … and this development didn't happen overnight.
The Traditional Legacy Automaker Downfall
Tesla's ascent is due in large part to a major decline in Detroit, Japan and Germany.
When the pandemic hit in early 2020, legacy automakers started cutting orders for the chips they needed to make vehicles.
Execs correctly assumed that lockdowns would crimp demand. What they didn't foresee was that the chip fabricators would move on to other customers, pushing the cancelled auto orders to the back of the cue.
Traditional automakers caused the chip shortage, and it may result in industry-wide losses that amount to as much as $110 billion, according to a Sept. 2021 CNBC story.
In a note to clients on Tuesday, Adam Jonas, an analyst at Morgan Stanley (MS), cut his rating for General Motors (GM) from overweight to equal weight. He also slashed the firm's price target for the shares based on production worries.
The recent pullback in share prices now means opportunity.
Those losses at legacy automakers — and the slow ramp in EV production due to shortages — are now priced into current stock prices.
GM shares are down 27% since the middle of January. Ford stock has sunk 30%. Those are steep corrections, but the worst damage looks to be over.
Farley still says that Ford will increase production for the Mach-E to 200,000 units per year by 2023.
Overall EV production by the end of 2023 should reach 600,000 units. If either projection proves remotely accurate, Ford shares are grossly underpriced.
Ford is transitioning from a legacy automaker to an EV company. Shareholders are certain to benefit from all the new valuation metrics this entails.
Related Post: Apple Shares Are Deliciously Ripe
Production increases, even from small baselines, will lead to higher prices. The same is true for new battery agreements, executive hires away from Tesla and EV model reveals.
Bears are making a critical error by assuming production issues will continue indefinitely, but they're wrong. The chip shortage will ease, and Ford will begin to fill customer orders for the Mach-E and F-150 Lightning.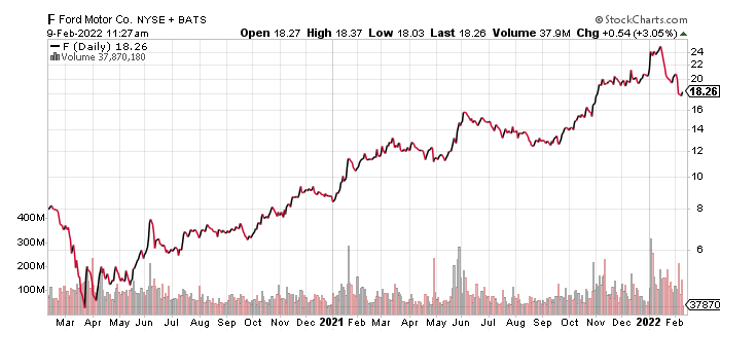 Shares currently trade at 8.9 times forward earnings and 0.6 times sales. The market capitalization is only $78.4 billion despite huge pent-up demand for Ford EVs.
Longer-term investors should consider buying shares into the current weakness, ahead of further announcements on EVs.
Remember to do your own due diligence before buying anything.
Best wishes,
Jon D. Markman