Get Ready to See Self-Driving Teslas on Your Streets
Something epic happened this weekend. On Friday night, Tesla (Nasdaq: TSLA) made its Full Self-Driving beta software available to more customers.
It was previously only available to 2,000 Tesla drivers. Now, eligible drivers can request FSD beta access with the touch of a button.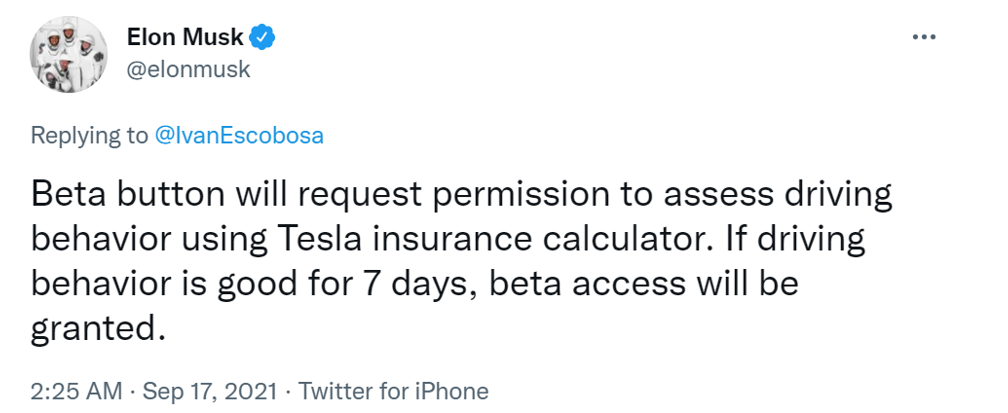 FSD is a wakeup call for the rest of the industry. That's because truly self-driving cars are about to hit the streets in large numbers.
And it will change the narrative about autonomous vehicles.
FSD Marks a Major Milestone in Self-Driving History
There are several YouTube channels devoted to FSD beta testing.
Watching an electric car "think" its way through unprotected left-hand turns, pedestrian crossings and poor visibility due to heavy rain still seems like science fiction, yet it's now reality.
They are a triumph to Tesla's vision, literally.
One of the bets Musk made early was to rely on cameras and computer vision (CV) for self-driving, and it's clearly paying off.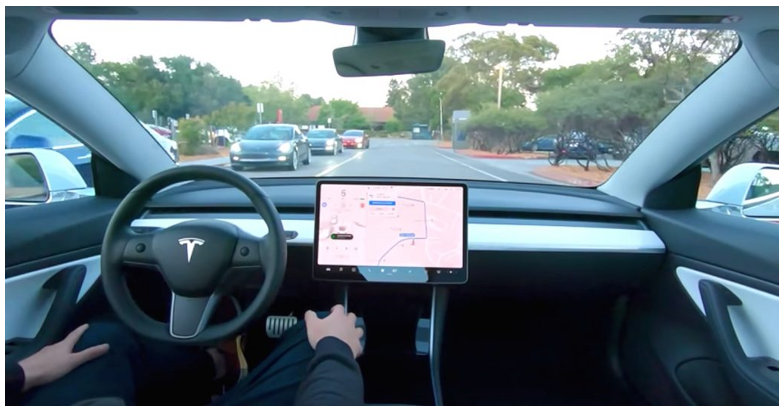 A Tesla driver utilizing Full Self-Driving Beta  Source: Teslarati.com
The success of Tesla's FSD means top competitors in Detroit, Germany, Japan, South Korea and China will need to step up their CV game.
They'll need a lot of help.
Nvidia Is Also Navigating the Self-Driving Market
One company that will be looking to lend a big helping hand is digital transformation titan Nvidia (Nasdaq: NVDA).
Related Post: How Tesla is Building an AI Powerhouse
Nvidia makes hardware and software systems designed specifically for self-driving cars. Its Drive platform is a bolt on solution aimed at automakers looking to ramp up autonomous driving in a hurry.
Drive systems include:
•  AGX, a powerful in-vehicle computer.

•  Sim, a software simulation platform; and

•  DGX, a deep neural network training platform.
Used together, these tools can help carmakers build custom self-driving platforms. And they can do so with enough horsepower to run everything from infotainment to the elaborate CV sensor setups.
The company already has a proven track record of success. For example, Nio (NYSE: NIO) — a big EV competitor based in China — debuted ET7 in January, a cutting-edge sports sedan. The entire software platform was built on top of Nvidia Drive.
Nio's ET7 is the closest competitor to Tesla in terms of technology. It uses a combination of radar and CV and is a blueprint for the rest of the industry.
Ambarella Enters the Race
Another company that will surely help Tesla competitors level the playing field is Ambarella (Nasdaq: AMBA).
The company used to be best known for the video processing found in GoPro cameras. But in 2015, things changed.
Ambarella executives made the decision to move beyond expensive toys. They invested $250 million to design a CV chip that included both proprietary processing and artificial intelligence (AI). Then, executives began shopping the microprocessor in Asia.
In 2018, the new chips won favor with smart security and robotic system manufacturers. CEO Fermi Wang noted in November 2020 that Ambarella was beginning to make significant inroads with automotive customers.
Five months later, Wang told analysts that revenues in the second quarter shot up 58% year over year as Asian automakers began to embrace its CV tech.
He announced three new wins. One of those is DongFeng, a Chinese carmaker that began using Ambarella processors for driver monitoring as part of its advanced driver assistance systems.
Shareholders have been winners, too …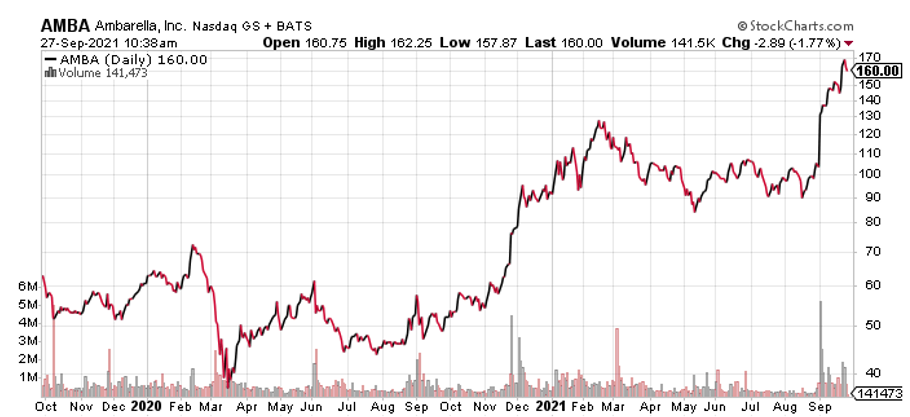 AMBA shares are up around 157% over the past two years.
•  Although Nvidia and Ambarella are two of the most promising future winners of this soon-to-be surging market, the industry will blossom as competitors chase Tesla's lead.
And Musk's company will get a big spotlight this week with the wider rollout of FSD beta. The software is a narrative-changer.
Related Post: Tesla's 'Recall' Bodes Well for Tech Investors
Tesla Changed the EV … and Now the FSD … Landscape
No automotive company has absorbed harsher criticism than Tesla. But when reporters begin taking test rides, they'll start to tell the story about Tesla's journey toward autonomy.
It's going to be a revelation to the general investing public who think of autonomous vehicles as sensor-laden behemoths that are years away from service.
What was once science fiction is now reality. Interest in the businesses that making the very tools the industry needs to catch up will reignite.
•  And those businesses — like Nvidia and Ambarella — might be the better play for investors.
Savvy investors should consider using near-term pullbacks in self-driving technology helpers as potential buying opportunities.
What About Tesla?
Tesla's stock faces some near-term risks. For example, as more drivers start using FSD, there will be accidents. That could temporarily damage Tesla politically.
Also, Jennifer Homendy, head of the National Transportation Safety Board, has been a vocal critic of the rollout, according to a report from The Wall Street Journal.
Some of the derision is deserved. Musk has often overpromised FSD capabilities. Since 2019, he has said that self-driving cars are a solved problem.
Now he has his opportunity to prove it.
Best wishes,
Jon D. Markman