Why GM Is a Software Company Now
General Motors (NYSE: GM) is becoming a software company.
Don't laugh. This could work …
Last week, executives held a two-day investor event. They showcased the company's desire to electrify its entire fleet within the next decade, while also delivering one million fully autonomous robotaxis to city streets.
The idea of GM moving into the future might seem far-fetched, but that's now the reality.
During the 1970s, executives refused to make more fuel-efficient vehicles even as the energy crisis hit full stride. Decades later, poor quality control combined with extreme operating leverage left the iconic business vulnerable.
And in the wake of the financial crisis in 2009, the automotive giant was near insolvency.
CEO Mary Barra knows the history well.
She started working at GM is 1980 as an intern. Barra even went to the Kettering University (formerly General Motors Institute), where she received a Bachelor of Science in electrical engineering.
Related Post: Legacy Carmakers' Only Hope to Compete With Tesla
By 2008, she was an executive vice president. And six years later, Barra became the first female CEO in the company's history.
•  That's not the only history she's going to be making … because now she wants to give General Motors a radical makeover.
In June, Barra announced the company would spend $35 billion to accelerate its transition from internal combustion engines (ICE) to electric vehicles (EVs).
Although the big number got a lot of praise from investment analysts, the plan was short on details.
But last week, she got much more specific.
The plan allocates $20 billion for EV engineering, $10 billion for a new battery manufacturing plant and about $6 billion for Cruise Automation, GM's self-driving software division.
Software is going to play a big role in the company's future. Barra says its new EVs will get paid for over-the-air software updates. Some may increase the range of the vehicle. Others will work magic on acceleration.
•  Ultimately, GM hopes to offer full self-driving as a subscription through Cruise Automation.
Further down the line, by 2030, Cruise hopes to have as many as one million robotaxis on the road. These fully autonomous taxis will be summoned by a smartphone and should contribute mightily to free cash flow for the parent company.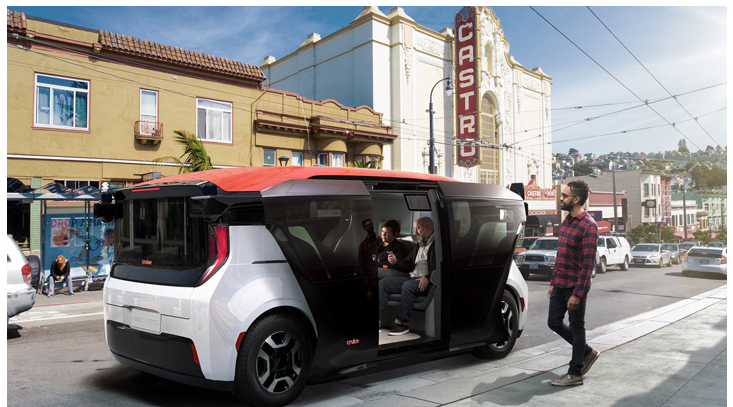 GM's new robotaxi concept. Source: Transport Topics
This may all sound familiar …
It's essentially the Tesla (Nasdaq: TSLA) business model. The Palo Alto, Calif.-based EV company routinely pushes over-the-air (OTA) software updates to its fleet.
Teslarati, an enthusiast website, reports that since 2017, the Model 3 has received 124 OTA software updates. One of these added updates boosted 0-60 mph performance on the dual motor variant to 3.9 seconds, versus 4.4. The Acceleration Boost was a $2,000 upgrade.
Barra is anxious to begin offering these paid upgrades to GM owners.
According to an investor event presentation on Oct. 6, software upgrades should help GM double revenues to about $280 billion by the end of 2030. The company had sales of $122.5 billion in 2020, down 10.8% versus 2019.
A more software-dependent business model will also make GM nimbler. 
Legacy automakers have struggled in the aftermath of the pandemic with semiconductor shortages, a problem that Tesla has been able to largely overcome with software.
And, investors are buying into the new GM story.
Although every company is now a tech company in some capacity, GM happens to make hardware and software.
Related Post: Waymo Puts Full-Auto Driving to the Test in San Francisco
Shares traded 3.7% higher on Friday after rallying 4% the previous session. Last week, GM stock was up 10.2%. Shares are currently trading around $59.
Even with the gains last week, GM is trading at only 8.6 times forward earnings and 0.6 times sales.
Analysts at Credit Suisse (NYSE: CS) say the stock is now a compelling case for multiple expansion. The idea makes good sense.
The narrative surrounding GM has changed from one of a failed legacy auto company to fledgling EV maker. Investors and analysts are likely to give GM executives the benefit of the doubt, as they begin breaking ground on manufacturing plants and announcing new models.
Savvy longer-term investors should strongly consider buying GM shares into weakness.
With everything GM has going for it, Tesla has just as much — including a celebrity CEO who's full of bright ideas and something I call the "predatory flex." That is, Tesla heads off competitors one by one. There's a small handful of companies just like it — the biggest cats in the jungle that always eat. And my Power Elite subscribers are at the table, feasting on the profits they consistently deliver. Reserve your spot at the table here.
Best wishes,
Jon D. Markman