Green Investing Will Keep Index Giant in the Black
Environmental, social and governance (ESG) investing is one of the biggest investment trends that most investors still don't fully understand. but it's going to shape investing for the coming decades, and investors need to get on board.
On Monday, executives at Ford Motor (NYSE: F) offered a $2.5 billion unsecured green bond to fund its electric vehicle (EV) ambitions. Green bonds are a way for companies to put their ESG ambitions on full display.
EVs, decentralized finance (DeFi) and direct-to-consumer (DTC) business models generate a lot of buzz with investors.
• These trends are all part of the larger digital transformation story. As the world moves from analog to digital, it's natural that the machines, processes and infrastructure also move in that direction. ESG investing speaks to digital and greener trends ... yet it is also bigger.
ESG is an acronym that identifies companies at the vanguard of progressive environmental, social and governance strategies … and Ford's certainly not the only large company putting it to use. ESG is driving investment choices in corporate suites all over the world.
The next several decades promise to be all about stakeholders. The biggest corporate winners will focus beyond shareholders and profits. ESG investing — sometimes called conscious capitalism — seeks to benefit employees, customers, suppliers and society.
• These businesses are investing in green technologies.
Socially, they are leaders in employee safety, training and development, diversity and customer protections. Their boards of directors govern transparently and pay executives according to the longer-term benefit of stakeholders.
Despite all the restrictions, ESG companies have performed better than the benchmark S&P 500 over the past five years … according to Forbes, producing a compound annual rate of return of 18.6%.
• The growth of ESG investing has been even more stunning. Assets under administration for ESG funds have increased 18-fold since 1995 to $12 trillion in 2018. That measure is expected to reach $53 trillion by 2025, according to a story at Bloomberg.
Ford executives want a piece of that growing investment pie. So, they are going green in a big way.
In September, executives announced that 40% of the fleet will be electrified by 2030. And early versions have been big winners with automotive enthusiasts. The Mach-E, a crossover all-electric Mustang SUV, is one of the bestselling new EVs in the world.
And the Lightning, a tricked-out EV version of the bestselling F-150 pickup truck, has garnered 160,000 reservations for its 2022 production debut.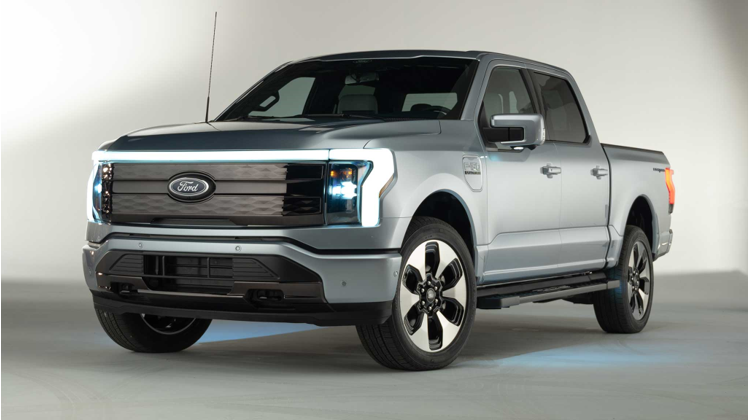 The new Ford Lightning. Source: MotorTrend
• Offering green bonds to fund that development was a natural fit.
The debt was a first for the company based in Dearborn, Michigan. The $2.5 billion in proceeds, offered with only a 3.25% coupon, is also a win for shareholders. It allowed Ford to retire older bonds with a 9% coupon.
U.S. companies have raised $58.6 billion in green-bond offering so far this year, up 104% from a year ago, according to a report by the Wall Street Journal.
While Ford shares are up 135% year to date and look like a promising investment in its own right, savvy investors should also look at other great plays emerging from this trend.
And one of those great opportunities is with MSCI (NYSE: MSCI), a financial services company.
MSCI has expertise in compiling indexes tracked by institutional investors, and executives have invested aggressively in global ESG investing composites.
The company's ESG segment provides products and services that help institutional investors understand how ESG factors impact the long-term risk and opportunities in the financial market.
• It's a very big and lucrative business for MSCI.
The New York–based company is monetizing MSCI's gatekeeper status by selling data analytics about the indexes to professional money managers.
Keep in mind: These composites are benchmarked by hedge funds, sovereign wealth managers, pension funds, insurance companies, brokers and the exchanges.
• Beating an MSCI index can be worth tens of millions of dollars in management fees.
MSCI has business relationships with 4,400 blue-chip clients in 90 countries, according to a May investor presentation. More than 97% of revenue is recurring, and the customer retention rate is 95%.
It all makes sense. Clients are in for the long haul because they can't build their fee businesses without the insights MSCI provides.
• It's no wonder companies like Ford are turning green. It's where the money is.
At a price of $650.15, MSCI shares are up around 46% in 2021. During the past decade, shares have compounded at a 34.3% clip. And the best could very well be ahead as ESG takes full flight.
Longer-term investors should consider using any near-term weakness as a potential buying opportunity.
Best wishes,
Jon D. Markman
P.S. I have a special report to share with you. Our friends at Long Live Your Wealth have shared this timely information, and I encourage you to check it out now by clicking here.