How to Play the Metaverse
Getting in on the ground floor of any big tech trend is exciting, and that's exactly the opportunity at hand.
The future of the connected world is taking shape, it's is called the metaverse — and it's the next big thing in the digital transformation.
Executives at Facebook announced last week that the company is rebranding as Meta Platforms (Nasdaq: FB).
• The social media giant is also changing its focus: In the future, all businesses will be bound to the metaverse, an alternative digital reality.
The metaverse is what comes next. It's the evolution of the mobile internet in the same way mobile evolved from desktop. The metaverse will be fully immersive.
Through avatars, users will live inside this digital reality, interact with others and be entertained. Some of us will even work inside the metaverse.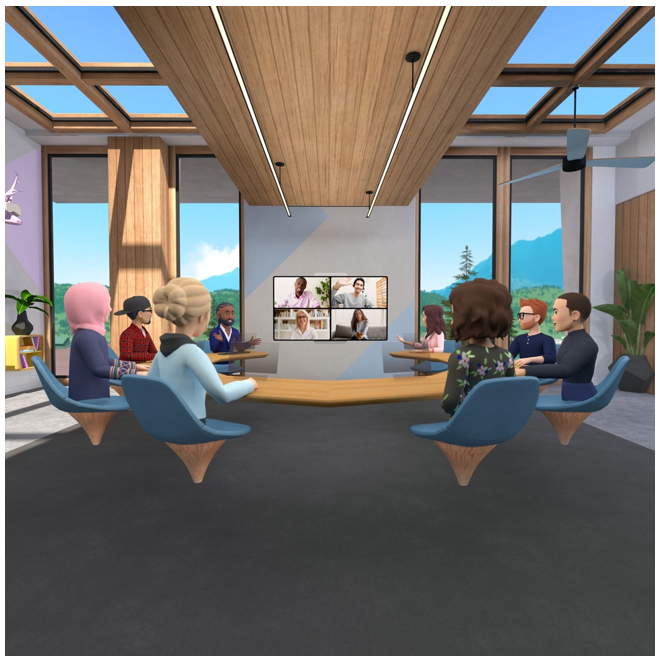 An example of what a meeting would look like in the metaverse. Source: Frame Magazine
For businesses, this evolution represents a new way to reach customers. It's also an opportunity to market both real-world products and services that only exist virtually: online concerts, movies, gambling and tokens for gameplay, for example.
• This may seem far off. But it isn't. Forms of the metaverse exist right now.
Fortnite is an immensely popular free-to-play online game. Epic Games, the maker of Fortnite, claims to have 350 million unique accounts. Members can attend live concerts and meet up in malls to shop or just hang out, all within the Fortnite metaverse.
More importantly, the business of selling digital skins, level-up tokens and other virtual stuff is now a $5 billion per year business that Epic executives are eager to expand.
• While that's a great current example that portrays what's possible, the opportunity for Facebook is even bigger.
The Menlo Park, California-based company serves 3.1 billion members across its Facebook, WhatsApp and Instagram platforms. Executives want to make its version of the metaverse a place to shop, work and play.
Researchers at Bloomberg Intelligence expect that by 2026, the total addressable market for metaverse products and services could reach a whopping $800 billion.
How to Play This Emerging Trend
While considering FB shares seems like a good idea to play this trend, even better opportunities could be out there … and one potential pick is Globant (NYSE: GLOB).
Globant is a global online branding business. From its home base tucked away in La Plata, Argentina, the software and IT developer works directly with large companies to implement digital transformation strategies.
From American Express (NYSE: AXP) to Coca-Cola (NYSE: KO) to Dell Technologies (NYSE: DELL) and the National Football League, some of the largest organizations in the world have chosen Globant to build integrated online strategies.
Last week, CEO Martin Migoya announced that Globant has 2,000 skilled workers developing technologies and strategies for the metaverse. A new metaverse studio will provide consulting to brands as they quickly push into this new digital reality.
Globant saw revenues surge to $305 million in the second quarter, a 67.1% increase year over year. It was the strongest revenue growth since 2014 when the company's initial price offering (IPO) debuted.
Gross profits reached $119.9 million, up 39.3% during the same time frame. And executives expect Q3 sales to reach at least $325 million, representing a year-over-year increase of 56.8%.
• I first wrote about Globant in a Forbes column in December 2015, and it's up 800% since. But there could be much more to come.
Shares were as high as $330 in September and as low as $267 in early October. At a price of $319.92, the stock trades at 70 times forward earnings and 12.9 times sales.
Shares were recently trading around $323.89.
Globant is scheduled to report Q3 financial results on Nov. 11 after the market closes. Savvy investors should consider using any near-term weakness as a potential buying opportunity.
The metaverse is coming, and so too are incredible opportunities for investors.
Best wishes,
Jon D. Markman