Ignore Market Rotation & Stick With Digital Winners
Please note there will be no issue on Monday Jan. 17 in recognition of MLK Day. Have a great holiday.
Prior to finishing higher earlier this week on Monday, the Nasdaq had been down nine of the previous 10 sessions.
Pundits are already talking about the great reckoning … but don't believe one word of it.
The idea is that investors have finally come to their senses and are now liquidating overpriced technology stocks in favor of cheaper value stocks.
The strategy is to sell shares in fast-growing businesses and buy slowpokes. Overall, that's a terrible idea that's mainly being pushed to drive headlines.
Savvy investors should stick with strong digital transformation winners because these trends are here to stay.
Related Post: Finding Profits at the Intersection of Health and Tech
It's one thing to liquidate shares of a company that's showing signs of weakness … but to just sell because of fast growth is completely unjustified.
And part of the reason for the rotation from growth to value is due to recent Fed announcements.
Let's just get the big lie out of the way: There is absolutely no empirical evidence that rising interest rates negatively impacts the price of growth stocks.
Over more than a quarter or so, this simply is not true. Data show that investors would've been better off buying growth stocks over value stock regardless of whether rates are rising or falling.
This makes sense.
Over time, investors have always been willing to pay a premium for profitable, fast-growing businesses. Weakness now looks like an even better buying opportunity.
Investors need to realize this and stick with digital winners.
At the same time, I would also be keeping an eye out for more digital titans because — if history is any indication — there will be some great companies blossoming on the horizon.
In the meantime, I have one suggestion that comes to mind as a very strong digital transformation player.
That pick is Tyler Technologies (NYSE: TYL) — a company that has been on my radar for a while.
The company, based in Plano, Texas, makes software to help federal, state and local governments move services online.
Lawyers all over the country use Tyler's platform to uniformly file and send court dockets.
Related Post: Accenture Is the Hidden leader of the Digital Transformation
County courthouses that used to be overwhelmed with boxes of paper documents are now completely online. And the same base code helps people pay parking tickets and property taxes.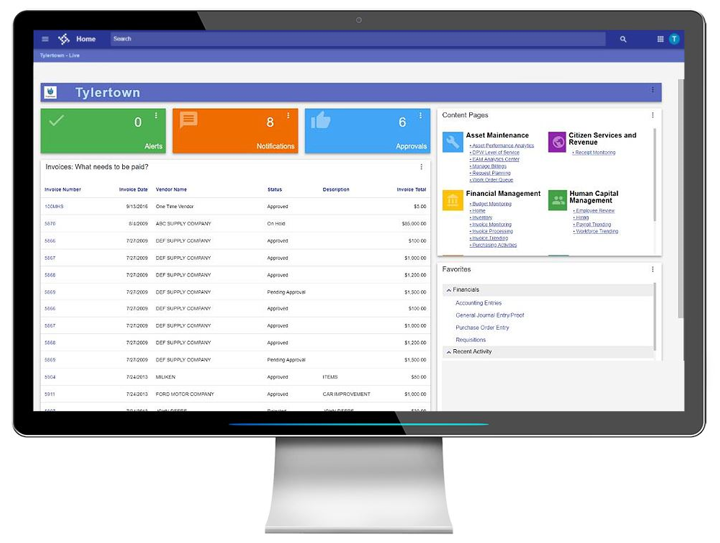 Other software modules help cities run 911 emergency systems.
Tyler fielded 31 million emergency calls during 2018 for 15,000 local and state governments both large and small.
From Los Angeles County, with a population of more than 10 million, to tiny towns in Texas home to less than 100, the software is easy to use and infinitely scalable.
It's also becoming the platform of choice, with almost 18,000 public sector accounts in the United States.
And in April 2021, Tyler managers announced that the company completed the $2.3 billion acquisition of National Insurance Company Limited (NIC), the leading online payment platform for government services.
Combining payments with Tyler's extensive portfolio of software tools is the ultimate draw for the public sector.
Shares are currently trading around $504.14 as of writing, after reaching a high in December at $544.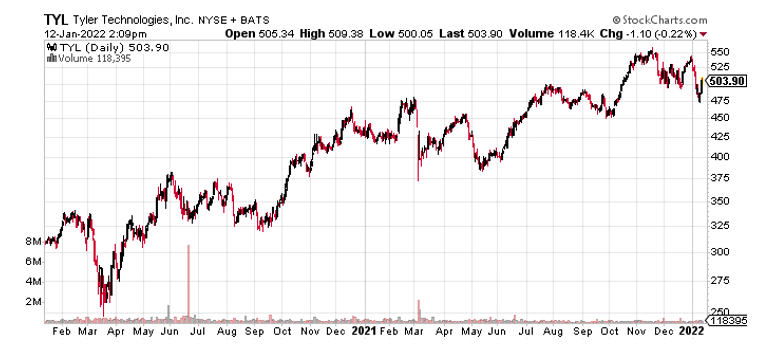 Savvy investors should strongly consider using current weakness as a buying opportunity.
Best wishes,
Jon D. Markman