Match Outwits Apple's Outdated Payment System
Since 2009, executives at Apple (Nasdaq: AAPL) have ruled over the firm's mobile operating system with an iron first. They made all the rules ... mostly to their benefit.
Now, that's changing.
A Dutch antitrust authority ruled on Friday that Apple must allow dating application creators to use alternative payments or face a weekly fine of up $5.6 million — up to $56.5 million in total.
Investors should consider buying Match Group (Nasdaq: MTCH).
Before we get into that, though, let's take a look at how dating apps found this loophole out of Apple's proprietary payment system.
Apple's stranglehold on the ecosystem began to slip in September, when a U.S. district judge gave developers the option of bypassing its payment system.
Judge Yvonne Gonzales Rogers actually sided with Apple on nine of the 10 issues being litigated with Epic Games, maker of the wildly popular "Fortnite" video game platform.
She declared Apple did not hold a monopoly position in mobile games.
Instead, she ruled that the iPhone maker was merely an extremely successful company operating in one aspect of the digital game marketplace. She also stated that Apple was not obligated to allow Epic to develop a separate store within the operating system.
Related post: How Trade Desk Skirted Apple on Ads and Won Big
However, Judge Gonzales did rule Apple violated California law by barring Epic from displaying in-app links to an alternative payment system.
That ruling set up the potential for developers to bypass the App Store for these lucrative payments, and the 30% commission Apple routinely claims for processing.
The ruling in the Netherlands on Friday sets that process into motion. According to a Reuters report, the company — based in Cupertino, California — must make changes by Jan. 15 to allow third-party payment systems … or face weekly fines.
It's a policy Match lawyers have been litigating since 2020.
Match executives bill the company as the world's leading provider of dating applications.
A filing at the Securities and Exchange Commission (SEC) in June revealed Match had 15.1 million paying subscribers, up 15% from a year ago. Annualized revenue was $2.7 billion, and profits reached $978 million.
Its Tinder mobile app is both the most downloaded and top-grossing dating app in the world, according to App Annie, a mobile application data analytics firm.
Top gross is an important metric. It entails total revenue from new subscriptions and sales made inside the application. Those small add-ons purchases can make a big difference for dating apps.
Analysts at App Annie found that customers spent $2.3 billion in 2019 buying such digital delights as the ability to secretly discover who has liked their photos. And many dating apps also charge users a small fee to hide profile details like age and location, too.
There is no limit to the number and types of in-app purchases available to developers.
And with products in 40 languages and availability in 190 countries, Match's portfolio is unmatched. In addition to Tinder, Match's 45 distinct properties include Hinge, Match, Plenty of Fish, Meetic, OkCupid, Our Time and Pairs.
These applications collectively reach everyone: from same-sex millennials swiping for a date … to middle-aged divorcees seeking new relationships … to older singles in Japan, Korea and Taiwan looking for love.
Match properties touch every demographic and most geographies.
Bloomberg reported in 2019 that Match's Android customers were being directed to enter payments details directly at the Match Group website, avoiding the Google Play store fee.
This proved that, like Netflix (Nasdaq: NFLX), Alphabet's (Nasdaq: GOOGL) YouTube and Spotify (NYSE: SPOT), Match is a mobile gatekeeper.
Related post: How Apple Changed Advertising
Its customers trust the platform. They will gladly sign up at the Match website to maintain service rather than utilizing app stores to act as middlemen.
It means — now that those rulings have come down for Apple's app store — the company can experiment with new business models that avoid the 30% fees levied by Apple.

Those revenues flow straight to the bottom line.
Match shares closed on Thursday at $133.44. The stock trades at 72.6 times forward earnings, and 13.1 times sales. Market capitalization has fallen to $37.2 billion, following a share price decline of 11% in 2021.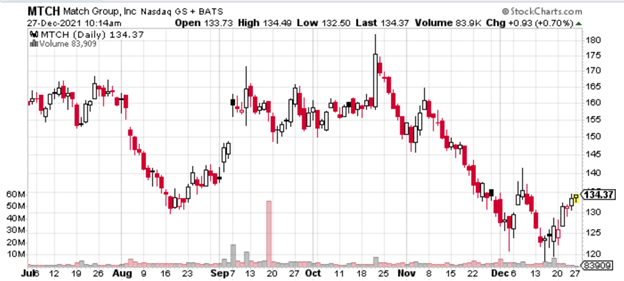 Shares can easily trade to $190 during the next 12 months on the Apple news alone, a gain of 42% from current levels.
Long-term investors may consider short-term weaknesses as opportunities.
Best wishes,
Jon D. Markman
*
Disclosure: Author owns shares of companies mentioned in this column: Apple, Match and Alphabet.