Tech stocks are out of favor again.
To me this means one thing: yet another possible great opportunity for long-term investors.
TV's talking heads say tech stocks are under pressure because interest rates are rising, which impacts the price institutional investors are willing to pay for future growth.
I wouldn't worry too much about rates. Instead, savvy investors should consider building their portfolios around digital transformation winners.
And Meta Platforms (Nasdaq: FB) looks to fit that bill.
The name has changed, and so has the business strategy.
Meta is the new name of Facebook. There is this perception that the name change is an attempt to erase the stigma of the social media platform … but that sort of thinking is lazy.
It also dismisses the true value of a platform with 3 billion global users: a place online where people go to meet. Facebook is the digital home to friends, family and business acquaintances … which makes the platform very difficult to leave.
But this is only half of the story.
The other half focuses on the "meta" in Meta Platforms. It is all about the metaverse, an alternative digital reality, and that's where the company's true growth lies.
The metaverse is an opportunity for the company based in Menlo Park, California, to gain complete control of infrastructure.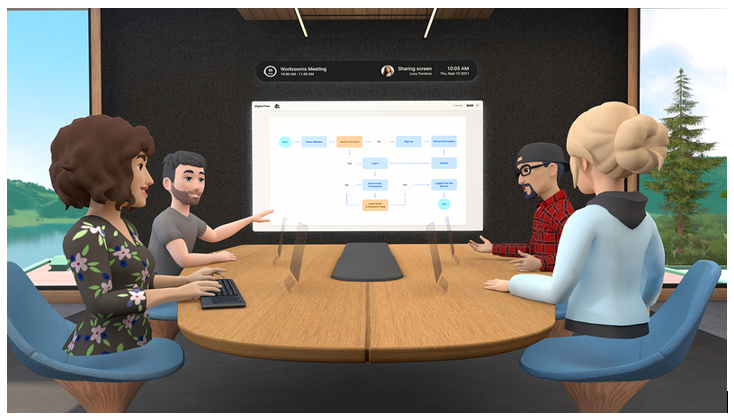 What a meeting could look like in the metaverse. Source: ABC 7 Chicago
Meta Platforms would control the operating system and the hardware needed for the best experience through its Oculus virtual reality (VR) headsets.
That's a powerful position. And the prize is worth playing for.
The metaverse promises to succeed smartphones and the mobile internet.
Meta Platforms — with its global scale — is the logical winner with little competition currently in sight.
I'm aware that VR headsets are still a niche product, and communicating online with avatars still seems kind of silly … but it's a current reality.
Smaller versions of the metaverse already exist. They don't require headsets, and they are extremely lucrative.
Epic Games' "Fortnite" is a metaverse with 350 million members. In addition to running the infrastructure for the world's biggest online multiplayer game, the platform hosts digital concerts and events.
Members can also buy tokens for extended gameplay and digital trinkets like avatar skins.
That business is worth $5 billion annually.
Roblox (NYSE: RBLX) — another metaverse gatekeeper — reported in November that third-quarter earnings were surprisingly robust. Revenues soared to $638 million, up 28% from a year ago. The software platform mainly caters to children and is akin to digital Lego.
Some 164 million monthly active users can build online worlds, play games from app developers, shop and communicate online.
Currently, Meta Platforms is primarily a digital ads business. Members come to its portal where they are captive to advertisements. Meta sets the rules and costs because it owns the platform.
Its analytic tools allow ad buyers to slice up demographics and do A/B testing that is impossible on other platforms.
For these services, the company commands 80.5% gross margins.
According to a report at Statista, global digital advertising in 2020 was estimated at $378 billion. Researchers believe the figure will reach $646 billion by 2024 as ad buyers move away from less measurable mediums such as outdoor, print, television and radio.
Meta Platforms looks well poised to win the metaverse. This is a potential opportunity for investors to get in on the ground floor before the concept goes mainstream.
Thanks to the current sell-off in technology stocks, shares appear cheap by historic standards.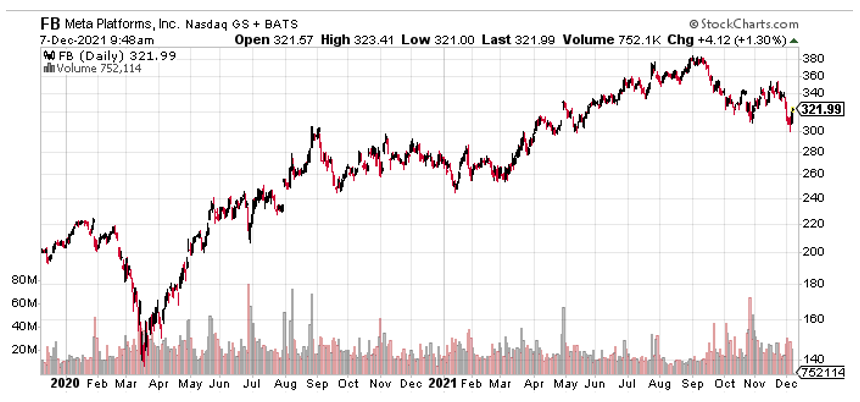 At a price of $317.87 at the time of writing, the stock trades at only 22.9 times forward earnings. Sales have been growing at 50.8% for the past five years.
The metaverse has a strong possibility to supercharge this business.
Like always, remember to do your own due diligence before buying anything.
Best,

Jon D. Markman