New Surge Pricing Software Builds Home Depot Profits
The Uber-fication of the physical world is here, and consumers, unsurprisingly, do not like it one bit.
Surge pricing is great for investors, though, and it is only getting started.
The spot price of lumber fell last week to $760 per 1,000 board feet, down from the $1,611 peak only a few weeks ago. Building materials prices at The Home Depot, Inc. (NYSE: HD) are coming close to keeping pace.
Investors should focus on those margins. That's where the money is.
Companies have been raising and reducing prices based on raw material costs forever. Storms in the Gulf of Mexico routinely push gasoline costs higher as oil rigs and refineries are shuttered for worker safety. Consumers swallow hard and accept the increased costs as the logical outcome of an unexpected event.
What is happening with lumber prices and Home Depot is not that.
Spot lumber prices surged in 2020 due to the perfect storm of increased demand and waning supply. Historically low interest rates fueled strong orders among homebuilders at the same time the pandemic kept many white-collar workers at home. With vacations and other big-ticket items off the table, a home renovation boom ensued.
Meanwhile, supply was depressed due to COVID-19 workplace protocols at sawmills and timber operations. Supply was impossibly constrained.
Managers at Home Depot were prepared.
The Atlanta, Georgia-based company began investing heavily in digital transformation strategies in 2018. A filing with the Securities and Exchange Commission (SEC) reveals managers believed understanding the relationship between inventory, supply chains and serving customers would create more value for shareholders.
When lumber prices jumped as the pandemic hit full stride, managers dutifully passed those costs along to consumers. That's fair. The secret sauce, however, was inventory management. The software that helps purchasing managers keep shelves stocked also helps dynamically set the prices consumers pay. And managers quickly discovered they could not keep product in stock.
According to FactSet, a sheet of 7/16-inch oriented strand board (OSB) — the standard wood composite builders stretch across floors and rooftops — increased fourfold to $39.76 year over year through the first quarter of 2021. Lumber prices during the same time frame tripled.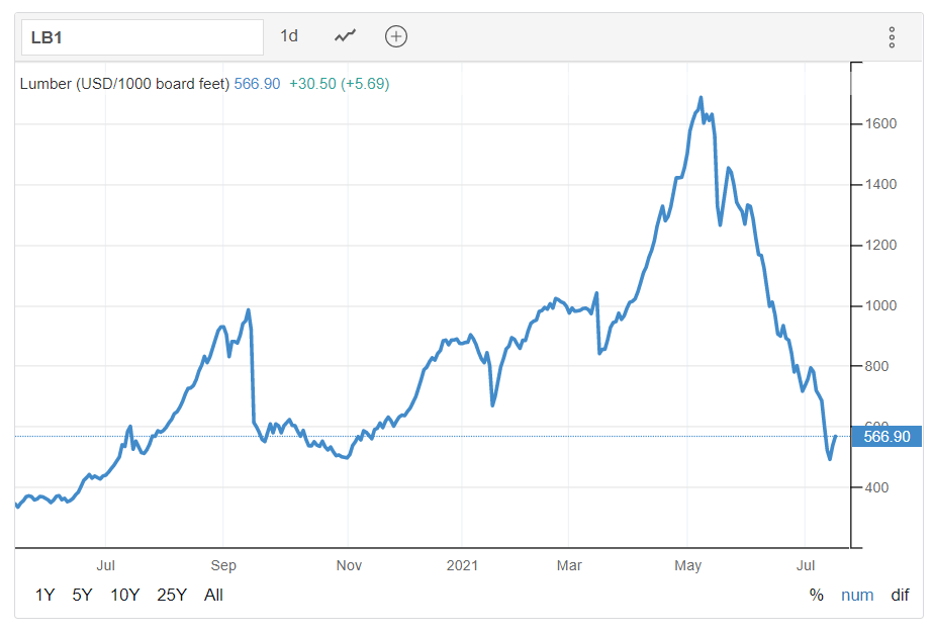 Price of lumber; Source: Trading Economics
Home Depot is doing for building material prices what Uber Technologies, Inc. (NYSE: UBER) did for car rides on rainy days and during rush hour in crowded cities. Prices are being set according to what the market will accept.
This is an extremely positive development for shareholders.
It's the kind of margin protection that leads to greater earnings stability. It warrants a strong valuation premium over lesser competitors. More importantly, this advantage is not going away any time soon.
According to a Bloomberg report in June, lumber futures have been falling due to a significant drop in demand from big box home renovation companies like Home Depot. A source tells Bloomberg that lower demand from do-it-yourself renovators is finally leading to greater availability for professional builders.
The rub is while supply is increasing, prices are not falling. Anxious builders are snapping up materials as they get back to work.
As of July 18, Home Depot was offering sheets of OSB at $50.65, a limit of 90 sheets per customer.
Craig Menear, chief executive officer, told analysts in February that investments in tech and infrastructure helped the company meet the challenges of the pandemic head and flourish. Fiscal 2020 sales grew to $132 billion, up 19.9% year over year. Sales in the fourth quarter alone surged to $32.3 billion, an increase of 25.5%.
Those gains were supported by a 10.8% rise in average ticket prices as lumber prices soared. Gross margin reached 33.6%, an increase of 30 basis points year over year.
Following the meeting, Zachary Fadem, an analyst at Wells Fargo & Co. (NYSE: WFC),raised his price target to $360. It was reported that Fadem was surprised by gross margin strength in light of rising lumber inflation and other factors.
Home Depot shares trade at $321, up 21% year to date. The stock is valued at 21.5 times forward earnings and 2.4 times sales.
While these metrics are on the high end of historical measures, they do not consider the dynamism of the new pricing model.
Investors should consider buying Home Depot stock into any material weakness.
Best wishes,
Jon D. Markman