Nike Sprints to E-tail Powerhouse
Every year, traders anxiously await the first data on Thanksgiving retail sales. The information shapes analysts' models and investment narratives.
According to data published by The Wall Street Journal, online sales were flat throughout this year's Cyber Monday … but sluggish e-commerce sales are not actually as bad as many think because it's exposing new market trends that investors should try and take advantage of.
Each Thanksgiving, online transaction data is dutifully compiled by Adobe (Nasdaq: ADBE). Its Digital Economy Index tracks more than 1 trillion online visits to American retail sites, and in excess of 100 million stock-keeping units (SKUs).
The data is comprehensive and takes inflation into account using the Fisher's Ideal Price Index, a measure of current and previous price points for the same item.
While some analysts dwell on the lack of growth this year, this is an oversimplification. The numbers last year were boosted by the global pandemic and lockdowns.
The Journal also noted that shoppers have been eager to return to physical stores, and big box retailers have seen a surge in foot traffic on Black Friday.
Others said that consumers began their holiday purchases early this year based on widespread stories about limited product availability.
A survey from The National Retailers Federation found that 61% of shoppers got an early start.
And then there is inflation.
Given supply chain restrictions, most online retailers have severely reduced stock. Adobe notes that digital out-of-stock messages are up 261% from a year ago.
With products in short supply, retailers are not cutting prices to attract sellers. Some popular items — like PlayStations, Xboxes and Air Jordan hoodies and sneakers — are even selling at a premium.
New trends are emerging, and some companies are already ahead of the game by taking advantage of them.
One of those companies is Nike (NYSE: NKE).
In the middle of 2021, executives at Nike accelerated a 2017 plan to sell more of its goods direct-to-consumer (DTC). The idea was about taking the middleman out of the transactions with customers for its most coveted goods.
This increases profit margins and gives the Eugene, Oregon-based athletic gear maker more control over product inventory.
It also culls the number of undifferentiated resellers. In many ways, executives are reproducing the Apple Store experience, only with high-priced sneakers and branded apparel instead of Macs and iPhones.
Supply chain checks earlier this year by Sam Poser, an analyst at Williams Trading, found that Nike gear is no longer available at Designer Brands (NYSE: DBI), Urban Outfitters (Nasdaq: URBN), Macy's (NYSE: M), Big Five Sports (Nasdaq: BGFV) and others.
In 2020, Nike stopped working with Dillard's (NYSE: DDS), Kroger (NYSE: KR) and Zappos, an Amazon.com (Nasdaq: AMZN) brand.
Through May 2021, only 61% of Nike brand sales originated with channel partners. In 2011, that number was 84%.
More importantly, a 10-Q filing with the Securities and Exchange Commission (SEC) shows that during the same time frame, Nike's direct sales ballooned from only $2.9 billion to $16.4 billion.
Now, jump back to the present and this year's Black Friday, Cyber Monday and the recent Digital Economy Index report.
Apparel was one of the few categories this year to post a year-over-year gain. The report shows monthly increases for cold weather items like outerwear, fleece jackets and hoodies of 720%, 1090% and 805%, respectively.
Nike is ideally positioned to win a big portion of this increase.
In addition to moving towards a DTC business model, executives have been extremely aggressive with the corporate digital transformation strategy.
Nike has a best-in-class mobile application and a robust e-commerce platform where patrons can buy an array of its products. Best of all, everything is sold at the full retail price.
It's a terrific business.
The company had $12.2 billion in sales last quarter, up 16% year over year. Nike Direct sales were $4.7 billion, up 28%. Digital revenues shot up 29% and gross margins surged 170 basis points to 46.5%.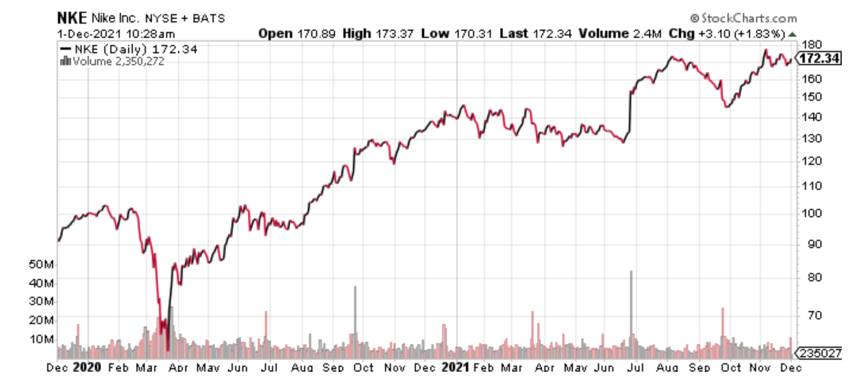 Nike may not be the first name that comes to mind when investors think about Cyber Monday … yet it is the right business for the next era of e-commerce.
It's a big, important brand making all the right moves to create wealth for shareholders.
Longer-term investors should consider buying the stock into any near-term weakness.
Best wishes,
Jon D. Markman