Oculus Sales Mean Meta Growth
Wearing tech hardware to access an alternative digital reality may seem silly and unnecessary, yet it's going to be a huge new investment opportunity.
During a corporate investor presentation Tuesday, Cristiano Amon, president and CEO of Qualcomm (Nasdaq: QCOM), casually noted the Oculus Quest 2 — its virtual reality (VR) headset — has shipped 10 million units.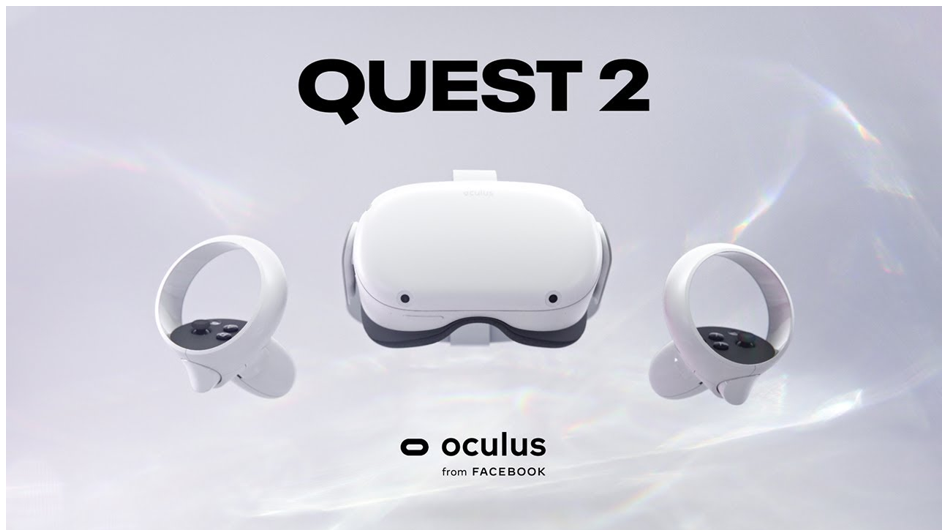 Source: Oculus
This signals one thing to me: Investors should strongly consider using weakness to buy Meta Platforms (Nasdaq: FB).
This is where it all gets a bit complex. Meta is the new name for Facebook. The Menlo Park, California-based company is rebranding to reflect the metaverse.
CEO Mark Zuckerberg says he has been interested in the metaverse for a long time and sees the alternative digital reality as the perfect evolution for social media because online patrons can connect more intimately regardless of geography.
Zuckerberg was integral to the 2017 purchase of Oculus. In 2018, the maker of high-end virtual reality headsets got its own division within Meta. Since then, the company has spent heavily on research and development to overcome some of the early platform issues.
Wearable, an online magazine, called the Oculus system "Vomit Reality" because use caused severe nausea. A half-decade later, Quest 2 is considered best-in-class.
Insiders knew that the headset was selling well. During the summer, Meta executives said that about four million units were out in the wild. Amon's update of about 10 million units puts Meta well ahead of its plan.
• It means the device has gone mainstream, which is a big milestone for Qualcomm, too.
Qualcomm supplies the Snapdragon XR2 chipset used in Quest 2. It's the brains behind the graphics and most of the physics that helped Meta engineers overcome previous issues with nausea.
It's also a big new business for Qualcomm's Internet of Things (IoT) chip sales, assuming Meta can continue to ramp up sales.
• However, the big winner is Meta.
When the company rebranded on Oct. 28, critics claimed Zuckerberg was merely trying to change the subject from ongoing user privacy and corporate governance issues.
Frances Haugen, a whistleblower that testified before Congress on Oct. 5, said that Meta executives understood the damage its algorithms were doing to young people, yet the company proceeded anyway because it was good for profits.
• By most accounts, the metaverse will take those profits to a whole new level.
The metaverse is an entire ecosystem that Meta is well positioned to dominate. Its Oculus division will make best-of-breed VR headsets — Facebook and Instagram are the leading social media platforms and WhatsApp remains a communications goliath.
• Between these platforms alone, Meta touches 3.1 billion monthly active users.
The business opportunity is pitching the metaverse to members. Throughout the metaverse, patrons on all platforms will be able to purchase goods and services both in the digital and real worlds.
This is a huge new opportunity for businesses to establish virtual storefronts. It will foster new software applications from developers, and Meta will get its cut at every stage along the way.
• All of this may not register with investors … but the metaverse is already a big business.
Epic Games' "Fortnite" is a 350 million-member metaverse where gamers regularly spend real money on virtual goodies like extended life tokens and skins for avatars.
These items only exist in the digital world. In 2020, that business was worth a staggering $5 billion in sales.
Roblox (NYSE: RBLX), another metaverse gatekeeper, reported on Nov. 8 that third-quarter earnings were surprisingly robust. Revenues soared to $638 million, up 28% from a year ago.
The software platform mainly caters to children and is akin to digital LEGO. Some 164 million monthly active users can build online worlds, play games from app developers, shop and communicate online.
Meta will leverage all its dominant platforms to move members to the metaverse. Even if this process begins only with games, it's likely to be a huge new business that is currently hiding inside Meta.
At least it might have been hiding … if not for Amon's comments.
The news did send Qualcomm shares shooting higher Tuesday evening. The stock traded at $181.30, up 7.9% to a record high.
Again, the real winner is Meta.
The stock just rebounded above its 50-day moving average, and at $342.96, shares trade at only 24x forward earnings. Gross margins are 80.9%, and sales have been growing at 50.8% for the past five years.
Ultimately the metaverse will push growth even higher. Investors should buy Meta into any weakness.
Best wishes,
Jon D. Markman