Oculus Wins Holiday App Rankings
Virtual reality (VR) is a much bigger deal than most investors believe, and that means a big opportunity.
The App Store rankings came out on Tuesday for software downloaded during the Christmas holiday. The most downloaded app was Oculus, the software for Meta Platforms' (Nasdaq: FB) VR headsets.
Investors should ignore the haters and buy Meta Platforms.
By now, Oculus should be familiar. The VR headset is at the center of an ambitious plan by Meta Platforms to build out of the metaverse — an alternative digital reality where people will eventually work, play games and interact, according to Meta CEO Mark Zuckerberg.
In an October corporate blog post, Zuckerberg detailed how the company will spend $10 billion over the next several years building infrastructure to help developers take the new digital world mainstream.
As farfetched as this may seem … it is not that big of a leap. Several metaverses already exist.
Fortnite, a virtual world platform for online gaming, has become a $5 billion annual business for Epic Games, the parent company.
Inside Fortnite, the company has held virtual concerts with Travis Scott and other large events that members can experience from the comfort of their living rooms.
Meanwhile, Epic gets to sell tickets and virtual goods and services, like avatar outfits and gameplay enhancements.
Roblox (NYSE: RBLX) is another metaverse gatekeeper.
In November, the company reported that revenues soared to $638 million, up 28% from a year ago. The software platform mainly caters to children and is sometimes called digital Lego. Some 164 million monthly active users can build online worlds, play games from app developers, shop and communicate.

But Meta Platforms is taking its metaverse to the next level.
The company, based in Menlo Park, California, will spend lavishly reaching out to developers to build all facets of a new digital reality.
Metaverse members will be able to set up virtual shops where they will sell both real world and virtual goods. Corporations will hold conference calls. And there will be next-level gaming.
That's Where Oculus Comes In
Meta Platforms purchased Oculus in 2014 to widespread skepticism. At the time, VR certainly was not ready for prime time. Using the headsets for prolonged periods caused nausea.
Unfortunately, those poor first impressions have lingered.
App Store data shows there is a market for VR … and it is much bigger than the current perception.
The Oculus app topped perennial store favorites like TikTok, YouTube, SnapChat, Instagram and Amazon's (Nasdaq: AMZN) Alexa. All are established digital communications platforms. It is also the first time Oculus has been in the top 10 during the holidays, according to a report at Quartz.
Critics have argued that Meta Platforms can't succeed because the company lacks the public trust of firms like Apple (Nasdaq: AAPL), Alphabet (Nasdaq: GOOGL), Amazon or Microsoft (Nasdaq: MSFT).
This is simply not true.
Meta already won social with its Facebook platform … and the metaverse is the evolution of social.
Currently, Facebook is fueled by digital advertisement spending. Members come to its portal where they are captive to ads. Facebook sets the rules and costs because it owns the platform.
The company's analytic tools allow ad buyers to slice up demographics and do A/B user experience testing that's impossible on other platforms.
For these services, Facebook commands 80.5% gross margins.
According to a report at Statista, global digital advertising in 2020 was estimated at $378 billion. Researchers believe that figure will reach $646 billion by 2024 as buyers move away from less measurable mediums like outdoor, print, television and radio.
Oculus and the metaverse will give Meta a new platform to extend that business. It will also surely mix in e-commerce, app sales and other business verticals.
Investors are sleeping on this opportunity because pundits believe nobody trusts Zuckerberg or Meta, and technology worn on your face seems untenable.
The popularity of Facebook, Instagram and now Oculus should dispel this mythology.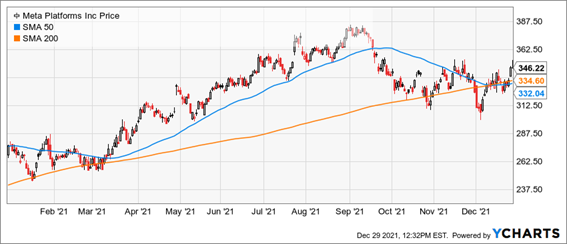 At a price of $346.22, the stock trades at 24.3 times forward earnings and 8.5 times sales.
Given the growth of digital ad spending, Meta's gross margins and the new popularity of Oculus … these metrics seem cheap.
Investors should consider buying Meta into any significant weakness.
Best wishes,
Jon D. Markman