An Opportunity to Add Tesla Into Weakness
Tesla (Nasdaq: TSLA) is not like other automakers. The difference is more than electrification or software. The business is operating on another level of efficiency.
New orders for the Model Y and Model 3 vehicles are sold out for the remainder of 2021, according to Tesla's online configurator.
By every standard, demand is through the roof.
And that's exactly why shares look very attractive at current levels.
When Elon Musk, chief executive officer, began to tell the story of Tesla in 2010, he attracted numerous critics. His plan to take on the automotive industry with electric vehicles (EVs) seemed naïve.
Four years later, the Tesla S debuted. The $100,000 luxury sedan was a bit of a unicorn. The S was blazing fast, the safest car on the road and was being sold at a loss. Skeptics said the business of Tesla made no sense.
Seven years later, Tesla is a profitable business expanding rapidly all over the globe.
Musk has built factories in California, Nevada and Shanghai, China. Massive new facilities in Berlin, Germany and Texas are under construction. And there is buzz about another European plant in the United Kingdom.
Growth is good, yet Tesla's advantage over every other automaker in the world is clarity of process: Tesla is effectively a made-to-order car company operating at scale.
Customers pick the vehicle they would like online, choose the color, interior, wheels, powerplant and software. Then they submit that order to Tesla for production.
Related Post: Lithium Miner Powers the EV Revolution
This business model is popular for supercars like Ferrari (NYSE: RACE) and Lamborghini, a Volkswagen (VWAGY) company. It's unheard of in the realm of $45,000 SUVs and compact sedans.
None of this was accidental. It was carefully planned in 2006 by Musk.
At only 35 years old, the SpaceX executive wrote a master plan to move the world away from fossil fuels. It was also a business plan to systematically remove all of the objections to EVs. Musk sought to make EVs clearly the best cars on the road in every way.
Today, the top-of-the-line Model S Plaid is the fastest production vehicle is the world. The 4,883 pound, four-door sedan can zoom from 0-60 mph in only 1.9 seconds. That puts to shame mere Ferraris, Lambos, and even the Bugatti Chiron, a 16-cylinder monster that makes 1,500 horsepower.
Investors are overlooking most of this.
Related Post: Tesla's 'Recall' Bodes Well for Tech Investors
Part of the reason I've been skeptical with Tesla in the past is Musk's penchant for hyperbole. He is wildly ambitious about self-driving and Tesla software is miles ahead of competitors. The problem is that the industry is not ready for autonomous vehicles and auto company executives have friends in powerful places.
After the close on Monday, the National Highway Traffic Safety Administration (NHTSA) announced an investigation into 765,000 Teslas, essentially every vehicle sold since 2014. According to Reuters, the NHTSA is concerned about 11 crashed since 2018 involving parked emergency vehicles.
The problem is that no current Tesla is fully self-driving. Owners must be alert to take control of the vehicle. Like all cars with advanced driver safety systems, crashes are fully the responsibility of the driver.
The investigation is not going anywhere, yet that may not be the point. It's a speed bump to slow down Tesla's progress.
Let's take a look at Tesla's 180-day chart: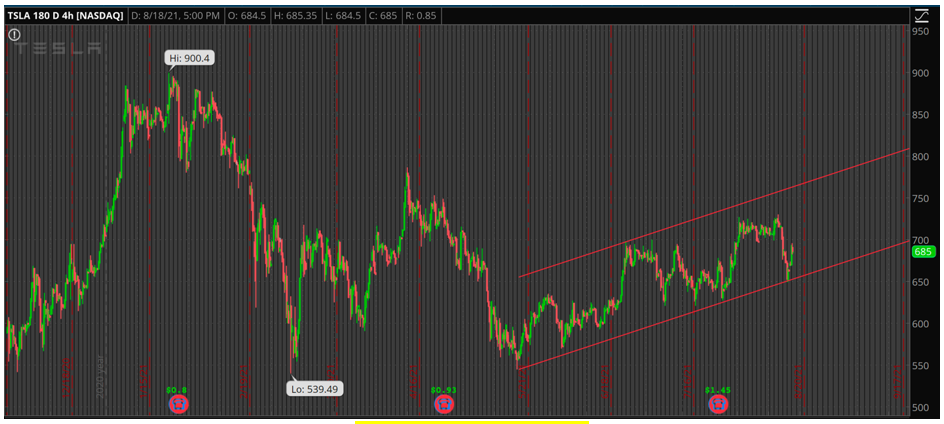 Since testing its 180-day low in late May, Tesla has channeled into an uptrend. On Tuesday, shares were down to $651. The stock closed Wednesday at $688.99.
Tesla is disrupting the automotive business with made-to-order, best-in-class EVs. This is becoming apparent as the Model Y and Model 3 sell out for 2021.
Savvy investors should strongly consider using any near-term weakness to buy shares.
Best wishes,
Jon D. Markman