Put This Stock on Your Radar
Wireless technology has come a long way during the past two decades, yet smartphones are still useless in the most remote areas. Satellite communication is finally ready to fill the void.
Shares of Iridium Communications (IRDM) are rocketing to new highs despite the bear market, the weakening global economy and the war in Ukraine. Tech that was popular in 2000 is making a big comeback.
Investors should ignore the past and take another look at Iridium.
Back at the turn of the century, so-called "satphones" were the playthings of the rich and famous. Despite their bulky antennas, high cost and spotty service (they didn't work indoors), a satphone kept connected people connected.
A decade before the iPhone, the business case for satphones was wishful thinking.
Related Post: Meta's VR Struggles Outpace Gains
Iridium was launched in 1998 to a lot of fanfare. It was cool and futuristic. Vice President Al Gore made a much-publicized first Iridium call to Gilbert Grosvenor, the chairman of the National Geographic society. Grosvenor also happened to be the great grandson of Alexander Graham Bell, the inventor of the modern telephone. A year later, Iridium was bankrupt.
The business did emerge from bankruptcy in 2000, and within three years the operation was cash flow positive. Even still, the true business case for communication devices connected to satellites wouldn't emerge until 2007, when Iridium NEXT was announced —its next generation satellite network.
The timing was finally right.
SpaceX, a California rocket company founded by Elon Musk, was rapidly reducing the launch cost for new satellites. At the same time, satellites were also becoming smaller and cheaper. Plans were devised for a constellation of 66 satellites placed into low Earth orbit, about 485 miles above the Earth's surface. Most importantly, the Internet of Things era was getting underway.
IoT connected smartphones, computers, sensors, buoys, beacons and a host of other devices to the internet.
The Iridium network was a natural fit, providing truly global coverage for pagers, mobile devices and military communications.
The current Iridium constellation has been invaluable to soldiers and displaced citizens in Ukraine. And the United States military is, by far, the biggest customer of Iridium Communications. However, the future of the McLean, Virginia-based company is in the burgeoning IoT market.
Related Post: Alphabet Will Benefit From Rise of Malevolent AI
Following the Q2 financial results in July, CEO Matt Desch raised guidance for the full year. He also talked about the huge opportunity ahead for IoT. Desch noted that the company now has 670,000 active personal satellite communications users. And growth is accelerating as partners like Garmin (GRMN), ZOLEO, Bivy and others develop new lightweight devices that can be paired with smartphones, even when the customers are completely off the grid.
Iridium Certus 100 brings connectivity to vehicles, ocean-going vessels and aircraft all over the world.
The system has become an integral part of the growing unmanned aerial vehicle market, i.e. drones. The company is active in the commercial aircraft market, too. The Iridium Service Aviation Terminal will launch broadband service to commercial flights in the last quarter of 2022.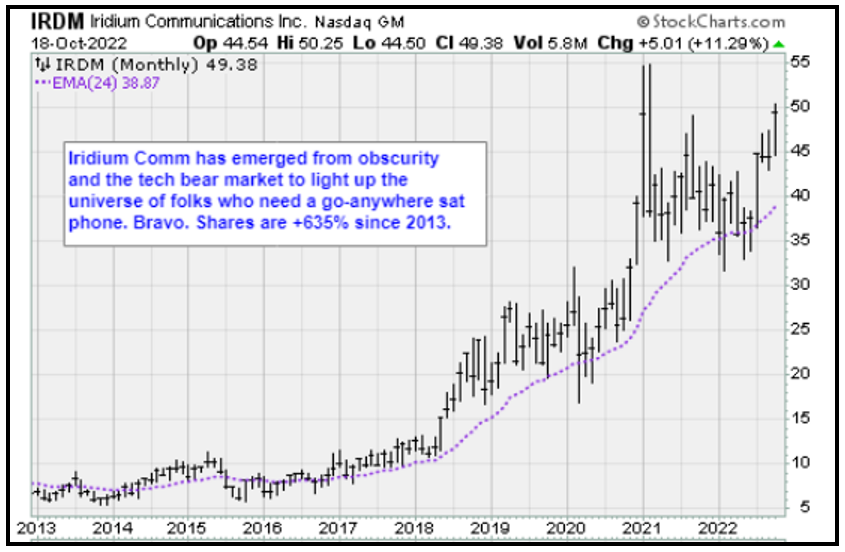 Many investors worry that Iridium competes directly with SpaceX, yet that is largely untrue.
Although the Federal Communication Commission has granted SpaceX approval to offer commercial aircraft broadband services, its business model is mostly based on commoditized broadband delivery to rural areas. This mass market strategy targets traditional wireless carriers. Executives at Iridium are focused on commercial markets and the wholesaling of broadband to partners like Garmin and 450 other value-added firms.
Iridium generated $175 million in sales during Q2, up 17% vs. a year ago. Operational earnings before interest, taxes, depreciation and amortization surged to a record $106 million — ahead 12%.
At a price of $49.38, Iridium shares trade at 9.7x sales, for a market capitalization of $6.4 billion. The company recently became profitable after two decades of investing billions in satellites, launches and logistics. Its network is now complete and functional, and shareholders are set to reap the rewards.
The stock is up 19.6% in 2022, versus a decline of 31.8% for the technology-heavy Nasdaq.
The dream of connected devices that work anywhere in the world is finally here. And Iridium operates the only fully functional network. That's a big competitive advantage. Put the stock on your radar, so to speak.
Best wishes,
Jon D. Markman
P.S. Starting Oct. 25, Weiss Ratings Members once again get first dibs on something normally reserved for the likes of angel investors like Mark Cuban: the chance to invest in rapidly growing companies before they're listed on public stock exchanges. Click here to get access.