Savvy Investors shouldn't freak out over the Omicron COVID-19 variant that came to prominence in the news cycle earlier this week.
Many bears say the mutation that started in South Africa will lead to a repeat of February 2020 … and that we're at the start of big losses for stocks.
I don't buy this narrative at all. The market is heating up, especially digital transformation winners.
It's worth noting that since early February of this year, there have been other mutations of COVID-19. They caused scary headlines that temporarily spooked the market.
• The wariness clearly didn't last long … a week ago, the S&P 500 was essentially at record levels.
So, when you combine the market's continued push higher with many new digital transformation winners dominating their respective niches … you have to be bullish.
Related Post: 5 Ways to Play the Digital Transformation
And one pick I'm particularly bullish on now is Salesforce.com (NYSE: CRM).
Cash Is Pouring Into the Cloud
For many large enterprises, Salesforce is where the digital transformation process begins.
The San Francisco–based company owns the cloud-based software platform that 90% of Fortune 500 companies depend on to collect digital data for customer service, marketing and administrative purposes.
• Overall, the company has 150,000 accounts. Revenue has grown from $8.4 billion in 2017 to $21.3 billion this year.
The business is a runaway success story with no end in sight.
The economics of the business are actually getting better as more companies transform the way they operate in the digital era.
• Profits reached $4 billion in 2021, up 267% since 2019, the previous record. And income in 2019 was up $208.3% from 2018.
And things don't seem like they're going to slow down anytime soon as many businesses are benefitting tremendously from Salesforce's services.
For example, Adidas (OTC: ADDYY) — the German athletic apparel giant — uses Salesforce to collect digital inputs for its global customer base. All this information is stored in the Salesforce Commerce Cloud where it's constantly crunched to learn more about customer habits, where they come from and the things that are of interest.
Using this data, Adidas then tailors specific marketing campaigns and even creates higher-margin, custom-made products.
It's a good deal for Adidas, and even better business for Salesforce.
Related Post: Google on Pace to Connect the Cloud to Space
Once clients start building campaigns in its clouds, they get stuck. Most never leave. It helps that CEO Marc Benioff has been building a sticky ecosystem since 2005, long before the iPhone.
Salesforce AppExchange is a thriving application store where 120,000 third-party developers and 1,700 consultants in 82 countries build ready-to-install programs for large enterprises and small businesses. It's a powerful tool that keeps businesses engaged … and Salesforce gets a cut of the fees, too.
• All of that would be a strong investment thesis … but it gets even better.
In 2020, Benioff engineered the $27.7 billion purchase of Slack, an enterprise communication platform. Integration with the Salesforce clouds turned the platform into a fully functioning operating system for enterprises worldwide.
Slack is built around a series of user connections that do not necessarily have to be inside one corporation. These circles of communication make it possible for employees to collaborate across enterprises in a secure way.
It's more open and intuitive than email. It's also a powerful advantage over competitors like Microsoft (Nasdaq: MSFT) and Adobe (Nasdaq: ADBE).
Salesforce shares have been under pressure since early November when they ran up to $310. The stock fell to only $285 last week on the new COVID-19 variant scare.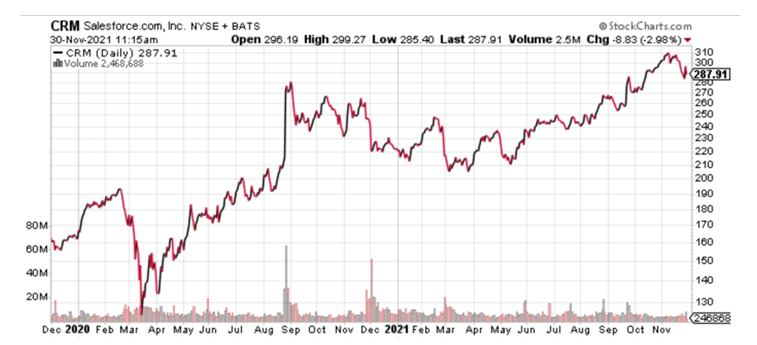 Currently at $298.10, shares trade at 63.8 times forward earnings and 12.4 times sales. These metrics are historically in-line.
Based on the company's projection of $25 billion in sales during 2022, the stock could possibly trade to $360 within 12 months, a gain of 21.5% from current levels.
Savvy investors should consider using any near-term weakness as a buying opportunity.
Best wishes,
Jon D. Markman