Some Retail Chains Will Survive Amazon's Onslaught
Amazon (AMZN) is spending $14 billion to put Whole Foods Markets (WFM) in its shopping cart — a surprising move that analysts so far have completely misunderstood.
Analysts claim the online retailer is likely to step up its assault on the grocery sector. That rationale explains why so many retail chain stocks were crushed Friday. The purchase appears to fit the Death by Amazon narrative.
Yet I think investors should disregard the idea.
I'm not suggesting they indiscriminately buy retail. Far from it. Amazon is shrinking margins on all goods sold.  Several established chains, like Macy's (M) and Barnes & Noble (BKS), are stuck in a death spiral thanks to Amazon's business model. For them, it is going to get uglier.
The opportunity is in the haphazard weakness for great stores.
Occasionally, investors throw the baby out with the bath water. They become so consumed by the simplicity of big-sector bets, they don't consider the inherent quality of individual companies. Analysts often fuel the frenzy with hyperbole.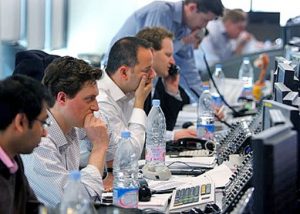 Analysts often become so consumed by the simplicity of big-sector bets, they don't consider the inherent quality of individual companies.
I write a lot about Jesse Livermore, the legendary trader whose life was dramatized in the book Reminiscences of a Stock Operator.
Livermore could put all of these factors into context.  He understood that emotion ruined sound judgment and that analysts were not always on the side of retail investors.
Through the course of his lifetime, he earned hundreds of millions of dollars investing in stocks opportunistically.
Friday's carnage in the retail sector would have caught his eye. News of the Amazon foray into food became a shockwave. From general merchandise to video games and discount apparel, retail stocks sank sharply. The selling was nonselective. It was emotional.
Business Insider reports Cowen and Co., a Wall Street firm, told clients Amazon/Whole Foods instantly creates the fifth-largest grocery retailer, and investors should expect further omni-channel benefits. The idea is that customers will have multiple ways to order, pick up or schedule delivery.
And the physical stores should help, too. Whole Foods operates 400 locations in mostly affluent neighborhoods. With Amazon's logistics expertise, they become efficiency hubs for retailing all sorts of goods beyond food.  Or so the theory goes.
The problem is, it's still no more than theory.
I'm not one to diminish Amazon's accomplishments. It is among the most important forces in retail. It creates tremendous shareholder value.
However, there are many companies with that pedigree. The idea that their business models, which have thrived in the era of Amazon, are suddenly dead in the water, seems far-fetched.
Much of what I do for my members involves finding great stocks, largely undiscovered by the masses, or that have been misunderstood.
I have worked with data scientists to reverse engineer the investment tactics of Jesse Livermore. We sift through mounds of data, looking for nimble, thrifty and highly accountable managers.
Then we wait patiently for an opportunity to buy.
These opportunities don't arise often. When they do, they are almost always the result of perceived game-changing shockwaves and hyperbolic analyst commentary. Having the foresight, and the discipline to buy when most people are selling is not easy. For investors, emotion is a killer.
To take advantage of the anti-Amazon.com fury that emotionally knocked billions of dollars of value off retailers' stocks, I suggest investors take a look at chains with a real, persistent edge.  Consider retailers such as Costco (COST), Home Depot (HD), Ross Stores (ROST) and Nordstrom (JWN).
Best wishes,
Jon Markman